1 View
June 16th, 2015 3:47 PM
Share
We're committed to finding, researching, and recommending the best products. We earn commissions from purchases you make using links in our articles. Learn more here
ATV rookie takes to the trails for the first time, and loves it
For all intents and purposes, I am an ATV rookie.
Fortunately for me, I was hired because of my journalism background and online production experience. If the powers that be had been looking for an experienced ATV rider, I wouldn't be writing this article.
However, since I do, in fact, work for ATV.com, I thought it would do me some good to spend some time on the trails.
After getting in touch with Mike Carr, a Polaris district sales manager in northern California, he arranged a day of riding.
I met Carr at his house just outside of Sacramento. We hopped in his truck and headed north upstate about 85 miles and met up with the rest of our party in Chico. After gassing up the vehicles, we drove into the hills about 35 miles northeast of Chico to our starting point in a place called Butte Meadows.
Things I learned on my
first ride
– A broken arm isn't as big a deal to some people as it is to me.– Washing your road rash with soap and water does not feel good at all.

– If you ride behind another ATV, you will eat a lot of dust.

– Getting the dust out from between your teeth requires serious flossing.

– Trying to hold a pen or operate a keyboard is near impossible a day after gripping a steering wheel or set of handlebars, with all your might, for six hours.

– Northern California has some of the best scenery you could ever hope for, as well as some fantastic off-road trails.
Carr provided a 2008 Polaris Ranger RZR, while Gray Glende, who runs a Polaris dealership in Chico, brought a 2008 Ranger XP and a brand new Sportsman 800 EFI HO. We were also joined by Darren Ritchey, who brought a 2007 Polaris Outlaw and some of Glende's staff and friends from Chico, who were riding motocross bikes.
On this November morning, there was still a little chill in the mountain air, but the temperature would climb to a comfortable level in short order.
I started the day on the Sportsman 800 and we headed out into the woods on some fire trails. I was a little tentative at first, but I managed to squeeze the throttle enough to reach about 45 miles an hour. This is far below the Sportsman's capabilities, but I figured I should at least get comfortable before going all out.
About 15 minutes into the ride and before hitting the rough trails, we stopped and did a head count. It seems we were short two riders.
Glende assumed they had taken a wrong turn, but after waiting for a while with no sign of them, Carr headed back in the RZR to see what he could find. He returned a few minutes later, followed by Peter Schmitz on a bike and Ritchey, who seemed to be driving his Outlaw with one hand.
Turns out Ritchey switched off his trusty Outlaw and took a turn on Schmitz's motocross bike. Apparently it's difficult to make that particular transition and Ritchey crashed the bike after hitting a rock on the fire trail. His hand now resembled an inflated rubber glove and his arm was broken.
Ritchey was offered a ride back on the Ranger XP, but he said he didn't want to ruin everybody's day so he hopped back on the Outlaw with one hand on the throttle and the other in a makeshift sling made out of a fleece jacket and drove back. Schmitz followed on his now damaged bike to help him load up the truck and suddenly our party of eight was now down to six.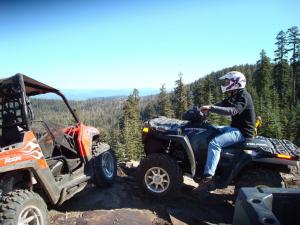 Before leaving, Ritchey, who has been riding for 20 years, insisted that this was the first time he has ever been seriously hurt. That news was small consolation for me. If a rider with 20 years of experience can break his arm before even getting to the rough trails, what does that say for my immediate future? Also, if I broke my arm would I have to man-up and drive back on my own with one hand? Before Ritchey's display of machismo, I would have thought being airlifted out by a helicopter while sobbing uncontrollably might have been an appropriate response. Guess not.
After Ritchey's mishap, Carr told us all about the time he crashed his ATV, rolled about 90 feet down a cliff and suffered three broken ribs. Perhaps I should have just gone back with Ritchey.
Slightly more scared of embarrassing myself than crashing, I decided to continue and hopped back on the Sportsman. Before we got to the rough terrain, I switched off and decided to ride shotgun in the Ranger RZR. Not only does it look cool and have speed to burn, but it also comes equipped with seat belts, a roll cage and a grab bar for the passenger–features that became much more important to me in the following 30 minutes.
page 1
Carr opened the throttle on the RZR and we were off like a rocket down the fire trails, maneuvering around big rocks and up technical climbs. After showing me the basics, Carr and I switched spots and I moved into the driver's seat.
Occasionally we would feel a thump underneath and hear a loud screech, but Carr was kind enough not to throw me out of the vehicle and he let me keep driving.
The RZR handles very well on the twisty, bumpy trails. When we hit the rough trails and flipped the switch into four-wheel drive, it showed its versatility. Unlike Carr, I had a little trouble avoiding some of the bigger rocks. Occasionally we would feel a thump underneath and hear a loud screech, but Carr was kind enough not to throw me out of the vehicle and he let me keep driving.
We eventually hit a very tough, twisty climb with fallen trees and a narrow path. Since I didn't want to destroy his demo vehicle, I suggested Carr take over. He quickly agreed and managed to find a way up to the top and over the logs without incident.
After some more time in the RZR, Glende let me take the wheel of his Ranger XP. I expected some minor differences between the XP and the RZR but I was surprised how different they really are.
While you try to avoid the big rocks and bumps in the RZR, the Ranger XP just eats them up. It doesn't have nearly the speed of the RZR and the steering is not as responsive, but it's got a wider stance and a lot more ground clearance. I'd flinch just before hitting a rock at high speed, but the suspension sucked it up and I couldn't really feel it.
The more I rode it, the more aggressive I got. It could climb over big logs with ease, scale large rocks and take a more aggressive line than the RZR.
After getting my fill on the Ranger XP, I wanted to see what the Sportsman could do on the rough stuff.
Being a standard saddle-mount ATV compared to the side-by-side Ranger RZR and Ranger XP, the Sportsman has a much different feel. By shifting my weight I found I had more control, especially on side-hills.
As good as the Ranger XP is on rough trails, it is still a step or two back of the Sportsman for ease of use. Though physically tougher to control the steering and balance, climbing over big rocks and up and down steep, technical hills was not an issue, even for a beginner like me. I found myself looking for more and more difficult paths the longer I was on it.
Riding the Sportsman felt easier than either of the side-by-side Rangers. Not so easy, however, that I didn't almost flip it over and make a fool out of myself. While riding down a very steep, rocky decent I decided to tackle the biggest rock I could find. When the rock got to my rear right tire, I started to feel the Sportsman tip over to the left. Fortunately, I was able to throw my weight to the right side, squeezed the throttle and escaped with little more than a bruised ego.
All told it was a pretty fantastic day for me. The scenery around Butte Meadows was amazing, the trails were in great shape and the riding was even more fun than I expected.
I was so pleased with the more than six hours and almost 60 miles of riding that I didn't mind so much when my body ached all over the next day.
My only challenge now is trying to convince my wife that this is something I need to do on a regular basis. Perhaps I should leave out the part about the broken arm.
Related Readings :
2008 Polaris Ranger RZR
2008 Polaris Sportsman 800 EFI
2008 Polaris Sportsman 500 EFI Lucas Cooney
I have been working exclusively in digital media since 1997. I started out with TSN.ca, spending nearly nine years creating and editing content on Canada's leading sports website. I left to join VerticalScope, Inc., one of the world's largest online publishers, to start a number of powersports publications. While at VerticalScope, I've helped create and oversee content for a wide variety of different publications, including ATV.com, Off-Road.com, ArcheryTalk.com, Tractor.com, RVGuide.com, and many more.
More by Lucas Cooney
Published December 14th, 2007 6:10 PM
Top Brands
Popular Articles