1 View
Top Five ATVs We Wish Were Still Produced
June 28th, 2017 1:57 PM
Share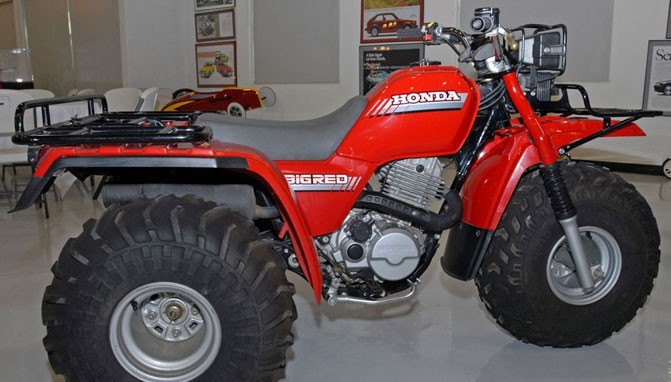 Who wants to see updated versions of these classic ATVs
I've done a lot of thinking lately about the top five ATVs we wish were still around today. Yeah, I know – another wishful thinking list. We all have them and we've all seen them. Lists of vehicles we wish were still produced. But you know, there's nothing wrong with it and this one will have a little twist. Plus, you never know. The manufacturers see these lists and see the discussions and that may help shape what they are working on. We can dream, right?
Yamaha Banshee
This one hits home for me, as I bought the first 1987 Banshee I saw – and I still have it. Yamaha turned the ATV world on its ear when it unveiled the twin, two-stroke 350 on the world back in the hey-day of mixin'gas and haulin'… well, you get it. What would be cool to see today would be to take a twin engine from its snowmobile lineup and make it into a fire-breathing beast of a four-wheel drive machine to take on the Polaris Scrambler. Why that route? Because we wouldn't expect it, and that's what Yamaha does best. Add on some Maxxis Razr tires for superior handling and let's go rip up the woods. Who's with me?
Honda TRX450R
Honda came out swinging when it jumped back into the sport ATV market. The old Fourtrax 250R dominated racing and was kept alive by the aftermarket for decades after the last 250R rolled off the lines back in 1988. Honda was still selling 450s even after it stopped "officially" selling them in 2014. What would be cool about a new 450R? I'd like to see it produced from the factory with sweet suspension, like Elka shocks. Honda has shown with the new Pioneer 1000 LE that it is willing to add on premium suspension components. Imagine a sport quad that came from the factory that way
Honda ATC 250R
Now, I know what you're thinking – they can't make three-wheelers anymore. Yeah, that sucks. I like three-wheelers as much as anyone. I'd love to throw a leg over a new one, but unless they discover a shipping container full of new, crated ones from the 80s, it isn't going to happen. Or, is it? There's been a few reversed motorcycles out these days, like the Can-Am Spyder. Why can't there be an off-road version? You can't tell me you haven't thought of it. One of the magazines even played around with this idea back in the 80s when those conversion kits were a thing. They took a Yamaha Big Wheel and made it a reverse trike. We could do so much better with today's off-road tech. Throw on some cool aftermarket stuff like an FMF Titanium exhaust to keep the weight down, and it'd haul. Would you want to ride it?
Polaris Outlaw 525
Who wouldn't want a sport quad with massive horsepower and independent suspension? Why Polaris stopped making these is beyond me. Okay, maybe they didn't sell a ton and their partnership with KTM was coming to an end. Still. Throw some Durablue anti-sway bars on that puppy and slap a new engine in it and let's have at it again.
???
And, of course the machine I'd really like to see is the one inside my head. If I were to design my own performance-minded ATV, it would need to have a big engine, like Yamaha's Raptor 700. Maybe bigger. I'd have tall Renthal handlebars that make it easy to stand up. It'd have a Warn Winch because I'd get into trouble with it. I'd have a K&N filter so it breathes. I'd throw on the Elka shocks, FMF pipe and Maxxis tires I mentioned above. And then I'd…
You know, maybe I should just do it. With the aftermarket we have, One could seriously build a dream machine. Then I wouldn't have to wait for the factories to produce it. What do you think? What's your dream machine?
Published June 28th, 2017 1:57 PM