8 Views
Winter Riding In Ontario With Bear Claw Tours – Video
July 3rd, 2015 11:58 AM
Share
We're committed to finding, researching, and recommending the best products. We earn commissions from purchases you make using links in our articles. Learn more here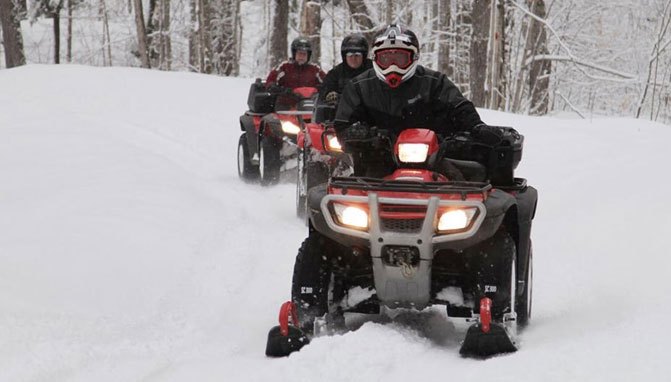 A snowy ride in Rainbow Country
It's not often we strap on all our winter gear and ride ATVs in the snow, but when the opportunity presented itself to visit with Andrew Ryeland of Bear Claw Tours and make some tracks near his home base of Parry Sound, Ontario, we couldn't pass it up.
Fortunately, Parry Sound is just a short two-hour drive north of Toronto on major highways, so we arrived bright and early to take full advantage of the February sunlight. Ryeland, who is also the president of ATV Ontario, knows this area better than just about anybody, so we wanted to soak up as much of his knowledge as possible.
Get the Flash Player to see this player.
Ryeland doesn't normally do winter tours, but he and his team still like to get out and ride when the temperature drops below freezing.
You didn't think we'd let a little snow stop us from riding, did you?
"Our customers don't necessarily want to leave their nice warm houses in the winter time, but we do," says Ryeland. "We go out on our trails in the winter time. It's a lot of different stuff that we see. We see a lot of animal tracks in the winter time that you wouldn't see in any other time of the year. Because the leaves are all off the trees, you can see for a long, long way in the forest. And there's just certain enchantment in the winter time."
Winter riding offers new challenges and some stunning scenery.
Snowmobilers know all too well how beautiful it can be when you've got fresh snow on the ground and blanketing the trees above. Though our favorite time to hit the trails is in the fall when the colors can take your breath away, a winter ride is not without its charms. Of course, you can't ride just anywhere in the winter. Snowmobile trails are off limits to ATVs, but Ryeland has 1000 acres of private property to play on. Ryeland has been running ATV tours on that acreage since 2001 and he's always relied on Honda ATVs for himself and his customers.
"We started with the Honda 350, went to the Honda 400s and now we're running Honda 420s," says Ryeland. "They're phenomenal ATVs. We've come to really love them because of the way our customers love them. They're the right size, the right power-to-weight ratio, so they don't get themselves into trouble. All our machines have power steering and electronic fuel injection and disc brakes, so they're one of the safest ATVs you want to find out there and they're very, very maneuverable.
Power steering, especially, comes in very handy when you visit Bear Claw Tours because the trails are anything but boring.
Each of Bear Claw Tours' Honda ATVs comes equipped with power steering, which makes riding in any type of terrain much easier and more comfortable.
"Our trails are not straight, they're all through trees and rocks and water and uphill and downhill, so there's a lot of steering , a lot of physical exercise when you're doing the tour," says Ryeland. "Those bikes make it relatively easy to run."
While we're open to riding ATVs in this part of Ontario any time, what brought us north on this day was a chance to test out a set of SnoCobra skis on the front of an ATV.
"We're always looking for what's new in the sport of ATVing and we came across these skis at the Toronto Snowmobile Show several months ago, so I thought this would be an interesting thing to try," says Ryeland.
The beauty of the SnoCobra skis is that they install in a matter of seconds as you just strap them onto the front wheels – just make sure to the ATV is in two-wheel drive!
SnoCobra ATV skis strap on in seconds.
It was an interesting experience riding with skis up front. Because the skis float on top of the snow rather than dig into it like tires would, the ride is incredibly smooth. Bumps in the trail just melt away underneath the surprisingly wide skis. Where the skis struggled, however, is with traction. Without four-wheel drive, winter riding can be a little tricky. This could be solved by installing a set of tracks in the rear, which is what SnoCobra recommends. We suspect with the ski/track combination, you could go just about anywhere you want and it would be a lot less expensive than buying tracks to replace all four wheels.
As much fun as winter riding with Andrew Ryeland was, Bear Claw Tours really heats up in the spring. We'd suggest anybody interested in giving ATV riding a try or who wants to introduce it to friends or family visit the official website and book a tour. Ryeland and his crew have trained thousands of ATV riders over the years and know how to get you started and having more fun than you thought possible.
Bear Claw Tours makes getting started riding ATVs as easy and stress-free as possible.
"Most of the time people have never ridden ATVs before, so we make them feel very much at home with their training," says Ryeland. "And it's a guided tour, so we're with them along the way so we can give them pointers and tips. But we're not hand-holding. We're there to make sure they have a good time and enjoyable time. Lucas Cooney
I have been working exclusively in digital media since 1997. I started out with TSN.ca, spending nearly nine years creating and editing content on Canada's leading sports website. I left to join VerticalScope, Inc., one of the world's largest online publishers, to start a number of powersports publications. While at VerticalScope, I've helped create and oversee content for a wide variety of different publications, including ATV.com, Off-Road.com, ArcheryTalk.com, Tractor.com, RVGuide.com, and many more.
More by Lucas Cooney
Published February 27th, 2013 3:19 PM
Top Brands
Popular Articles