1 View
ATV Riding in Ontario is Closer Than You Think – Video
July 3rd, 2015 12:00 PM
Share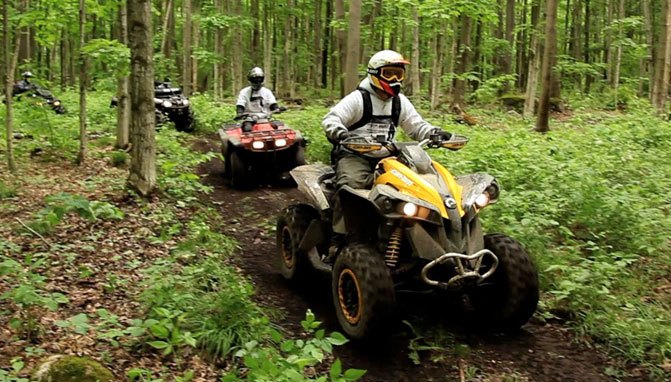 We hit the trails just an hour north of Toronto
ATV riding often seems like a sport for people who live in smaller towns and cities. After all, big metropolitan areas aren't typically rife with ATV trails – there's just no room. Of course, there are exceptions to the rule. Toronto, Ontario is one of those exceptions.
We had a chance recently to explore the trails of the Central Ontario ATV Club (COATV), which is just an hour away from the middle of Toronto. This is remarkable when you consider that the Greater Toronto Area has a population north of six million people and a good number of them face a daily commute to work that takes more than an hour.
COATV, which is one of 14 clubs that make up the Ontario Federation of ATV Clubs (OFATV), looks after more than 60 km of ATV trails. We checked out the Anten Mills Forest Trail, which accounts for nearly half of that. To get there we loaded up the car and took Hwy. 400 North for about 80 km. The Anten Mills Forest Trail is located just a short hop off the highway and right outside of the city of Barrie in the Township of Springwater. For those who don't know, Barrie is a good sized city in its own right and the trails are only a few minutes away from some major shopping centers. Literally anything you could want or need is a stone's throw away; food, lodging, fuel…everything!
The Antem Mills Forest Trail has everything you need just minutes away.
After you've loaded up on supplies in Barrie, getting to the trail couldn't be easier. A staging/parking area is found at each end of the trail with plenty of room for loading and unloading.
When it comes to the actual trails, we were surprised not only by how well maintained everything was, but how diverse the trails are. Wide-open stretches – check; tight, twisty sections – check; technical, rocky sections – check. That's an impressive mix for a 20-30 km section of trail. We spent much of the day riding with OFATV Marketing Director Mark Hamerton and he summed up the Anten Mills Forest Trail very well.
"This particular trail system has everything," says Hamerton. "The trail, in sections, is on a forest access road, which can be 10-feet wide at times and it's sand and very flat. Some of the sections you're into rolls and you can go up and down. And then you'll turn into the bush and you'll find yourself in some mud, stuck between the trees. One of our sections, known as the obstacle course, you're driving over rocks and very tight turns and it's actually a workout. The club worked really hard to get access to these technical-type trails, because riding along a straight, sandy road is really not what ATVing is all about."
UTVs are not normally allowed on these trails, but an exception was made during our ride day for a charity event.
In the days leading up to our ride the area had received quite a bit of rain, so we can attest that some sections of the trail were indeed quite technical and very muddy. Two small sections were outrageously difficult to handle because of all the mud, but each had a secondary route for those who didn't want to test their mettle.
We did run into a tiny bit of mud, but the deep stuff was easily avoided.
We spent four or five hours exploring the Anten Mills Forest Trail and still got back to Toronto in time for dinner. All told we were away from home base for about eight hours.
"But keep in mind that this is just one club of the 14 clubs that are in the OFATV," says Hamerton. "Once you buy that membership ($150 individual, $300 family) you actually have access to every single one of those clubs. It actually gains you access to over three-thousand kilometers of trail right across the province – from Sarnia all the way out to Ottawa."
That's the beauty of ATVing in Ontario – the trails are never very far away.
Published August 3rd, 2012 12:00 PM
Top Brands
Popular Articles