1 View
Why Does My ATV Lock Up Just Before It Can Turn Over?
April 25th, 2017 4:22 PM
Share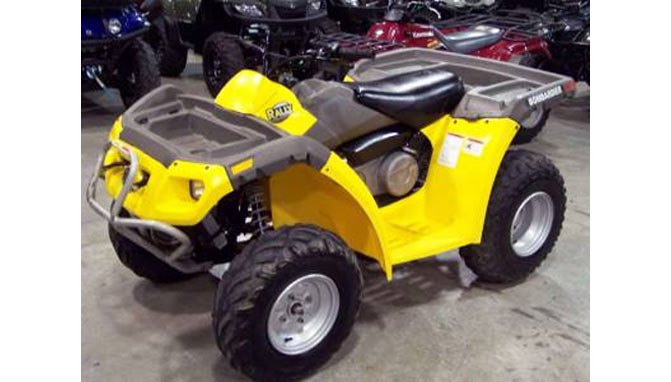 The ATV AnswerMan looks into a neglected Bombardier Rally 200
Why does my ATV lock up just before it can turn over? That's what one of our readers has asked the ATV AnswerMan about his Bombardier Rally 200.
This is exactly what the reader asked the ATV AnswerMan, followed by his response:
I have a 2003 Bombardier Rally200. I bought this atv after it was sitting for about a year. I bought a new battery because it was turning over but still wont turn over. It seems to turn a little then locks! I put it in D,N, and V and each gear went in! What could be the issue???
Need some serious help!!!!
So I'm a little confused about the first part of your problem description but I think you are saying that the engine will only turn a little before it seems to lock down even with a new battery. One thing that is possibly the worst treatment for an ATV is to sit and not be ridden. There should be a law against this ATV abuse. The reason it is bad is because even though thousands of people have heard my sermons on draining the carburetor, sadly many do not do this. The stale fuel in the carburetor varnishes the jetting's tiny hair-like passages and it will stump the starting process. However I do not think this is your issue, but it could be related. The carburetor can also clog up to the point where it simply dumps the fuel in the cylinder instead of sending it out of the overflow tubing and completely hydro-lock the engine. This means the cylinder is full of fuel and cannot rotate because of that.
So, let's say the theory of Hydro-loc is potentially the issue. I would simply pull the spark plug and try to turn the engine over with the electric start. If fuel or any water comes out of the cylinder then you have figured out why the starter will not turn the engine over. If there is no fluid in the cylinder then the issue could be a stuck piston or possibly an issue with the starter. If you are mechanically inclined then you can find the crankshaft bolt on the side of the engine and try to turn the engine over with a ratchet and pull bar. A genuine OEM service manual for this machine will come in handy.
One other item to try is to place the transmission in neutral and see if the machine will move. It should roll – it could be a little difficult, but should not be impossible. This would clear the transmission as the issue. Good luck and let us know how it turns out.
Published April 20th, 2017 11:46 AM
Top Brands
Popular Articles