5 Views
Nikola NZT Electric UTV: Early Impressions
April 24th, 2019 1:29 PM
Share
We're committed to finding, researching, and recommending the best products. We earn commissions from purchases you make using links in our articles. Learn more here
Fast Facts
MSRP: $80,000?
Battery: 125 kWh Lithium-ion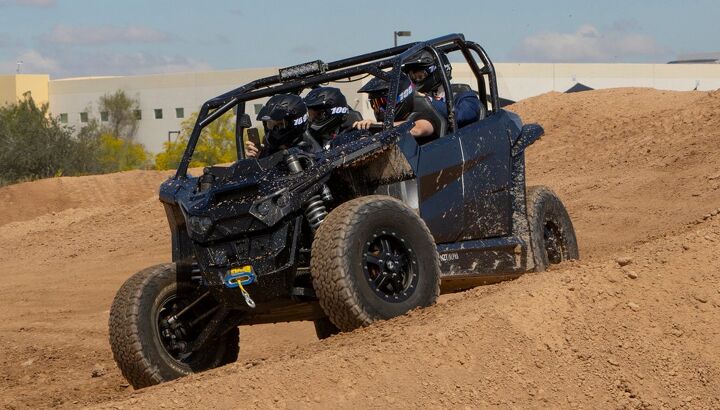 We get taken for a drive in this high-powered electric UTV concept
My experience with the Nikola NZT (Net Zero Toll) all electric UTV was most interesting to say the least. After getting the invite to attend Nikola World 2019, I had prepared myself to be open minded and even excited to see what the future may look like when my grandchildren become old enough to enjoy off-road vehicles.
I'm sure many can envision a world where the "George Jetson" cartoon may become real life and the dependency on fuels like gas and diesel were not a stake holder of transportation. This is undoubtedly the dream of Nikola and owner Trevor Milton is doing everything in his power to assemble the right team to bring it to fruition. Although the small space mobile Jetson was flying did seem to be emitting some smoke from its tail pipe. This could be a very good indication as to how this all turns out.
As for the Nikola NZT UTV, we have had only a single experience with this specific vehicle. Just last year a few media outlets had the opportunity to get a closer look into the NZT at the Sand Sport Show, but the metrics for pricing and optional vehicle set-ups were slightly different than the ones shown at this past week's glamorous event. Those base models or $28-$62K versions were not even mentioned and even on the Nikola website there is no indication of the pricing that was reported just last May. If they were reportedly projected to be available in May of last year starting in late spring of 2019, but now the technology has to grow exponentially to get the pricing down from the current $80K, when was this discovered?
This electric motor is the beating heart of the Nikola NZT.
Fast forward to Wednesday April 17th, 2019, at West World in Scottsdale Arizona and just like last year, no one is allowed to drive the Nikola NZT just yet, so we found ourselves watching this scenario once again with the same vehicles. A varying minute and a half ride in the passenger seat would be all we had been offered in literally, the exact same prototype Alpha machines, as Nikola calls them. Nikola VP of Powersports, Jordan Darling, stated that the current Alpha (ride along vehicles) offers 400-450hp with a potential range of 150 miles and much more power available." It is evident that the power is there in some form and the silence is deafening. The trade-off is lower emissions and the mechanical noise that seemed to come from the chassis.
Seat time in the Nikola NZT was extremely limited. Unfortunately, media members were never allowed to get behind the wheel.
This is not the newest version, but a secondary starting point to get there. Keep in mind that the Alpha was the second sibling of the Nikola children and changes have already been made for advancement. So, to clear the confusion, the battery pack size or available KWH determine range and HP which is controlled via computer with potential of 590hp. Yes, confusion is abundant when talking Nikola NZT.
The terms projected and potential were used heavily in every conversation as if they themselves haven't decided on any solid answers or concrete formats yet. The fact that there are so many different subjective numbers and terms as well as performance specifications is really concerning to this journalist. I am financially nowhere near the hundreds (according to Nikola owner Trevor Milton) of deep pocket consumers that have supposedly already dropped commitments to reserve one of these machines and I am scared for them. How hard is it to just lay out two or three models you want to offer, with specifications, that all match in general yet up or down in price with features or enhancements and print a script? Then stick to it.
Nikola did unveil its latest concept of the NZT, and it was actually a very futuristic and dreamy looking rig. The fully enclosed cab and talks of future plans with HVAC as well as leading interior accessories from infotainment to comfort is surely a step in the right direction, but it will come at a hefty price starting at $80K. The sleek lines of this machine give it the look of an off-road super car with 18 inches of FOX 3.0 suspension travel to get that projected 590hp of electricity motivated down the trails. I am not sold on the look of the front end, but I am sure there will be variations in the future that may catch my eye a bit more. I actually loved the look of last May's pre-release model. The solid cab top is removable for those who like the "Jeep door" style for a more immersed experience, yet I'd say this machine's starting price and shortage of projected dealers might deter most from taking the chance of damaging anything by doing so. The potential torque rating will be in the 775 lb-ft zone and that should set you back a little in the pleathery covered four-point harness equipped bucket seating.
The seats seem to be elevated on square tubing of some kind and the flooring is not contoured in any shape of the word, but it is seemingly spacious inside. The doors are light and pretty simple. So simple in fact that the door handle is a cargo strap type material and it reminds me of the Maverick X3 door pull. Seems too simple for a pricey rig. There is a lot of interior computerization as one might imagine, with digital high definition screens in the center section as well as on the dash in front of the driver. I would venture to say this will all get a little make over before it goes into production.
Let's talk charging for just a second here, as that is a key element in the off-road capability of Nikola NZT electric UTV. There are a few options when it comes to getting the batteries recharged, but currently none of these are in the wild. Meaning that you will not be able to charge the unit on the trail unless the surge of "remote or portable" recharge stations that Nikola projects to install at certain ride destinations get finished before you take delivery of your machine. And you are lucky enough to have one close to you or in your favorite riding area. The ranges I have seen (yes, referring to last May's release again) were 90 miles, 120 miles and 150 miles. One method to charge is a 240/110 vlt station, home unit, that will recharge in various times ranging from eight hours to 18 hours. One additional mention was a DC power fast charge that can get you moving in two hours. I would hate to be the one running out of battery in the trail in this beast, though. Not to mention, a weekend of riding can easily get you over the available range even at 150 miles and forgetting to recharge or waiting 18 hours might be a little troublesome.
The one solid that I did take away from this event was the use of the Nikola NZT by our nation's military. Having a silent and powerful machine to keep troops safe in the dead of night or even day is crucial and being autonomous is also a plus. A man dressed as a soldier drove the Nikola Reckless up on stage via what looked like an X-box controller. Now that is something to get behind.
The Nikola Reckless concept is designed for military use.
In short, what we saw at the Nikola World 2019 event was what is to come. Or at least that is the current plan on paper. There are many questions of the future of our sport and many rely on us protecting the world in which we enjoy the sport. Protecting the trail systems we ride, as well as protecting the environment is crucial for long term sustainability in the off-road market. We must protect the right to ride off-road by doing our part to reduce emissions and taking action when others neglect their responsibility to help keep the trails clean. Nikola is building its electric UTV program on the dreams that one day there will be no emissions on the trails we ride. I completely get the purpose and direction that this company professes.
I am guessing you have realized by now that the Nikola NZT and Reckless vehicles we have currently seen, touched and ridden passenger in are all just "proof of concept" machines with none of the finalized details or features we have been showered with in every conference or "breakout" session even remotely ready for general public.
For now, we will have to wait and see what the final products will look like – if they ever make it to market.
Visit NikolaMotor.com for more information. Published April 24th, 2019 1:29 PM
Top Brands
Popular Articles