1 View
2017 Polaris ACE 150 EFI Review
May 10th, 2017 4:03 PM
Share
Fast Facts
Engine: 149cc Single
Ground Clearance: 9.0 in.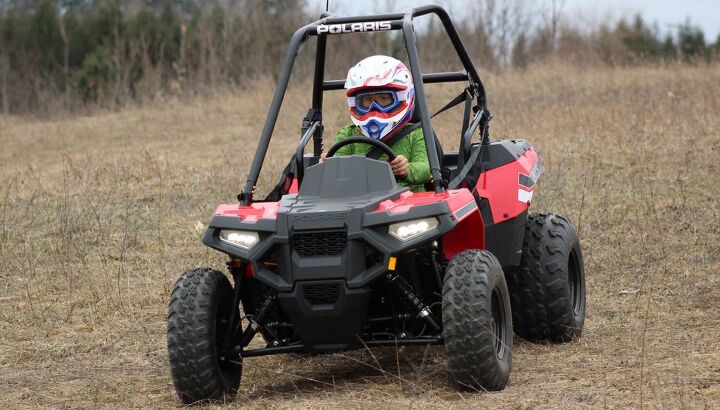 Newest Youth ATV from Polaris stands out
I believe that children are the future. Teach them well and let them lead the way… Did Polaris have Whitney Huston's old song in mind when it produced the all-new Polaris ACE 150? Who knows, but it caught a lot of parents' attention when announcing the machine a short while ago. I know my son was eager to get his grubby little hands on it.
The market for youth machines is kind of weird. Each company produces some kind of youth machine and there's demand for them. They offer kids fun and freedom, and parents a way to teach responsibility to their kids while bringing them into the world of off-roading that we all enjoy so very much. So when Polaris introduced the first ACE a couple years ago, it had a definite appeal. I recall thinking back then that scaled down, it'd make a great youth machine. I wasn't disappointed.
Can You Handle This?
When you see an ACE 150 in person, it looks much bigger than the pictures. In fact, it isn't much smaller overall than the original adult-sized ACE. Polaris took what it learned from the ACE development over the years and made the youth model wider than usual at 48 inches. It is the same width as the two-seat RZR 170. This makes it incredibly stable. My test-driving, 11-year-old son, TJ, spent some time last summer in a RZR 170 and was pretty confident when he drove off the first time.
2017 Polaris ACE 150 EFI vs. Polaris RZR 170: By the Numbers
"I was surprised at how big it looks," he said. I thought it'd be smaller than the RZR, but it feels much bigger. I feel much more in control in the ACE."
That level of control wasn't just felt by him. Watching him drive around, I felt better about his level of control over the RZR and that is an equally great machine. With all of his weight centered, and no passenger to distract the driver, the ACE corners very well and handles rough terrain adeptly.
"The ACE handles really well," TJ said. "I felt like I could go over rough ground faster with it than with other machines. I think my dad should buy me one."
Learn more about how the new ACE 150 compares to the RZR 170 here.
Slow Down, Kid!
Of course, kids want to go fast, too. The Polaris ACE 150 EFI has a single-cylinder, four-stroke, 149cc, electronic fuel injected (EFI) engine that is air and oil cooled. Like the other youth models, you can set speed limits, but with the ACE, it's handled in the fuse box. This lets you adjust the speed with four different settings. It comes set at 10 mph. From there, you can boost it up to 15, 22 and then up to 29 mph as your child's abilities grow.
Ground clearance with the Polaris ACE 150 is an impressive nine inches. This keeps the machine up and off the ground and away from trail obstacles. Part of this ground clearance comes from the 22-inch tall tires on each end. For suspension, there's 5.1 inches of travel up front, riding on dual A-arms. Out back, there are dual shocks with 6.0 inches of travel on a swingarm, solid rear axle combination.
"The suspension works great," TJ said. "I was nervous at first until I realized that I could just hit the bumps and not let off the gas. The faster I went, the better it handled the bumps."
From the Dad Side…
From a parental standpoint, there's a lot to like about the Polaris ACE 150 beyond the safety aspects. The engine and all of the filters are easily accessible from the rear of the machine, making it easy to do the needed maintenance. There are LED running lights and an LED tail light. It comes set up with a whip and flag, too; although the flag already started to fray after the first day of riding.
The ACE, like all Polaris youth models, comes with a youth-sized helmet too, although we have TJ wearing a new Fly Racing Kinetic Fullspeed helmet. Wearing a helmet is vitally important and you should always have your child learn about wearing one from day one. I also strongly encourage getting your child a helmet that fits well and one that they like the styling of.
The Polaris ACE 150 EFI is a winner. It may be the best youth-sized ATV yet because of the safety features and the ability to let it grow with your child. The seat and steering wheel adjust, letting kids of all sizes within the target age range find the ACE comfortable and fun. It comes in Indy Red and has an MSRP of $3,799, so your little test pilot will have to start saving that allowance. Negotiations have started in earnest in our house. Anyone need their lawn mowed? Maybe some leaf raking, too? I have an 11-year-old boy that needs some extra cash.
Published May 1st, 2017 2:06 PM
Top Brands
Popular Articles