35 Views
2022 Polaris General XP 1000 Trailhead Edition Review
October 5th, 2021 5:18 PM
Share
We're committed to finding, researching, and recommending the best products. We earn commissions from purchases you make using links in our articles. Learn more here
Fast Facts
MSRP: $26,699
Engine: 999cc ProStar Twin
L x W x H: 118.2" x 64" x 77"
Hitch Tow Rating: 1500 LBS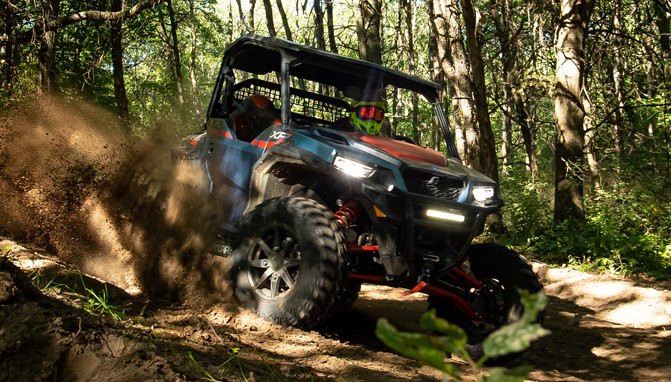 We test out this fully loaded General in Minnesota
We had a chance to put the 2022 Polaris General XP 1000 Trailhead Edition through its paces at the challenging ERX Motorsport Park in eastern Minnesota. Read on for our full review.
Ask any avid outdoors enthusiast: having the right gear makes all the difference between a good day of recreation and a great day of fun. Sometimes, combining the best of two dissimilar worlds is the right recipe for producing a machine which is equal parts useful as it is fun.
Or, that blend simply allows gearheads to more easily sell their Better Half on the idea of a getting new side-by-side.
For ages, the Polaris General has straddled the line between fun and function, making perfect use of the term 'sport-utility.' Brawny versions of the rig are powered by a 1000cc-class engine, capable of launching the thing forward with great vigor, but also see fit to include a handy dump bed and a yaffle of practical accessories. Headed into the 2022 model year, Polaris has made a few changes to the Swiss Army knife in their lineup.
Leading the pack is a new trim called the Trailhead Edition, using the two- and four-door models in the XP1000 line as its base. Alert readers will recall Polaris used the same approach for last year's Factory Custom special edition. It's a great way to keep the General brand fresh ahead of major changes which may or may not be just around the corner. Stay tuned to ATV.com for more details on that particular nugget of information, okay? As for the machine in front of us today, it will start at $26,699 but add $2,200 to that sum if you want to bring along two extra friends and pop for the XP 4 version.
The 2022 Polaris General XP 1000 Trailhead Edition packs the familiar 100-horsepower ProStar engine under its tilting dump box, riding on a 64-inch stance and providing 13.5 inches of ground clearance. Polaris has thrown the kitchen sink at TE models in terms of equipment including a 4,500lb winch with synthetic rope, the now-expected RideCommand jumbotron, and a Rockford Fosgate Stage 3 audio system. Pro tip: spend an extra $550 on the optional subwoofer. It's worth the cash on entertainment value alone and, at these prices, that amount adds little to the bottom line.
Speaking of those first two items, the winch has a 4-inch hook on an aluminum fairlead and has controls integrated into the RideCommand touchscreen. Why should you care? Because this setup permits dead-simple use of a plow, binning those infernal and imprecise joysticks with which your author has fought for the better part of three decades. Thank you, Polaris. That bumper-mounted lightbar is part of the deal as well.
Spotting a Polaris General XP 1000 Trailhead Edition on the trail will be a simple task, thanks to the matte-look blue paint and fiery orange accents. It's a good look, one bolstered by a too-cool 3D relief map on the TE's hood. In fact, those raised ridges are something of an Easter egg, since they represent a depiction of an off-road trail called Crown King which is located just north of Phoenix and is apparently a Polaris fave. Hey, if I had the leeway to design the appearance of a special edition Side-by-Side, I'd probably toss in a secret handshake just like that; don't lie – you would, too.
Hitting the dirt at Extreme Motorsport Park in eastern Minnesota in a Polaris General XP 1000 Trailhead Edition, it did take long for the machine to assert itself on the trail. There was ample response out of the 999cc ProStar, whether one was digging from a dead stop or goosing it up a steep hill. We chose to run the factory tire pressure on the 30-inch Pro Armor Crawlers and kept the Walker Evans Velocity Series shocks in their softest setting; remember, these require the manual twist of a shock-mounted dial in order to adjust.
High clearance suspension arms give ample room for maneuvering over that obstacle you didn't spy until the last minute, while 14 inches of wheel travel (front and rear) stand ready if you miss seeing that log altogether. Braking behavior remains miles ahead of comparable Can-Am products, which typically need to be stomped on like a red-headed stepchild in order to produce any semblance of acceptable stopping power.
RideCommand remains an industry leader, a level to which all other brands should aspire. After all, many customers of the General line are new to the sport, seeking thrill rides in this new socially-distant world in which we now live. While hardcore off-roaders like you and I may not desire a large infotainment unit in our rigs, those stepping out of a luxury SUV and into a side-by-side for a day of fun absolutely want those luxuries. Polaris, as a money-making business, is more than happy to provide.
Those seats are all-day comfortable and look good in the color scheme that's unique to the Polaris General XP 1000 Trailhead Edition. It's worth noting that Can-Am remains the king of practical interior storage, with Polaris choosing to stick with their fixed in-dash solutions while providing some flat areas which only serve as a launching point for lost smartphones. Cynics in the office suggest this is just a way for Polaris dealers to sell us accessory storage bags. General's interior feels robust and ready to handle abuse that will be surely dealt its way.
Is the Polaris General XP 1000 Trailhead Edition simply a remix of existing accessories with a dose of cool paint colors? If you judge a machine as new by changes to its powertrain, then the answer is yes. The biggest mechanical change for 2022 is that nifty winch, Polaris told us. However, for customers (whether they're new to the sport or trading up from an older model) seeking a well-equipped fun-to-drive rig that retains enough utility to justify its purchase price as something more than a toy, the 2022 Polaris General XP 1000 Trailhead Edition is a solid choice. Published October 5th, 2021 5:18 PM
Top Brands
Popular Articles