1 View
The Yamaha YXZ1000R Story
May 3rd, 2016 3:23 PM
Share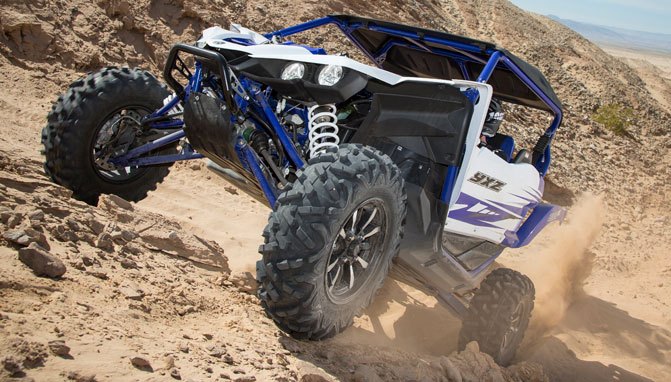 We do some more testing of Yamaha's Pure Sport UTV
By now every hardcore UTV driver has gotten word of the newest pure sport UTV. The Yamaha YXZ1000R is on the ground pounding the competition on many formats and is gaining the interest of many more every day.
It was on September 1st 2015 that I first laid eyes on this machine and what an incredible introduction that was. The YXZ was to be Yamaha's jump back into the performance UTV market and it came in with guns blazing. In a market saturated with equipment not only aging in technology but that needed something more than another wind generating device on the engine to create a new feel of excitement in the cab, Yamaha took a different approach.
The YXZ1000R has its critics and some folks discounted the effectiveness of a shift-able transmission in today's marketplace of UTVs that is full of CVT-driven machines. I considered this a new chapter in factory-built machines. Please do not get me wrong as I love a good belt driven Side-by-Side, but we live in a world where we always have our eyes open for the next big idea and I think this was a great one.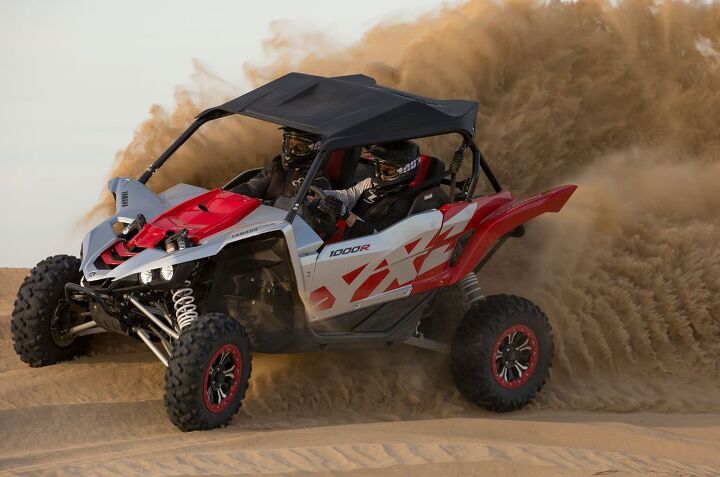 I had my first chance to drive the YXZ1000R in the Imperial Sand Dunes in Southern California. The day was such a blur that I barely had time to focus. All of the engineering that had been laid out for us was just too much to take in on just one six-hour ride. The one thing I knew was that it was very fun and the engagement between the driver and car was so much different than anything else. A good kind of different, I might add. I'll admit it had been a learning curve to get the YXZ to perform like I wanted it to, but this new way to experience a UTV sure was fascinating.
Fast forward to just last week, the first week of March, and we had the opportunity to get back into the seat of the YXZ1000R to get to know the machine a little more. The photography had been taken care of before hand and our sole focus was to ride the ever-loving crap out of the rig to test it in ways not seen on our first run. Our ride location was Superstition Mountain in South Central California near the town of El Centro. This location is a favorite of the testing crew for Yamaha and it would prove to be a great blend of slow paced crawling through rocky steep walled canyon washes and up gravel littered razorback inclines where the single track seemed to disappear into the clouds. It was a real treat to get the YXZ1000R into terrain that some said it could never function in and, quite simply, prove them wrong.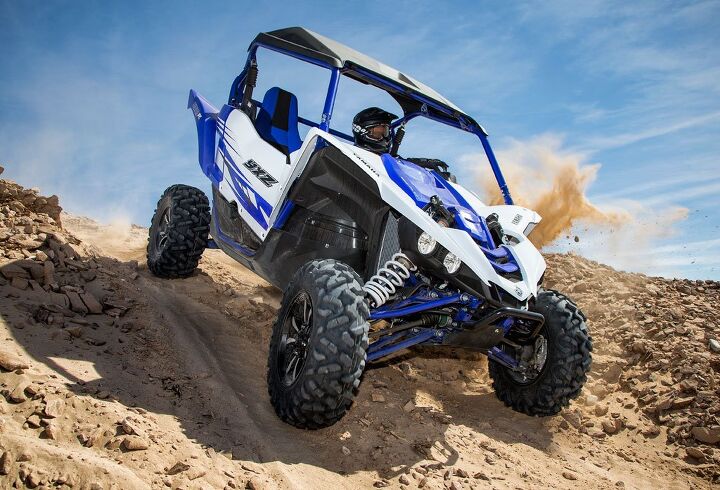 If you are into the details you will know that the cockpit of this rig is set up for comfort and security. After locking in the three-point belt I started the triple cylinder engine and stared intently at the RPM gauge while brushing the throttle a few times. The sound of that tightly wound fuel injected engine is incredible. I was told that downshifting was good, but to wait a little longer before up-shifting to get all we could out of the engine's power range before getting into the next gear. Short shifting was not an option and if the light on the dash had not come on I should simply keep pressing the go pedal.
I pulled into fourth gear somewhere around 55-60 mph and began to get to know the YXZ1000R once again. One thing I began to remember was how well balanced and predictable the machine is. Even if I slammed the face of a tall flat whoop (none of the whoop sections at Superstition were consistent enough to really get a rhythm) at speed it would track very straight. It was as if the rear of the car knew its place and stayed in the lines. There were a couple of times when the rear would buck a little, but again the track of the YXZ1000R was firmly in line each time with no sign of swapping sides. This is most definitely important when in a high speed rough terrain situation, because if the rear of a UTV starts to step out from side to side, it only gets magnified from then on and usually gets very ugly quick with little chance of recovery.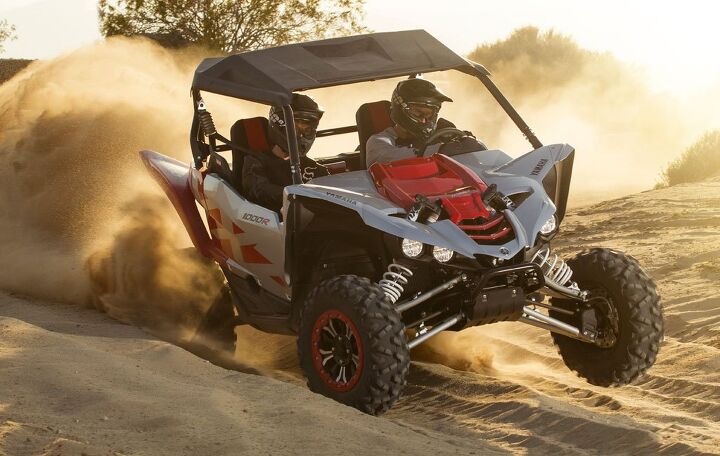 The YXZ1000R feels very stable and planted while turning and the Maxxis Bighorn 2.0 tires love to bite into the sandy terrain for positive feel and responsive acceleration. This Side-by-Side likes to carve corners and big berms, giving the driver confidence to go in much faster than normal. I'm not telling you that getting the YXZ to bicycle on two wheels isn't possible, but it sure seems to be a lot harder than in other UTVs.
Yielding very flat cornering just adds to the excitement in the cab of the YXZ, but what really got my attention during the ride was the way I could simply shift into second or third gear and lug this engine all over the tight canyon trails through rocky outcroppings and slowly creep up over those tall single tracks with sheer drops on either side. It is that kind of universal use that makes this machine great and I do not think it is fair to discount those abilities. I know the YXZ1000R is built for high-speed desert use, but it is also very capable of cruising the mountain trails. Of course, the FOX shocks work much better the faster you go, but they performed quite well even at creeper speeds.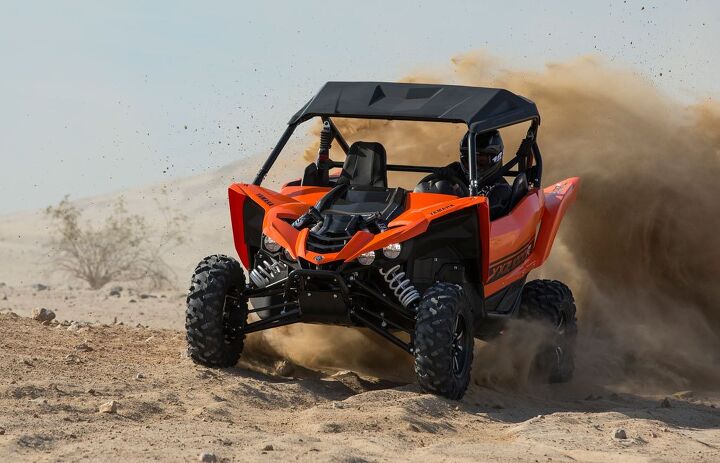 Visibility is at an all-time high in the YXZ1000R thanks to its sharply sloped front end. This allows you to get an even better visual of what is right in front of your tires. While some people think the FOX shocks sticking out of the front plastics is a cool design, I think it's more of a driving feature than a styling cue as it keeps as much bodywork as possible out of your line of sight.
I was able to ride the YXZ1000R through long winding washes, up steep ridgelines and even stepped down into the gas pedal in the sand dunes. I left that ride location knowing so much more about this machine.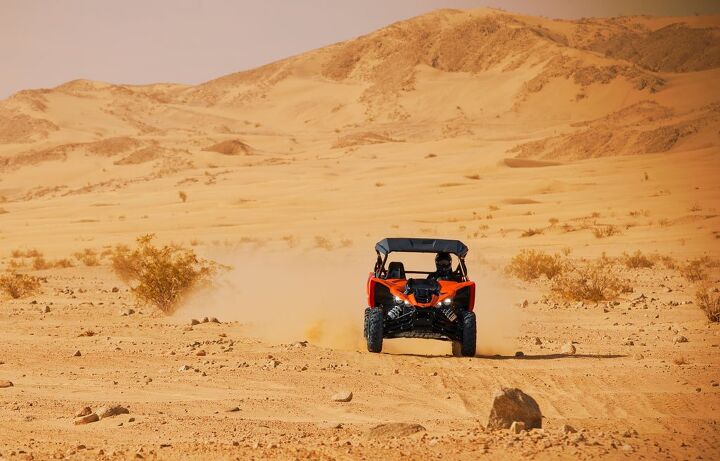 For all of those who think I found no wrong with the machine, I beg your pardon. The one thing that seemed to get me was the heat radiating in the lower right leg and butt cheek from the center console. This is where that incredible transmission of the YXZ1000R is hiding. I'm not sure how to remedy that, but to tell you the truth I was having so much fun I didn't notice until the ride was through.
Published March 10th, 2016 12:32 PM
Top Brands
Popular Articles