1 View
Yamaha Hints at a Sport UTV That Leans
June 6th, 2016 9:51 AM
Share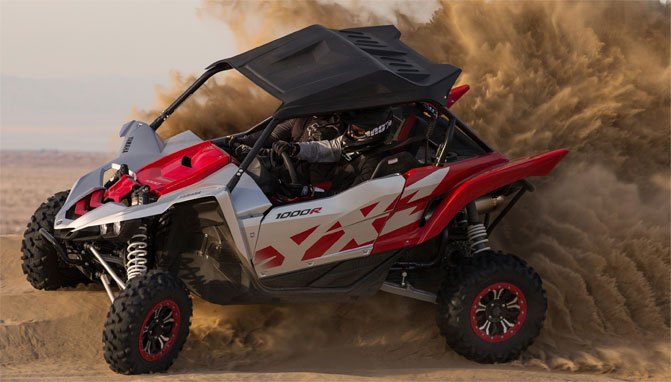 Pushing the Sport UTV envelope
Some interesting information about Yamaha Side-by-Sides was found in its recently released 2015 annual report.
While Yamaha refers to the YXZ1000R as the industry's "only true pure sport side-by-side ever developed," it appears it plans to push the pure sport envelope even further.
Swincar E-Spider an Electric Off-Road Vehicle Like Never Before + Video Part of the annual report is an interview with Hiroyuki Yanagi, the president, chief executive officer and representative director of Yamaha Motor Co., Ltd., which contains the following interesting tidbit:
"Under the new MTP (Medium-Term Management Plan), we will pursue the growing world of personal mobility by continuing the development of products in the 'third-vehicle category' which incorporate our leaning multi-wheel (LMW) technology used in the TRICITY line announced in 2014, to fully achieve a pure sports ROV."
The Tricity is a three-wheel leaning scooter. Here is how it works, according our sister site, Motorcycle.com:
"Yamaha's LMW mechanism uses a parallelogram link design to allow the two front wheels to tilt while maintaining a constant distance between them. Each front wheel has its own cantilever telescopic fork, with the tubes running on the inside of the wheel."
Yamaha's Tricity scooter has two front wheels capable of leaning into a corner.
If Yamaha can utilize that system in a Sport Side-by-Side, it has the potential to be groundbreaking. Of course, it would have to be much more robust on a high-powered off-road vehicle than it is on a low-displacement scooter. We also have no idea how a leaning UTV would feel and react, but we'd sure like to find out.
We're curious how the Tricity's leaning technology could be adapted to a pure Sport UTV like the YXZ1000R.
Also part of the annual report was a Special Feature on Yamaha's UTV business. In this section Yamaha talks about expanding the lineup.
"Going forward, we aim to increase sales even further by introducing ROV products that meet the expectations of customers through a broad product lineup encompassing multi-purpose, recreational, and pure sports models," Yamaha says in the report.
The most interesting part of this section, though, is a graphic that shows where current Yamaha UTVs fit on a scale ranging from Utility to Sport and from Personal to Multi-Passengers/Family, which includes the YXZ1000R, Wolverine, Viking and Viking VI.
If you look at the image above you can also see where Yamaha plans to expand. With the YXZ1000R, Yamaha looks to be pushing further towards the Sport and Personal scale, which hints at where the Tricity-adopted leaning technology might be found. You'll note that one of those YXZ shadows is quite high up on the Personal scale. It would be surprising to see a one-passenger Sport UTV, but it's certainly an interesting thought.
The graphic also appears to show a more Personal Viking model, one that moves slightly towards more Sport and one that is even further in the Sport segment than the Wolverine. Perhaps the more Personal Viking is a two-seat variant, but we're very curious about what could be a much sportier Viking.
The future looks awfully interesting at Yamaha.
Published May 6th, 2016 1:33 PM