33 Views
2014 Arctic Cat Prowler 700 HDX Limited Review
June 18th, 2015 4:25 PM
Share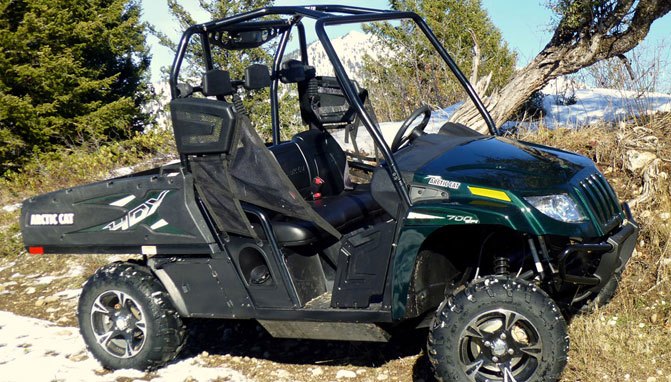 An all-season workhorse
This past fall, as we shifted our thoughts from ATVs and UTVs to snowmobiles, Arctic Cat shipped us a 2014 Prowler 700 HDX Limited. The Prowler was delivered to the Allred family farm, where we worked it and squeezed some fun out of it.
After spending the summer on two 2014 sport Side-by-Sides, a Polaris RZR 900 XP LE and Can-Am Maverick 1000R X rs, it took a different mindset to properly relate to a Utility vehicle. As we looked over the Prowler, it left a good first impression. Standout features on the HDX Limited Package include automotive-style paint in an emerald green metallic which pulled out the Doro Kaden tires mated to scuff-polished aluminum wheels. Its appearance, though dated, is tough and gritty for a Utility SxS intended for work use.
The Limited package on the Prowler HDX includes automotive-style paint and aluminum wheels.
Powering the Prowler 700 HDX Limited is an Arctic Cat-built 700 H1 motor, which is a 695cc liquid cooled, single cylinder, four-stroke mill with Electronic Fuel Injection (EFI). This one-lung motor has four valves and a pent roof hemispherical combustion chamber, which provides increased fuel/oxygen flow to create higher horsepower than motors which are not "hemi" like. The 700 H1 is put together in Arctic Cat's St. Cloud, Minn. assembly plant.
Our time on the Prowler was late fall and early winter in the Rocky Mountains. This gave us opportunity to hammer the big Arctic Cat EFI single-cylinder motor. Sometimes cold weather engine starts and engine performance are negatively affected by thin air from mile-high and greater elevations, low fall- and winter-ambient temperatures, and fluctuating humidity. However, these did not negatively affect the 700 H1, though thin air lowers horsepower output regardless if the engine in a two stroke or four stroke – superchargers and turbochargers cure this woe. We found the 700 H1's power to be more than adaquadate for this type of vehicle; the motor too was stingy on fuel use.
COMPARISON: Read our review of the 2014 Honda Pioneer 700-4
Coupled to the 700 H1 is the Duramatic Automatic Transmission. This transmission has high- and low-range gear ratios along with reverse and park. The Duramatic Automatic Transmission incorporates the use of a wet clutch. Wet clutch technology provides for longer belt life and a user friendly clutch engagement. Another feature of the Prowler HDX is a shift-on-the-go four wheel drive (4WD) system with an electric front differential lock, which was much appreciated. On several occasions in drifted snow, the front differential lock made the difference between the HDX powering itself out from a snow drift or muddy bog, or the driver and passenger pushing it out.
Thanks to the front differential lock, the Prowler HDX had no trouble plowing through the snow.
Moving to the suspension, the Prowler is fully independent at all four corners. The double A-arm design allows for 10 inches of travel – both front and rear. Arctic Cat claims this design provides for better articulation in rough terrain. The Prowler also has a heavy duty rear sway bar. We did notice some minor body roll while cornering, but noting earthshaking.
As mentioned earlier, the Prowler HDX Limited is equipped with Duro 3 Star Kaden tires on aluminum rims. Front tire size is 26x9R14 whereas the rear tire is a 26x11R14. We felt this was an excellent choice for this type of vehicle. These rims are good looking as well.
Righty classified as a Utility vehicle, the Prowler HDX Limited tips the scales at 1,363 pounds dry. Its 85-inch wheel base is 10 inches longer than the HDX's sister Prowler, the XTX. This longer wheelbase accommodates the 2-in-1 dump truck-style cargo box. The Prowler HDX can carry a whopping 1,000 pounds in the cargo box and tow another 1,500 pounds – seriously impressive numbers for anybody looking for a work vehicle.
Another notable feature on the Prowler are front and rear two-inch receiver hitches. We like it when an OEM offers these as standard features rather than a later purchase from an accessory catalog.
To test the work capabilities of the HDX, we hooked up a gas-powered hydraulic wood splitter to the rear receiver hitch, loaded the box with chain saws, fuel and chainsaw bar oil as we did our best Paul Bunyan impression. Our test mule handled the load just fine and left us wondering how we ever got along without a Prowler HDX Limited on the farm?
Our Prowler HDX easily towed a wood splitter and while hauling a bed full of tools.
One thing we did learn was while towing the log splitter with a load in the dump bed, dropping the transmission into its low gear sent less strain to the motor and transmission. To handle the load, the Limited Edition Prowler HDX is equipped with Fox Float coil-over shocks. We found the suspension more than adequate under the heaviest loads we could put the Prowler HDX through.
As with any loaded vehicle, handling characteristics change. While traveling over rough terrain with a load, or while towing, low gear kept the Prowler HDX moving forward with no complaint.
COMPARISON: Read our review of the 2014 Yamaha Viking 700 EPS
A notable premium feature on the Prowler Limited is its electronic power steering (EPS). The variable assist EPS automatically increases or decreases effort depending speed – more steering assist provided at low speeds and less at high speeds. We found while maneuvering the Prowler HDX at high speeds or slow, loaded or empty, the EPS worked perfectly. Easy steering effort along with the predictable clutch engagement made for enjoyable operation.
Side-access storage bins under the bed are a nice feature.
A large storage compartment is found under the hood of the Prowler – a great place to keep valuables out of the weather. Cat also included two storage bins under the dump box in front of the rear wheels. The 2-in-1 box can easily convert into a flat bed to accommodate larger loads. As well, the box is hinged and works as a dump bed. Just drop the tailgate, unlatch the bed and lift. Handy!
The Prowler HDX model features a 40-20-40-style bench seat for three people. Even the middle seat has a full shoulder restraint seat belt. Seating for three adults is a bit cozy (not much better than three adjoining seats on an American Airlines MD80), but for a smaller person, the middle seat is just fine. Kevin Allred's granddaughter, Chloe Nelson, told her grandpa, "I like this, I can see." Priceless.
Fitting three adults in the Prowler HDX Limited is a tight squeeze, but it's perfect for two.
Arctic Cat built the Prowler HDX Limited to be a hard working utility vehicle. When called on to work on the Allred family farm, it proved itself as a valuable hired hand as it was used for countless runaround tasks normally reserved for a pickup, an F-350 Power Stroke. Operating costs for the Prowler HDX are far less than the one-ton diesel pickup truck, and it is fun to drive a nimble vehicle.
Speaking of fun, we talked about the Prowler HDX's hard working nature, but let's not overlook its potential as a recreational SxS; the Prowler HDX Limited is an excellent family recreational vehicle. With a bench seat capable of carrying three people along with all the storage capabilities to haul multi-day camping, fishing or hunting equipment; it is a pack mule and horse at the same time.
Arctic Cat put a lot of thought into the Prowler HDX's safety features. The Limited HDX is equipped with head and foot safety restraints, and an easy to operate side net. At first, we found the foot restraints cumbersome and hard to navigate around. But after training the outside foot to exit heel out first, exiting from the UTV became easy to do. Remember these restraints are designed to protect the driver and occupants.
Driver and passenger foot restraints took some time to get used to, but ultimately help protect the occupants.
After spending the summer on high-end Sport Side-by-Sides, we were a bit taken back at how much we enjoyed the Prowler HDX Limited. For Kevin, he admits he overdosed on making it his "do all" vehicle. He said it was like having a "vacation" vehicle on the farm.
The Prowler HDX Limited was not relegated to farm work only. The ATV.com testers also used the Prowler for fun outings. On one late fall trip to Palisades, Idaho to winterize a vacation cabin high in the mountains, the Prowler HDX Limited was the right vehicle to use to transport equipment and people since the snow was too deep to take the F-350, but not deep enough for a snowmobile.
COMPARISON: Read our review of the 2013 Polaris Ranger XP 900 + Video
By Christmas, the snow was too deep to take the Prowler HDX Limited on some of ATV.com's favorite mountain trails, which were the same trails we rode our Polaris RZR 900 XP LE and Can-Am Maverick 1000R X rs on. But, it pleased us as a full utilitarian farm vehicle; our time on the Prowler was well spent.
Now, many will say for the money, the Prowler HDX Limited is over the top for its utility use. In some regards, that is true, a Kawasaki Teryx or Yamaha Viking, for example, may be a better value for pure utility and agriculture-type work. However, if a buyer bolts on to their lower-priced true utility Side-by-Side equivalent products such as the electronic power steering, aggressive performance mud/snow/dirt tires, coil over Fox Float shocks, aluminum wheels, and front and rear hitch receivers, then they have stretched out their credit card to the same cost as the Prowler HDX Limited, which hovers around $13,700. So, are these premium features worth the added cost? Depends. As we learned, and this is where we found the Prowler HDX Limited's purchase price justifiable, the dual-purpose work and play for three people is worth the cost.
For such extreme recreational use such as desert blasting, dune riding and rock climbing, the Prowler HDX Limited is, well, limited. Will it perform like its brother the 1000 Wildcat Extreme Limited? No. Its shorter tires, short stroking shocks and dump bed equipped chassis is not designed for high speed catapults and jumps, but it can deliver some "wow" in these conditions, provided the owner/operator understands its limitations. However, way back when, before high-performance sport side-by-sides entered the market, the Prowler was the first Side-by-Side in history to win the grueling Baja 1000.
Published April 16th, 2014 12:04 PM
Top Brands
Popular Articles