1 View
2014 Polaris RZR XP 4 1000 Unveiled
June 17th, 2015 5:01 PM
Share
Polaris stretches out the 107-horsepower RZR for four riders
About three months ago we broke the news that Polaris would be releasing both a RZR XP 1000 and RZR XP 4 1000. The release of the RZR XP 1000 followed six days later, but Polaris held off on the four-seat version…until now.
"RZR has defined the recreational side-by-side market, outselling the competition five to one, and owning a RZR has become a lifestyle allowing for social adventure," says Craig Scanlon, general manager for the Off-Road Vehicle Division at Polaris. "Our four-seat RZRs provide off-road enthusiasts the ability to share that lifestyle with more of their family and friends, and the new RZR XP 4 1000 is the ultimate in outdoor adventure for four."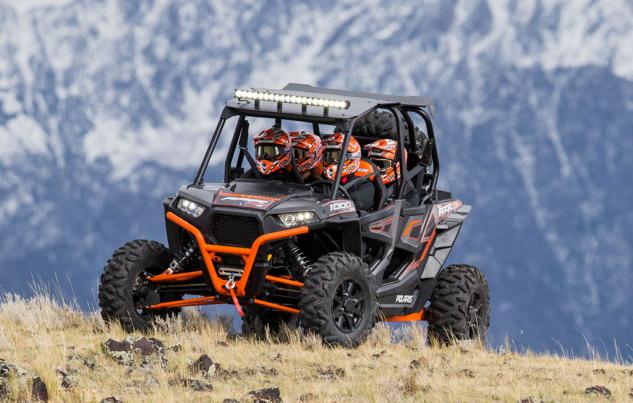 As expected, Polaris has come to market with a four-seat version of its 107-horsepower RZR.
The RZR XP 4 1000 features all the same attributes as the RZR XP 1000: 107 horsepower ProStar engine, 3-Link Trailing Arm Independent Rear Suspension with Walker Evans position-sensitive, anti-bottoming needle shocks, 29 in. Maxxis Bighorn tires, tubular chassis and an on demand all-wheel drive system.
2014 Polaris RZR XP 1000 Preview
At the heart of the RZR XP 4 1000 is the 107-horsepower ProStar Twin EFI engine. The engine features Dual OverHead Cams (DOHC), four big valves per cylinder and dual throttle bodies. Polaris boasts the RZR XP 4 1000 is the fastest accelerating four-seater on the market. As well, Polaris claims the engine provides unmatched torque across the RPM range.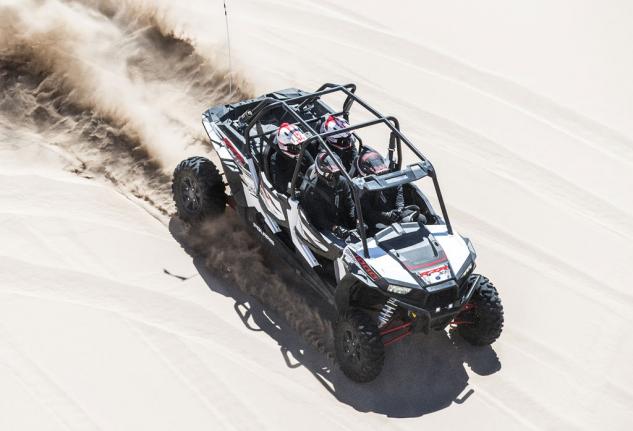 You won't find many four-seaters that have the power to carve a dune like the RZR XP 4 1000.
Handling the massive power output are Walker Evans position sensitive anti-bottoming needle shocks on all four corners with stronger rear shocks and retuned valving at all four corners specific to the four-seat RZR XP. The shocks have piggyback reservoirs up front and remote reservoirs in the rear that are 16-position compression adjustable with preload adjustability. They are paired on all four corners with dual rate/dual spring coil-overs for 18 in. of rear travel and 16 in. of front travel.
Polaris says the RZR XP 4 1000's new tubular chassis reduces flex to keep the tires planted for precise cornering. As well, the machine features a lower cab frame, as compared to the RZR 4 900, and a flat second row of seating. A new, high performance All-Wheel Drive (AWD) system is designed to seamlessly engage both front wheels with full torque. The RZR XP 4 1000 also comes equipped with Electronic Power Steering (EPS).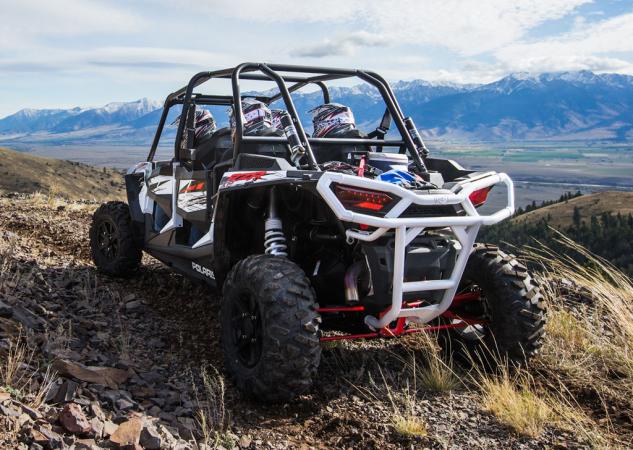 Exclusive-to-Polaris Walker Evans needle shocks and 29 in. Maxxis Bighorn tires set the RZR XP 4 1000 apart from the competition.
Inside the cabin, both front seats feature sliders for tool-less seat adjustment. As well, the steering wheel has 10 in. of tilt adjustability. To stay connected, the RZR XP 4 1000 comes standard with sealed smartphone storage that provides visibility of the display while protecting it from the elements. The rear passengers will enjoy a roomier rear cabin due to deeper footwells with angled footrests and sculpted front seats that provide more legroom. The rear seats also are equipped with cup holders and a 12-volt outlet. Newly-designed seats are designed to offer substantially improved bolstering and more
hip cushioning. Both the front and rear row have the slick blue LED floor lighting and floor cleanouts.
2014 Can-Am Maverick MAX X rs Review – Video
RZR XP 4 1000 features larger openings and a lower step-in height, for both front and rear passengers, for easier ingress and egress. Factory-installed quarter doors were designed for more elbow room and are equipped with a latch for one hand operation.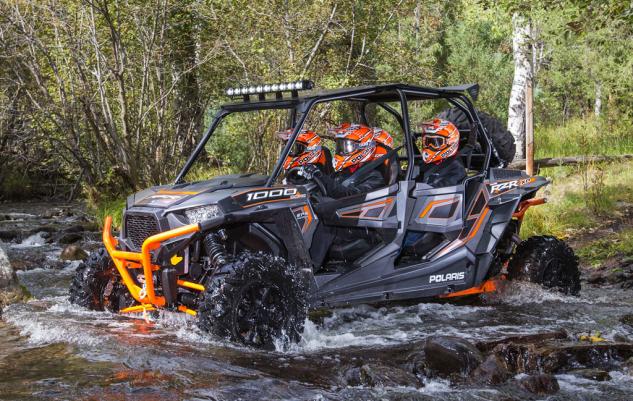 The RZR XP 4 1000 is ready for a wide variety of Polaris accessories.
With integrated mounting points situated along the vehicle frame and pass-through areas for routing wires, accessories can be attached with minimal installation time. Additions, such as rock sliders and bumpers easily attach and fit securely to the vehicle's frame due to Polaris' Lock & Ride Expanding Anchor; a piece of hardware that expands as it is inserted into a mounting point. Lock & Ride windshields, rear panels, roofs and doors install directly onto the vehicle frame's designated mounting points, making installation simple.
The 2014 RZR XP 4 1000 will be offered in White Lightning and Titanium Matte Metallic, and will be available at Polaris dealerships in November. It won't come cheap, however, with a retail price of $21,999.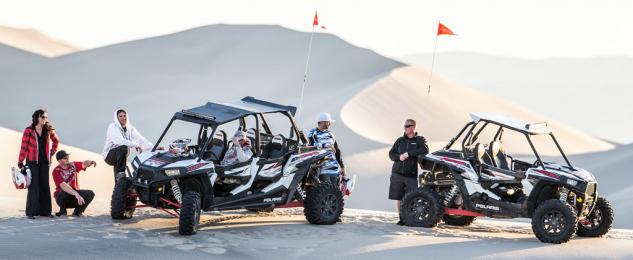 Published October 16th, 2013 12:03 AM