2 Views
Polaris Unveils Ranger Crew With HIPPO Multipower System
July 31st, 2015 12:05 PM
Share
We're committed to finding, researching, and recommending the best products. We earn commissions from purchases you make using links in our articles. Learn more here
New Ranger powers hydraulic, pneumatic, electric, and welding equipment
Polaris continues to push the envelope with its latest creation – the Ranger Crew with integrated HIPPO Multipower System (MPS). According to Polaris, at the flip of a switch, this system allows operators to power hydraulic, pneumatic, electric, and welding equipment directly from the vehicle's diesel engine.
With its $56,999 price tag, the Ranger Crew with HIPPO MPS is not for everybody. However, it continues Polaris' expansion into non-traditional markets.
"Operators in the rail, municipal, construction, oil and gas, rental, utilities and mining industries as well as the military already consider the proven HIPPO MPS indispensable and this all-in-one solution increases their flexibility and mobility even more," Polaris says in a release.
COMPARISON: Read our review of the 2013 Polaris Ranger XP 900 + Video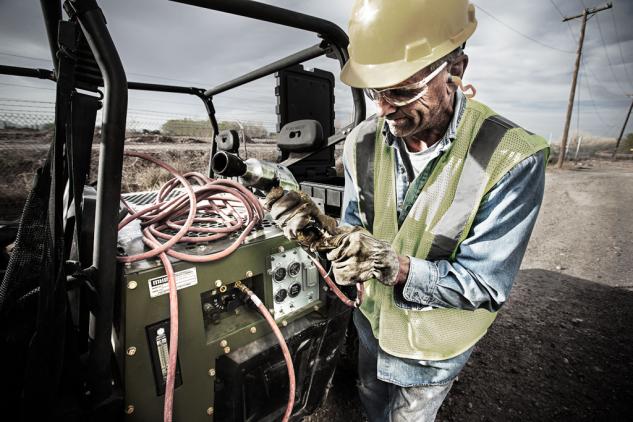 With the ability to operate an enormous array of tools while carrying three people, the Polaris Ranger with HIPPO MPS is an intriguing option for jobsites.
"The versatility provided by integrating the HIPPO MPS with the Polaris Ranger is extremely valuable for transporting personnel, heavy duty tools and a four-in-one power source to hard-to-reach job sites," says Dave Longren, vice president of Polaris' Off-Road Vehicles division.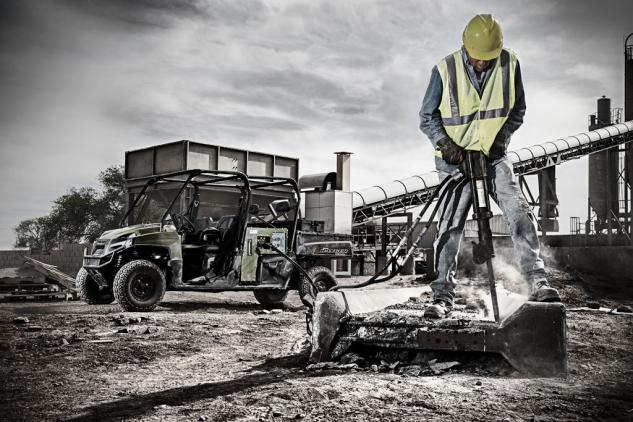 Polaris says a properly maintained vehicle will simply need to be fueled up and it is ready to go since all the equipment is powered from the Ranger's 24 horsepower diesel engine. According to Polaris, this feature reduces the maintenance time associated with four separate systems. The integrated HIPPO 1041CP Multipower System has one hydraulic tool circuit, two quick disconnect pneumatic fittings, two 120 volt electric outlets at 20 amps and one welding console with quick disconnects.
COMPARISON: Read our preview of the Polaris Brutis Lineup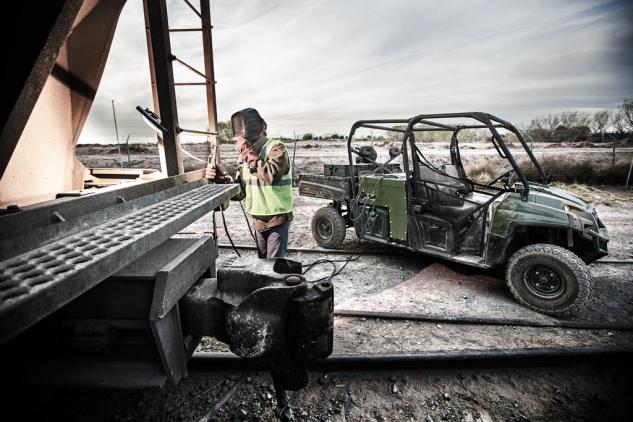 Polaris feels the Ranger Crew platform is the ideal choice to partner with the HIPPO MPS, with seating for three, all-wheel drive, 500-pound cargo box, and one ton of towing capacity.
"The Polaris Ranger with HIPPO MPS allows you to go anywhere and do anything – providing robust power to remote locations; quickly, easily and reliably," says Chris Klope, chief operating officer, Mobile Hydraulics Equipment Company, manufacturer of the HIPPO MPS. "No one does off-road utility vehicles better than Polaris and pairing our HIPPO Multipower unit with this vehicle delivers a unique tool, simplifying work for the user. All-terrain mobility with hydraulic, electric, welding and pneumatic power at the touch of a button – it just doesn't get any easier than that."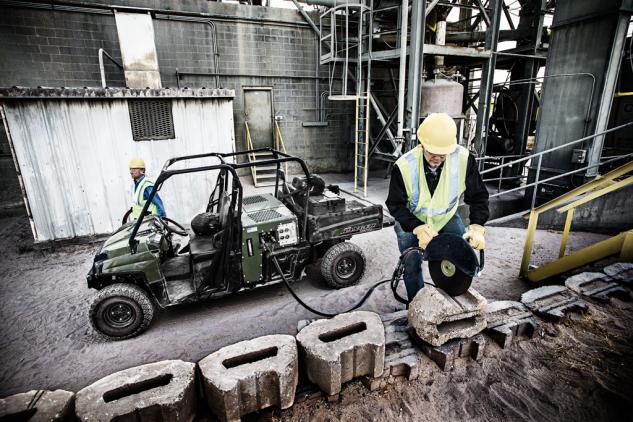 As for specs, the hydraulic output of the HIPPO MPS is fully adjustable from 0-8 gpm at 2000 psi, air out is 40 cfm at 100 psi, electric output is 4.8 kva peak (4.4 kva continuous), and welding output is 240 amps. The HIPPO MPS has one hydraulic tool circuit with standard hydraulic quick disconnects, two air fittings with half-inch standard industrial quick connect, two 120V 20A duplex outlets, and one welding console with DINSE-type quick disconnects.
COMPARISON: Read our preview of the 2014 Polaris Ranger Diesel HST and HST Deluxe
According to Polaris, here is what these outputs roughly equate to in real life terms:
• 4.8 kva – Running two 10″ electric miter saws simultaneously, running two drills simultaneously or Running 10 500-watt halogen flood lights simultaneously
• 40 cfm – Running Two half-inch pneumatic impact wrenches simultaneously or running multiple nail guns simultaneously
• 0–8 gpm – Power to operate any HTMA Type II Hydraulic Tool; for example will pump 300+ gallons of water per minute
• 240 amps – Enough welding power to weld 3/8″ steel
For use in virtually any weather, Polaris has cab, roof, windshield, door, and rear panel options available through its accessories catalog.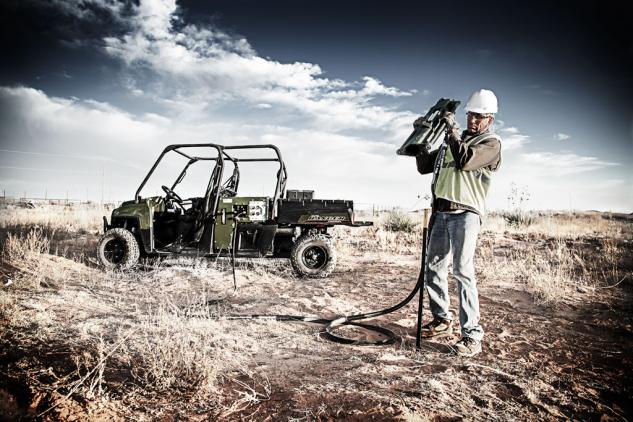 The Ranger with HIPPO MPS is currently available for sale through authorized dealers, Polaris Fleet Sales and defense channels. Visit Polaris.com/HIPPO for more information. Published June 30th, 2014 4:56 PM
Top Brands
Popular Articles