1 View
Appropriations Bill Can Stop Lead Ban
November 19th, 2009 12:38 PM
Share
We're committed to finding, researching, and recommending the best products. We earn commissions from purchases you make using links in our articles. Learn more here
Language can prevent ban on youth OHV
The American Motorcyclist Association is urging Americans to contact their U.S. senators to support a bill that would allow the sale of youth motorcycles and all-terrain vehicles.
The 2010 Financial Services Appropriations bill includes language written by Rep. Denny Rehberg (R-Mont.) that would prevent the Consumer Product Safety Commission from using funds to enforce a section of the Consumer Product Safety Improvement Act that bans youth off-highway vehicles containing lead.
The CPSC announced earlier this year it would not enforce the ban on youth dirt bikes and ATVs until May 1, 2011. Former CPSC Chair Nancy Nord argued the CPSIA should be flexible when it comes to youth vehicles but the wording of the legislation prevented the commission from granting such exemption. Other attempts at changing the legislation focused on the wording of the CPSIA but Rehberg's language could achieve the same result by restricting funding.
"Unfortunately, while Washington bureaucrats bicker over the meaning of words, the intent of Congress to protect kids from dangerous toys is being ignored," says Rehberg, a member of the House Appropriations Committee. "The federal government is now forcing children to ride adult-sized motorcycles, ATVs and snowmobiles – a serious danger that's much more real than the invented threat of chewing on a battery cable or valve stem.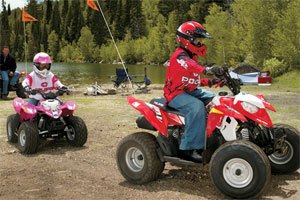 "I don't know of anyone in the House or Senate who intended this, and it's important to off-road enthusiasts and American families that we work together to fix it once and for all."
The House approved the appropriations bill containing Rehberg's language and sent to the Senate, the Senate appropriations bill does not contain similar language.
In response, the AMA is asking motorcyclists and ATV riders to contact their senators and urge them to include the Rehberg language in the final version of the 2010 Financial Services Appropriations bill or the Omnibus Appropriations bill.
"AMA members and motorcyclists everywhere have shown that we can make a difference when we pull together and act as a group," says Ed Moreland, AMA vice president for government relations. "Now is the time to work with your elected senators and representative to get them to include the Rehberg language in the appropriations bill that comes out of the Senate. Let them know how important it is to continue to allow responsible and safe family enjoyment in riding dirt bikes and ATVs."
The AMA provides contact information for elected officials on its website at AmericanMotorcyclist.com. The AMA has also provided a pre-written email people can send to their representatives.
Related Reading
CPSC to delay enforcement of lead ban
Riders rally against CPSIA
Young riders, lawmakers seek lead-law exemption Published November 19th, 2009 12:38 PM
Top Brands
Popular Articles