1 View
Young Riders, Lawmakers Seek Lead-law Exemption
March 9th, 2009 3:03 PM
Share
Enthusiasts rally on Missouri State Capitol
The steps of the Missouri State Capitol in Jefferson City saw young ATV riders, parents and state lawmakers rally to support an exemption to the Consumer Product Safety Improvement Act (CPSIA) on March 4.
Missouri State Rep. Tom Self organized the press conference that followed the rally. Self also sponsored a successful Missouri House resolution urging the Consumer Product Safety Commission (CPSC) to "provide a waiver or exclusion for youth ATVs and motorcycles from the lead limit requirements of the Consumer Product Safety Improvement Act."
The CPSIA effectively bans the sale of any product intended for children 12 and under that fails to meet lead restrictions. Youth-sized motorcycles and ATVs, which include lead in batteries, brakes, engines and other components, fall into that category according to the CPSC. The ban also includes many parts needed for repair.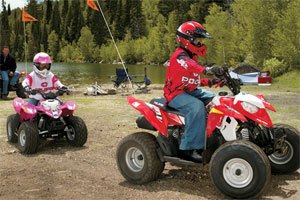 According to a release from the American Motorcyclist Association (AMA), the CPSIA is a big concern to the AMA and the off-highway vehicle (OHV) community because it encourages parents to put their children on adult-sized vehicles. Powersports dealers and their employees are also concerned. The Motorcycle Industry Council (MIC) says the CPSIA could lead to $1 billion in lost economic value annually for the industry.
"Washington, D.C. tells us that this ban is a result of unintended consequences, effectively passing the buck," says Ed Moreland, AMA vice president for government relations. "That's not good enough. These changes need to be made now before kids are injured, and thousands of small family-owned businesses are needlessly put out of business."
Moreland says that it is ironic that the agency with which the AMA and the industry have spent years developing youth-sized OHV standards is now charged with enforcing the CPSIA, effectively rendering the standards useless.
"Young riders represent the future of motorcycling and ATVing in America, and shouldn't be denied their right to ride," says Moreland.
Moreland asked all concerned parents and riders nationwide to contact their own state lawmakers to urge them to pass resolutions like Missouri's, supporting an exemption to the law banning youth-sized motorcycles and ATVs. Moreland says people also need to contact the members of their federal congressional delegations and the CPSC to demand that the law be changed to include an exemption.
"Nearly 40,000 people have already used the AMA website to voice their displeasure to Congress and the CPSC, but we can't stop now, we have to keep up the pressure," says Moreland.
Related Reading
DRR Youth ATVs pass lead tests
Idaho Congressman requests hearings on OHV ban
Youth ATV ban could cost $1 billion
Published March 9th, 2009 3:03 PM
Top Brands
Popular Articles