1 View
Dirt Bike Champion to Take on Top ATV Riders
October 20th, 2008 3:47 PM
Share
David Knight to compete in GNCC finale
The Can-Am Grand National Cross Country community is bracing for an unprecedented showdown when Can-Am Grand National Cross Country (GNCC) dirt bike champion David Knight lines up on an ATV to compete against the series' best four-wheeled pilots this weekend at the Klotz Ironman GNCC in Crawfordsville, Ind.
"I'm really looking forward to competing in the quad race at the final GNCC of the year," says Knight, a member of Team Red Bull KTM. "I'm not expecting any great results; it's just a bit of fun. I've only raced a quad at Weston Beach Race, and that's a lot different than a GNCC course. I'm just hoping to finish and have some fun doing the race. Then, on Sunday, I'll get some time to say goodbye to all the friends I've made during the last two years."
At the Ironman, ATVs will race on Saturday, Oct. 25, and dirt bikes on Sunday, Oct. 26.
After claiming the 2007 and 2008 GNCC Championship on bikes, and winning 14 out of the 24 races in which he competed, next season Knight will return home to compete in Europe's World Enduro Championship. This weekend's race may be the last opportunity to see the Isle of Man native compete in the U.S.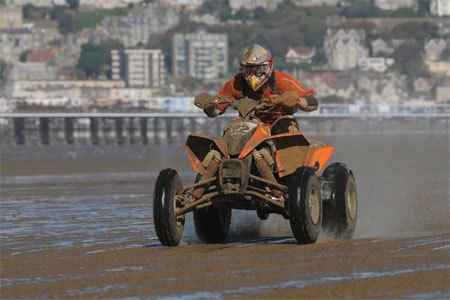 The top ATV stars look forward to a friendly challenge from Knight, who recently finished fourth out of 374 entries racing in the ATV portion of the Weston Beach Race in England.
"No matter where he finishes, I would like to see him put his full heart into it and push hard for the whole two hours," says GNCC ATV Champion Bill Ballance. "That way he'll really get the full experience and know what we do."
"Win or lose, it's great exposure for us," says veteran ATV pro Johnny Gallagher.
Barry Hawk is the king of the GNCC crossover, having notched seven-straight GNCC ATV titles before switching to bikes and then claiming that championship in 2003.
"If he goes out there to have fun, it will be good for him," says Hawk, who rides for the Am-Pro Yamaha bike team. "If he expects to run in the top ten and prove a point, it will be tough, because he doesn't have enough time on the machine to do that. I mean, if I were to race Indiana on an ATV, with all the experience I have, I'm not sure I could get a top ten, just having a few weeks to get ready."
GNCC rules do not allow a pro bike racer to compete in Saturday's ATV event, so Knight will skip Sunday's bike race.
Ballance clinched his record ninth-straight GNCC ATV title at the previous event. He'll race just for fun in Indiana. Expect competition from FRE KTM's Adam McGill, who sits second in points. There are three riders fighting for third in the final standings: Yoshimura Rockstar Suzuki's Chris Borich, Team Excell Motorsports' Bryan Cook, and GT Thunder Yamaha's Brandon Sommers. Also look out for XC2 Champion Don Ockerman, who finished second in his XC1 pro debut in Ohio.
The ATV division packs a championship showdown in the 10 a.m. Saturday morning race as well, with women's racers Traci Cecco and Angel Atwell tied in points coming into the last round.
The Ironman will host the final round of the first-ever GNCC UTV Series as well, with Yamaha Rhinos and Polaris RZRs competing.
The Klotz Ironman GNCC finale packs a variety of special events, including free ATV demo rides from Can-Am, Yamaha and KTM, and free demo rides of KTM bikes. Yamaha plans a GNCC Championship party for Ballance. A pair of monster trucks will put on a demo run on the track also.
For more information on the racing series, check out the official series web site at http://www.gnccracing.com/.
Related Reading:
Ballance clinches ninth GNCC championship
Published October 20th, 2008 3:47 PM
Top Brands
Popular Articles