1 View
ITP Wins San Felipe 250 on BajaCross Tires
March 20th, 2010 10:44 AM
Share
ITP-backed Teryx wins Sportsman UTV class
ITP's BajaCross tires have earned another victory – this time at the SCORE San Felipe 250 in northern Baja, Mexico.
Drivers Bob Viau Sr. and Chris Koch piloted the ITP-backed, DragonFire Racing-prepped Kawasaki Teryx to a decisive Sportsman UTV class victory. The Minnesota-based duo used BajaCross tires mounted to ITP T-9 Pro Mod wheels fitted with T7 Beadlock rings to complete the course in just under nine hours, at an average speed of 27.9 mph. Their margin of victory was almost a half hour.
The only issue the team experienced on an otherwise perfect day of racing was being nerfed from behind by a bigger race vehicle in a deep silt bed, which knocked off the spare tire and jack. Luckily they didn't need it, as the tires and wheels went the distance with no problem – just like they did on the way to winning the most recent Baja 1000.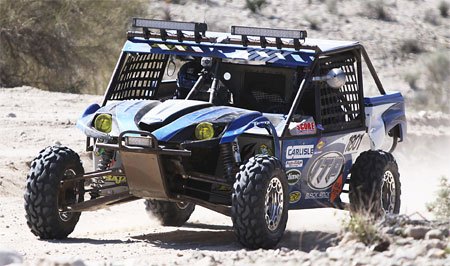 About ITP's BajaCross Tire
The BajaCross is ITP's most rugged tire ever, built to handle the toughest and heaviest UTV applications. It performs impressively in a wide variety of terrain conditions on 4×4 and utility ATVs as well as UTVs. An 8-ply rating and 25 percent stronger construction has resulted in a high level of durability. The extended-life rubber compound and overlapping tread pattern is designed to provide a smooth, predictable ride as well as slow wear characteristics — this is the highest-mileage tire ITP has ever produced. Stepped lugs provide consistent tread edges as the tire wears, for predictable performance throughout the long life of the tire. Wraparound lugs provide improved shoulder protection, while a super deep Rim Guard feature offers what ITP claims is the best wheel lip protection in the business.
The ITP BajaCross now comes in six sizes: 25x8R-12, 25x10R-12, 26x9R-12, 26x11R-12, 26x10R-14 and 26x11R-14.
Published March 20th, 2010 10:44 AM