1 View
August 5th, 2008 10:59 AM
Share
Scott Wine to take over duties in September
Polaris Industries Inc. of Medina, Minn. has named Scott W. Wine chief executive officer, effective September 1, 2008. Wine will succeed outgoing CEO Thomas C. Tiller, who will continue to serve as a member of the company's board of directors.
Wine joins Polaris from UTC Fire and Security, a unit of Hartford, Conn., based United Technologies Corporation, where he served as president, Fire Safety Americas. He also held senior leadership positions at Danaher Corp., Honeywell International and served as an officer in the United States Navy.
Wine's selection comes at the end of an extensive search process conducted by the Polaris board of directors, led by Chairman Greg Palen.

"As a proven leader with considerable experience across a variety of industries and three outstanding international companies, Scott has an impressive track record of producing outstanding results," says Palen. "We're confident that Scott, together with our strong management team, will continue Polaris' remarkable history of innovation, leadership and results benefiting all of our stakeholders."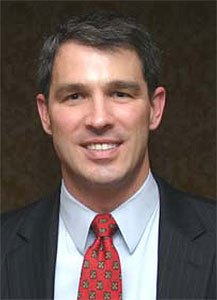 Polaris announced in January that Tiller expected to step down from his CEO position by the end of 2008, when his current employment contract expires. Tiller has been with the company since July, 1998 and its CEO since May, 1999.
"Tom and his team did an outstanding job of leading Polaris for the past ten years and we feel very fortunate to be able to continue that success by adding Scott's experience and skills to that team," says Palen.
Wine will the third Polaris CEO in the past 27 years and will work with a senior management team that includes Chairman Palen and president and COO Bennett Morgan. Wine will also join the board of directors.
"I'm extremely excited to be joining such a great management team and a company with such amazing products and a strong and innovation-focused culture," says Wine. "Tom and the senior management team have had such consistent success and I look forward to building on that accomplishment."
The 41-year-old Wine is a 1989 graduate of the United States Naval Academy and received a Masters in Business Administration from the University of Maryland.
In addition to his work at Fire Safety Americas, Wine spent five years, 2003 to 2007, with Danaher Corp. of Washington, D.C., serving as president of its Jacob Vehicle Systems and Veeder-Root subsidiaries and vice president and general manager, manufacturing programs in Europe.
From 1996 to 2003 he held a number of operations and executive positions, both international and domestic, with Allied Signal Corp.'s, Aerospace Division, which became Honeywell International after a 1999 merger with Honeywell, Inc. While there, Wine was responsible for the division's international operations and during his tenure the business grew significantly in the Middle East and Eastern Europe.
Published August 5th, 2008 10:59 AM
Top Brands
Popular Articles