1 View
Polaris Posts Strong First-quarter Sales
April 26th, 2010 1:37 PM
Share
Ranger sales see big growth
Polaris Industries saw a 16 percent increase in sales of off-road vehicles (ORVs) during the first quarter of 2010, compared to the first quarter of 2009. Polaris ORV sales totaled more than $250.4 million in the first three months of 2010, compared to $215.5 million in 2009.
According to Polaris, this increase reflects significant market share gains for both ATVs and Ranger side-by-sides driven by new product offerings, including the recently introduced Ranger RZR 4 – the company's first four-seat sport side-by-side.
North American retail sales to consumers for ORVs increased nearly 20 percent for the 2010 first quarter from the first quarter last year, with side-by-side vehicle retail sales increasing significantly while core ATV retail sales were about flat. Polaris also reports that retail sales trends improved sequentially each month during the first quarter of 2010.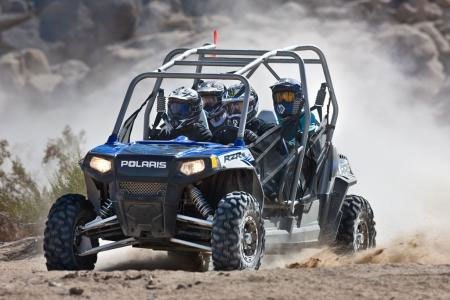 North American dealer inventories of ORVs were down significantly during the 2010 first quarter, declining 34 percent when compared to 2009 first quarter levels. Sales of ORV to customers outside of North America increased over 40 percent in the first quarter 2010 when compared to the first quarter 2009, due to market share gains in both ATVs and side-by-side vehicles, positive mix benefit as more higher priced side-by-side vehicles were sold, higher selling prices and positive currency benefit from the weaker US dollar.
"Our first quarter results demonstrate that the investments we made throughout the economic downturn have prepared us well to accelerate growth in 2010," says Polaris CEO Scott Wine. "Our first quarter sales and earnings growth exceeded our expectations driven by solid execution of our long-term strategy, which includes successfully developing and marketing innovative new products and improving operational efficiencies across our business.
"While we still have concerns about the strength of the economic recovery and our core powersports industry, I am confident in the ability of this Polaris team to capitalize on our investments in the development of innovative, high quality products, our international expansion efforts and the many exciting new market adjacencies that we are pursuing."
Related Reading
2010 Polaris Ranger RZR 4 Preview
Published April 26th, 2010 1:37 PM
Top Brands
Popular Articles