1 View
Three FRE/KTM Riders Lead GNCC Points Chase
April 21st, 2009 5:37 PM
Share
McGill, Kirkland, Atwell top standings
The FRE/KTM ATV GNCC Team continued its podium streak by placing all three riders, Adam McGill, Josh Kirkland and Angel Atwell on the podium again. All three riders now hold the Championship points lead in their respective class (Pro, Pro-Am and Women's Expert).
The XC-1 Pro race did not start well when the top four point leaders, Chris Borich, Taylor Kiser, Bryan Cook and McGill were caught up in a first corner pile up. From that point on it was a race among the top four on who could charge through traffic the fastest. McGill was ready for the challenge and had worked his way into 10th position by the end of the first lap. As McGill continued to blow through the pack he never lost site of Borich.
The two battled the second lap while still picking off other riders. Borich decided to pit while McGill charged ahead and was able to take over 2nd place. He continued to hold his position until the fourth lap when he had to pit for a splash of fuel. He reentered the track and began to close again on Ballance and Sommers but was left without much time to move forward. He finished 3rd overall earning his fifth podium of the year while inheriting the Championship points lead.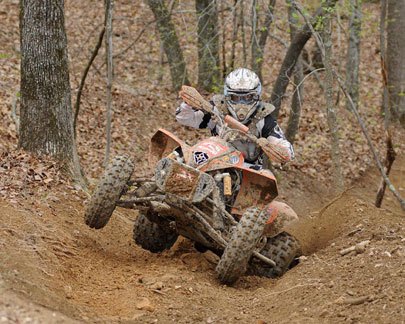 Kirkland was just barely edged out for the holeshot by Brian Wolf as the riders entered the first turn of the XC-2 Pro-Am class. Shortly after the two leaders took a wrong turn on the track and briefly lost their 1st and 2nd place positions. Kirkland and Wolf battled side by side throughout the entire race. Kirkland put on an impressive last lap charge but could not find the right line to get past Wolf. When the checkered flag flew Wolf won the race with Kirkland just 2 seconds behind. Kirkland now leads the series by four points.
In typical fashion, Women's Expert Angel Atwell grabbed the holeshot ahead of defending Champion Traci Cecco. Atwell was passed for the lead on the first lap but continued to battle with Cecco for the first half of the race. Near the end Atwell made another mistake and let Lexie Coulter get by. Atwell's 3rd place finish keeps her in the points lead heading to the next round.
Published April 21st, 2009 5:37 PM