1 View
US Firm Develops Better Battery
November 1st, 2007 2:03 PM
Share
Device could have beneficial uses for variety of machines
A company out of Peoria, Ill. is developing a lightweight battery that it says is more powerful and longer lasting.
Firefly Energy Inc. was named co-winner in the energy category in The Wall Street Journal Technology Innovation Awards for its carbon-graphite foam lead acid battery.
The battery is being designed for commercial and military applications, but Firefly spokesman Daniel Stewart says the benefits are applicable to powersports.
"Actually, Firefly's carbon-graphite foam technology is applicable to any type of equipment that uses lead acid batteries," Stewart told ATV.com. "While we don't have specific plans at this time to market powersports batteries, there are some compelling benefits of our technology with regard to this market.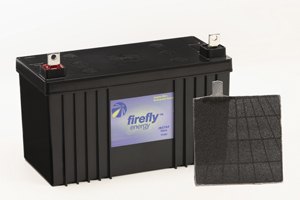 "Specifically, greater energy density allows more power to be put inside a smaller container, and batteries with our technology are highly resistant to the effects of sulfation, which kills batteries during long periods of off-season inactivity."
Stewart says Firefly's technology unleashes much greater levels of power from the lead acid chemistry, up to a 40% increase in energy density.
"In preliminary cycle life lab testing, our batteries are lasting more than four times as long as conventional lead acid batteries," says Stewart.
Powersports enthusiasts, however, shouldn't expect to be able to replace their existing batteries anytime soon. Firefly is targeting mid-2008 for the release of its first commercial product, but the company has not set a timetable for the powersports market.
As far as cost is concerned, Firefly has not established a firm price yet, but Stewart says the company expects it could be about 2.5 to 3 times more than a comparable lead acid battery.
"Given the performance and life expectancy advantages, we think that this represents excellent value to the consumer," says Stewart.
Published November 1st, 2007 2:03 PM
Top Brands
Popular Articles