1 View
Wimmer Edges Wienen in Charity Race
September 12th, 2008 12:40 PM
Share
More than $12,000 raised for 88 Live to Ride organization
For the last six years, ATV enthusiasts gather at Mapleshade MX in Sugar Grove, Pa. to race in memory of Matt Bartosek, the talented up and coming pro who died in early 2003.
The 88 Live to Ride organization, headed by Matt's mother Debi Bartosek, once again put on a successful weekend of racing and raising money for ATV racing safety programs. Romney Suzuki Cycles of Romney, WV, donated a Suzuki QuadRacer R450 for a top raffle prize. The quad was signed by the entire Rockstar/MSR/ Pro Taper/Yoshimura/Suzuki team. Proceeds went to the 88 Live to Ride Foundation and the Mobile Medical Unit.
The fans that turned out in support of this year's event were treated to some real world-class racing. Recently crowned ITP Tires/Moose Racing AMA/ATVA National Motocross Champion Dustin Wimmer and his Suzuki teammate Chad Wienen showed up for the Sept. 7 race, along with other national pro riders.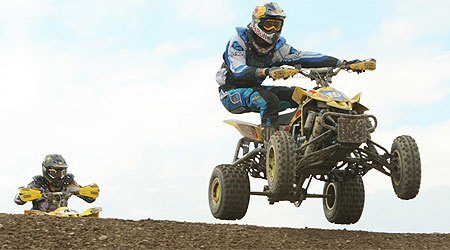 Wimmer and Wienen had an exciting battle in the second moto, with Wimmer shadowing his teammate for the majority of the race and swapping places in the final laps. On the last lap Wimmer found a better line and passed Wienen with only two turns left before the flag.
"That moto was the best race I've ever run in my life," says Wimmer. "I got onto Wienen on lap 2 and stayed second until the last lap. I got a good drive uphill over a triple and got around him in the second-to-last turn.
"What a great race! Debi put on a great event here and we all had a lot of fun."
Over $12,000 was raised to help support the event and the 88 Live to Ride organization.
Published September 12th, 2008 12:40 PM