73 Views
September 21st, 2021 7:24 PM
Share
We're committed to finding, researching, and recommending the best products. We earn commissions from purchases you make using links in our articles. Learn more here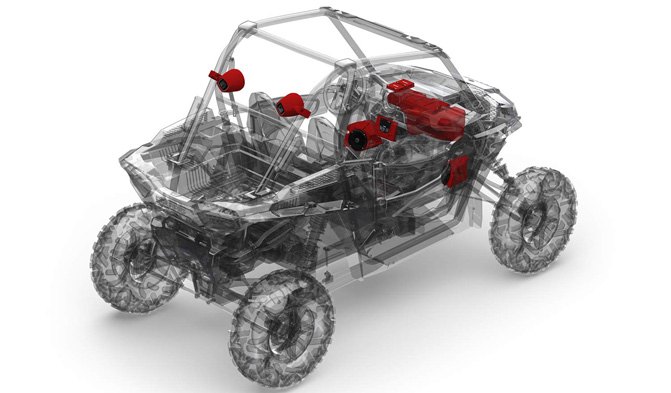 These off-road stereo systems produce great sound and are built to take a beating
The first time I ever experienced an ATV radio or stereo system was interesting. The sound quality was ok, although it was quickly drowned out by the engine. But the durability was pretty good and the idea was much better than my previous attempts at music while I rode. Years ago, I would run headphones up the back of my jersey and wear them inside my helmet. It worked ok, except I couldn't hear anything else. Today's ATV radios are so much better than anything from even a year or two ago. Sound quality has gone way up, and the actual stereo units are smaller and more durable. Here are five of the best ATV radios and stereo systems available today for your ATV or UTV. Combine all these features with the quality and reputation of Kicker audio products, this truly one of the best units you can buy.
1. Editor's Choice: Rockford Fosgate PMX-3
If you're going to go big, get the best sound quality you can. Rockford Fosgate's PMX-3 Punch Series AM/FM/WB Tuner and compact digital media receiver is what most other UTV stereo systems are measured by. It has a 2.7-inch color display and a custom built-in user interface and operating system. The full-color TFT screen supports album artwork and channel logos, and you can see it clearly even in direct sunlight. Want to listen to your favorite playlists on Pandora or even your favorite satellite radio stations while having fun? No problem since the PMX-3 is Sirius XM satellite ready or you can sync Pandora up from your phone.
Epsom memory eliminates the need for a constant power source, eliminating battery draining dark-current draw during storage, so it won't kill your battery like some units do. Rockford Fosgate's Extreme Environmental Testing and Certification process means this unit can withstand extended exposure to the elements. They even certify for IPX6 water and dust Ingress on faceplate. The full color display has auto-dimming back lightning, a global AM/FM/WB Tuner and the whole thing fits into a 3-inch diameter opening. There is also a USB input, built-in Bluetooth and Pandora internet radio. Power comes from 50 watts x 4 and each unit has 2 ohm stable outputs allowing for up to eight 4 ohm speakers to be used with the internal amplifier. Take all of these features, Rockford Fosgate's reputation for building quality products and a full 2-year factory warranty when purchased from a RF dealer, and you can understand why this unit was the favorite among our staff!
2. Best Bluetooth/USB/ AM/FM Stereo Option: Jensen JMS3RTL Compact Waterproof Bluetooth Stereo
Another quality unit in our list of ATV radios, the Jensen JMS3RTL is a 160-watt, waterproof, self-contained stereo. Designed to be ultra compact with just a 3.5-inch diameter, it can fit into many UTV dash spaces with minimal effort since it only requires a three-inch hole for mounting. It has an AM/FM radio, both USB and Auxiliary inputs, as well as Bluetooth connectivity.
Despite its compact size, the JMS3RTL has a large LCD display that is readable in daylight with blue backlit controls making it extremely user friendly no matter when you want to enjoy your tunes. While this ATV radio won't provide the biggest sound, it's a great starting point if you want to add more speakers and amplifiers to your ride.
3. Best No Budget Stereo: Kicker KMC5 6 Channel Media Center w/ LCD Screen
If you want the best of the best when it comes to ATV radios, you can't overlook any components from Kicker Audio. Delivering up to 240w of speaker pumping power, this marine media center would be out of place on an ATV but will look right at home in the dash of your UTV. The 3.5-inch LCD display displays your music album artwork clearly, when you have the unit connected to your media device via USB, Bluetooth, or your favorite Sirius XM satellite radio channels. If and when you decide you want to give your tunes a boost of power, this unit is equipped with RCA outputs to easily install an amplifier(s). One feature the KMC5 has that other media centers may not is a video input that can be used for a backup camera or other input you see fit.
4. Velex Marine Digital Media Receiver
It should really be no secret that many of the in-dash marine receiver stereo units and the same for UTVs are virtually identical. The technology carries over extremely well, as most marine stereos have to withstand the constant pounding a marine environment can dish out with rough waters, salt corrosion and more. Add in dust and mud, and you've got the perfect UTV or ATV radio or stereo, too. This unit is Velex' top of the line and features a 3-inch color LCD display that shows you exactly what mode you're using and information from the music file being played. It has AM/FM, AUX input, MP3 input and Bluetooth, making it connect with your digital media players and smartphones. It has 50W x 4 output and Balance/Fader/Bass/Treble and Preset built-in EQ controls to tailor the sound to your tastes. If you're worried about a marine radio standing up to the abuse of an ATV, the Velex Digital Media Receiver backs the units with a 1-year quality promise. This is a great unit that is loaded with premium features, while still remaining affordable, making it worthy of being on our list of best ATV radios.
5. BOSS Audio MGR450B Stereo
BOSS audio has been in the business of providing quality audio components for ATVs and UTVs for a long time. It has a wide-range of products, too. In fact, it'd be hard to make a list of ATV radios and stereo systems without including something from the company. The MGR450B is compact and ready to be mounted in the dash of your UTV. It has all the usual features you'd expect with AM/FM/WB radio, Bluetooth connectivity and audio inputs for using other devices. This stereo has 60W x 4 output making it one of the more powerful stand-alone stereo units. Other nice features include RDS Tuner, and controllable Balance, Fade, Bass, Treble and Preset built-in EQ. The display if backlit for easy use and the whole unit is weatherproof just as you would expect.
Recent Updates
March 16, 2021: Added the Jensen MS3A to the list.
Sept 21, 2021: replaced product (rockford fosgate PMX-2 to PMX-3, Kenwood Marine Radio with Kicker Media Center) updated product descriptions, added FAQ and Added additional resources.
Become an ATV insider. Get the latest news first by subscribing to our newsletter here.
We are committed to finding, researching, and recommending the best products. We earn commissions from purchases you make using the retail links in our product reviews. Learn more about how this works.
What should I look for in a UTV stereo unit?
There are two major points to consider first and foremost with a UTV stereo unit. You need to know if it will fit into the space you have available to mount it, and whether or not it will withstand the abuse of being used in an off-road environment. Luckily, most stereo units are small and compact these days. With the music industry moving away from CDs and to digital streaming, the need for a lot of space for a stereo is over. Now, if you still want the option to play CDs, you can get a nice stereo for it, but know that you'll need more space for mounting it. You also want a weatherproof stereo. Most of the marine-designed stereo units work exceptionally well for UTV and ATV use. They are waterproof and dust proof and are rated to withstand the shock and vibration of an extreme environment.
How much power do I need for a stereo unit?
How you decide to set up your UTV or ATV stereo is very different from how you would do so in your car or truck. The difference is soundproofing. The interior of your car or truck has significant soundproofing designed into it to make the driving experience more enjoyable. In you UTV, for example, there is no real soundproofing because you're in the open air, and you're expecting to like the sound of the motor humming and the tires rolling. If you really want your stereo to overpower all of that, you're going to want to add amplification and along with it, know that you'll probably need to adjust the power output and battery voltage to match.
How do I mount a stereo to my ATV?
Much of this has to do with how much room you have to work with. On an ATV, your space is very limited so of course you'd need one of the smaller units OR you could do what many others have done by getting some kind of hard case mounted to your utility racks and use it to hold the stereo or media center and speakers. Honestly on an ATV, that is probably the best way to go so you'll have maximum space and protection for your components. As for mounting a stereo into a UTV, you'll probably have many options as some of the current models come with media centers and just need to be replaced. Derrek Sigler
Derrek's love for all things ATV started when he was a mere 11 years old, growing up on his family farm. His mom gave him and his sister a choice - get a horse, or a three-wheeler. The sister wanted the horse, and Derrek wanted the ATV. Luckily he won out, and was soon burning up the trails on a Yamaha Tri-Moto 200. By the time he was 14, he had saved enough of his own money by working on the farm and in his folks restaurant to buy a new 4-wheeler. That happened the day he and his mom were driving past the dealership and saw 1987 Banshee. His mom had no idea what he was buying, and he never looked back. He's been riding ever since, and been writing professionally for many years. He has ridden all over North America and been behind the controls of just about every machine out there. And yes, he still has his 1987 Yamaha Banshee.
More by Derrek Sigler
Published March 25th, 2019 11:58 AM
Top Brands
Popular Articles