6 Views
Cardo PackTalk Bold Review
May 19th, 2021 12:20 PM
Share
We're committed to finding, researching, and recommending the best products. We earn commissions from purchases you make using links in our articles. Learn more here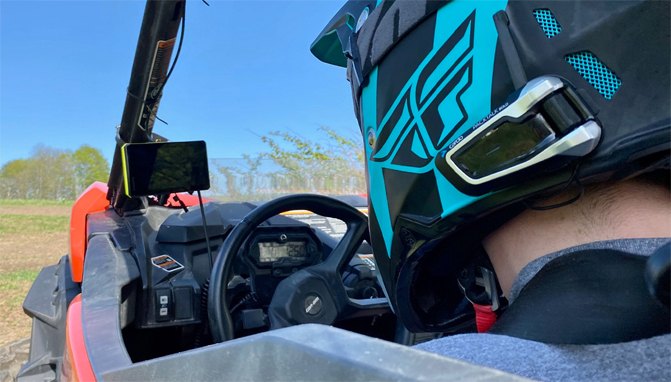 The next level of off-road communication systems
I've been lucky enough over the years to get to use a few onboard communication systems while driving and riding in a UTV. The ones I used were mostly the type where there is a central unit and you plug into it with a cord running from your helmet. These were nice units, but were basically limited to communications between the passengers and between machines. Using one on an ATV would be difficult with standing and sitting. I think the cable might be an issue. Recently I got my hands on the Cardo PackTalk Bold, and it has completely changed the way I view communications while out on the trail.
The Cardo system is wireless and installs on your helmet in two different ways. The system consists of a mount for the unit that goes on the outside of the shell. This connects to the stereo headphones that are made by JBL and these mount near your chinstrap on the inner liner. Another wire runs up to one of two different microphones – a small unit that attaches via adhesive, or a beefier version that is more of a traditional helmet microphone. These are all controlled by the Cardo unit that can either be mounted with a clip-on base, or a permanent base mounted with a strong adhesive.
Table of Contents
Getting your lid ready for the Cardo is pretty simple. You'll need to remove the cheek pads so you can mount the speakers. I first mounted the unit in my Fly Racing Formula helmet, before I mounted other units in my family's Fly Racing helmets. Yep, I'm very fond of Fly Racing helmets.
Mounting the microphone can be a little tricky getting it positioned just right so that you don't knock it out when putting on the helmet. I mounted the beefier unit in my hemet, and tried the discrete one in my sons' helmets. The boys liked the smaller mikes, but one would not stay put, mostly because of the materials in the chin bar, I think.
You can plan on installation taking about 10-15 minutes at most. Just make sure the helmet is clean and dry before you get started. This is important, especially if you're using the permanent adhesive mount for the outer unit. It didn't happen to me, but I know from experience that if you screw up the adhesive, it's toast, and there's no easy way to replace the adhesive on the mount, and replacements aren't cheap. Play around with the locations of things to make it just right and you'll hardly notice the unit is installed.
One of the big standout features of the Cardo is that it pairs with your phone, so you can take calls while riding and not have to worry about your phone at all. It is a super easy process. All you need to do is hold down the button until the lights flash and then find it with your phone's Bluetooth. This system actually works extremely well due to Cardo's Dynamic Mesh Communication (DMC) that gives you a really strong connection and the unit remembers your phone.
I have a speaker system in our UTV. It doesn't get used much because my wife and I have dramatically different tastes in music. The problem, too, is that you're fighting the sound of the motor while riding. I'm not going to lie, I'm also not a big fan of sharing my music with everything and everyone on the trail. The Cardo solves this with the amazing JBL speakers that were paired with the Cardo system through a partnership that included massive testing done at Harman's Acoustic Labs in Los Angeles. This is easily the best sound system I've ever used in a helmet, and by pairing the unit to my phone, I can listen to my music and she can listen to that stuff she likes. If we want to talk, we tap the intercom system and chat away.
This unit also pairs with a GPS system, like Garmin's amazing Tread system, which allows even better communication, call monitoring and navigation directions, all coming through crystal clear. The Tread really helps because it adds a screen with caller ID and text messages, so you can quickly see if there is something you need to pull over and address.
My only negatives are fairly simple. The installation instructions could be clearer. This is something that is the case with a lot of technology, where someone with a background in the technology writes the instructions, as opposed to a regular person's experience level. There were a few things I questioned at first, but once I got into it, it is all pretty self-explanatory. I'd also like to see a second adhesive patch for the mounting bracket, just in case something screws up the original.
I had my wife hop in with me, and I had the two teenagers follow behind so we could get a good test of the Cardo Bold units. There are fairly easy instructions to set up a group ride where everyone can easily chat with each other. There is outstanding noise cancelling built into the system, so you can talk and be heard and it sounds great. The noise cancelling works even better when listening to music.
I was concerned about a couple of things - Range and battery life. Range was a little difficult to test, as I didn't want to just unleash a couple teenage boys, but we did split up with around a mile between us, and we could still chat clearly, especially when my wife told the boys to quit goofing around and catch up to us.
Battery life was between 10 and 12 hours. I've heard of 13+ hours being normal, but I think all the music and chatting diminished battery life some, not to mention, it was rather cold. Still, I consider the battery life to be outstanding and I'm extremely happy with it.
I was really quite concerned with the life of the Cardo PackTalk Bold because the aforementioned teenage boys don't seem to have the ability to avoid a single mud puddle. Good thing the unit is waterproof. Now I don't think I'll let them go mud bogging with it on, but rain and some light splashing doesn't seem to hurt it any.
The Takeaway…
For riders that normally wear a helmet (and you all should), the Cardo PackTalk Bold system replaces other types of helmet-to-helmet communication system, as well as allows integration with your phone. These aren't cheap units, with single units running around $250+ and the Duo, which has two systems for two helmets, coming in around $450. For the money, however, you get a premium audio system, helmet-to-helmet communication, and phone connectivity to answer calls. Connect it to a GPS system as well and you've got a great way to help keep your eyes on the trail, and your hands busy with the important thing - controlling the machine!
One of the things that stands out is the freedom you have. These units were originally designed for motorcycle riders to give them hands-free communication. I'm pretty pumped that my all-time favorite motocross rider, 6-time national champ Jeff Stanton, uses the same Cardo Bold system for his adventure motorcycle riding side business. He swears by them. I can see why because I now swear by them, too. It makes the enjoyable ride that much better.
We are committed to finding, researching, and recommending the best products. We earn commissions from purchases you make using the retail links in our product reviews. Learn more about how this works. Derrek Sigler
Derrek's love for all things ATV started when he was a mere 11 years old, growing up on his family farm. His mom gave him and his sister a choice - get a horse, or a three-wheeler. The sister wanted the horse, and Derrek wanted the ATV. Luckily he won out, and was soon burning up the trails on a Yamaha Tri-Moto 200. By the time he was 14, he had saved enough of his own money by working on the farm and in his folks restaurant to buy a new 4-wheeler. That happened the day he and his mom were driving past the dealership and saw 1987 Banshee. His mom had no idea what he was buying, and he never looked back. He's been riding ever since, and been writing professionally for many years. He has ridden all over North America and been behind the controls of just about every machine out there. And yes, he still has his 1987 Yamaha Banshee.
More by Derrek Sigler
Published May 19th, 2021 12:20 PM
Top Brands
Popular Articles