65 Views
Erickson Manufacturing Has Your Winching Needs Covered
September 14th, 2022 1:12 PM
Share
We're committed to finding, researching, and recommending the best products. We earn commissions from purchases you make using links in our articles. Learn more here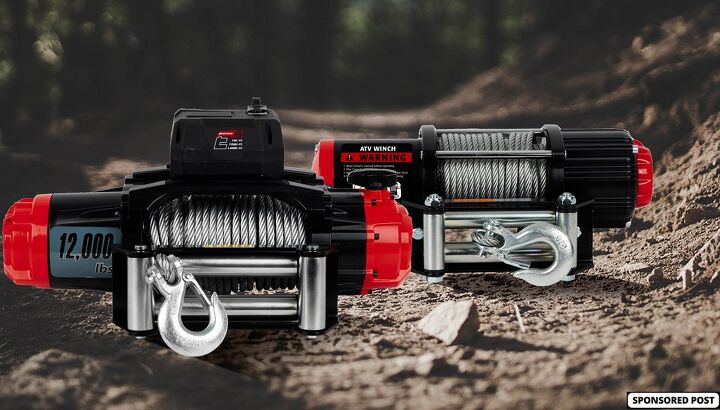 From your ATV to your truck, there's an Erickson winch to get the job done
Erickson Manufacturing has been a leader in keeping your cargo secure for more than 40 years. Starting as a family-run company back in 1977, the company has built its reputation by building and selling only products that the Ericksons would use themselves. That list of products is about to expand, with a new line of winches for ATVs, trucks, and trailers, offering high quality and an affordable price.
The company's product lineup is based around its motto: Tie it, tow it, load it. The focus on cargo control products means high-quality and DOT-compliant commercial-grade tie-down straps, but the company builds and sells so much more. Tarp straps, bungee cords, anchor points, e-track rails and accessories, even cargo carriers and load racks for commercial, farm, and home use. Now electric winches are becoming part of the Erickson family's family.
There are 11 products in the new Erickson line of winches. With capacities ranging from 1,500 pounds to a massive 17,500 pounds, helping to make sure you can find a winch that meets your needs and your budget.
The lighter-duty winches, the ones that can pull 5,000 pounds or less, are great for your ATV or UTV. Or for pulling your dock out of the water in the fall, your lawn tractor into your truck bed, and dozens of light-duty uses.
When you're winch shopping, you're going to want a maximum pulling weight of around 1.5 times the weight of what you're pulling. So if you're on a 1,500-pound ATV, you're going to want a winch that can handle 2,250 pounds to make sure it can pull you out of mud or up hills and over rocks.
If you're planning more extreme use like pulling yourself out of that mud bog that's up to the seat, then you're going to want more pulling power. That's just one reason why such a wide lineup of winches is a big benefit. Erickson has winches rated for 1,500, 2,500, 3,000, 4,000, and 5,000 pounds, which is perfect for just about any ATV or UTV application, so you don't have to compromise with less or pay for too much extra power.
Erickson's lightest winch can pull up to 1,500 pounds and comes with a 32-foot long cable (a 50-foot version is also available). That's a great length for helping load ATVs, boats, and other heavy equipment onto a trailer or into the back of your pickup. Forget trying to drive your lawn tractor or snowmobile into your truck, a winch makes it easier. And safer.
The larger winches start from 7,500 pounds and go all the way to 17,500. This gives you options for mid-size and full-size trucks if you're heading off-road. They're ideal for loading cars, trucks, and heavier boats onto a trailer, and can give you the ability to winch even smaller farm machinery onto your trailer.
Cables as long as 85 feet are offered, with up to 6.0 horsepower electric motors and three-stage planetary gear sets for maximum pulling power.
No matter the size, Erickson Manufacturing builds its winches to the same exacting standards as its other products. It is trusted by the industry for its cargo control products in areas where quality is key and price isn't far behind. The new winches will be competitively priced and will give users the quality they're used to.
Erickson has announced that Canadian-owned Princess Auto will be the exclusive winch retail partner in Canada. Erickson winches will be available at any of their 50 locations and online at princessauto.com, serving tradespeople, farmers, inventors, and industrial workers coast to coast. Published September 14th, 2022 1:12 PM
Top Brands
Popular Articles