1 View
August 2nd, 2017 5:05 PM
Share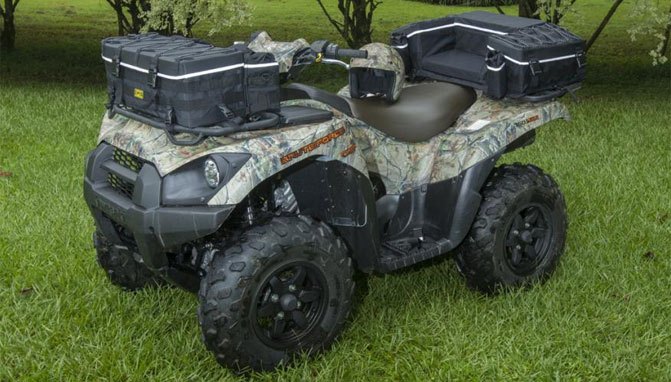 Rack bags offer more and better storage options for your ATV
Stuff. We have lots of stuff. We build houses to have a place to put our stuff and add onto them so we can buy more stuff. Whether you're going adventure riding, hunting or camping, you need a way to haul some of your stuff on your ATV. That's where ATV rack bags comes into play. What makes for a good rack bag is solid construction and well-laid out space to haul your stuff. Here are five ATV rack bags that pass the test and will work great for you as you take off to wherever the trail leads you.
Ogio Honcho Bag
If you stroll through the pits at a motocross race, you're likely going to notice a whole lot of Ogio bags. The reason is simple; Ogio knows how to make durable, long-lasting luggage and bags that can take years of abuse. The Honcho is made from 1280D Ballistic Poly, Tarpaulin, 600D Poly construction with big durable zippers and a semi-rigid form that holds its shape, even when the bag is empty. A dust gasket helps keep your stuff clean and the bag is backed by a lifetime warranty.
Kolpin Trailtec Cargo bag
When it comes to practical ATV accessories, Kolpin is a brand that is widely known and trusted. Its Trailtec bag is no exception to Kolpin's reputation. Made from heavy-duty nylon, the Trailtec bag doesn't use zippers for closure. It uses Velcro-type closures for a complete seal. The bag has reflective material on the back to add additional safety on the trail, and has built-in structure to keep its form when empty. The entire bag has a rain and dust cover to keep the contents clean and dry.
Take a look at one for yourself here.
Quadboss Pro Bag
Quadboss is another company making some really sweet ATV accessories and its Pro bag is pretty cool. Made from rugged 600-denier polyester material that is colorfast, UV-resistant and water-repellent makes for a very sturdy bag. The bottom of the bag is padded to help protect your stuff from the jolts and bumps along the trail. It has elastic cords on top to store more gear and three separate compartments as well as a padded seat/backrest for those times you need to stop and kick back on the trail. This bag also has a rain cover that comes out and covers the bag, your seat, the handlebars and the front rack. There's even a handy drink holder. See, I told you – it's pretty sweet!
Check one out for yourself here.
Cabela's TAC Gear ATV Rear Padded Bag
If you hunt or fish, you undoubtedly know about Cabela's. The Sidney, Neb. company was built on a reputation for great products and even better customer service. This bag offers plenty of storage and tactical MOLLE webbing for customizing the way you store and carry your stuff. There is a pull-over rain fly to keep stuff dry. You can get it in black, or Cabela's own ZONZ camo, but on both bags the color of the interior is orange to help you find stuff in low light.
You can get your own Cabela's bag by going to Cabela's, of course.
API Outdoors ATV Rear Rack Organizer
Most hunters know API for its treestands and other hunting gear, but it also produces some neat ATV stuff at some pretty reasonable prices. API's rear rack bag is treated for UV and water resistance. The sides and bottom are foam-layered to help protect your stuff. The center compartment is insulated to help keep stuff cold if you're hauling drinks, and the two side pockets have multiple storage options. The best part is the price. You can get one for under $100!
Published August 2nd, 2017 5:05 PM
Top Brands
Popular Articles