9 Views
Best Gear Bags For ATV and UTV Owners
March 3rd, 2021 5:28 PM
Share
We're committed to finding, researching, and recommending the best products. We earn commissions from purchases you make using links in our articles. Learn more here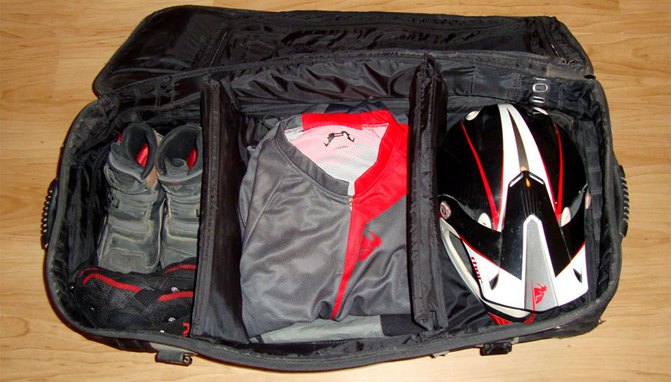 If you travel with your off-road gear, you need to protect it. Here are five of the best gear bags available to make sure your stuff stays safe when you're on the road.
As I start getting my gear bag repacked for yet another adventure, it got me to thinking about gear bags and how important they are to our way of life. If you travel anywhere outside your home to ride, you probably have some kind of gear bag, or need one. If you fly, it is an absolute necessity to ensure your gear arrives safely and in proper condition. Regular duffle bags do not hold up to the abuse the best gear bags will take. Plus, a gear bag is another way to show your own personal style and lifestyle. If you've ever waited at the luggage carrousel for your bag, you know that you bag is going to easily stand out from the crowd.
A good gear bag is not cheap, but consider it an investment in your riding gear and your sanity. Here are five of the best gear bags of various sizes and price points, each a solid choice for the traveling enthusiast.
Table of Contents
1. Editor's Choice: Ogio Rig 9800
If there is a more popular gear bag on the market, we haven't seen it. The Ogio Rig 9800 is a massive rolling gear bag that is marketed by Ogio, as well as several other companies that contract Ogio to produce it with their logo on it as well. When the ATV.com crew travels, you'll see a bunch of Ogio Rig bags of various colors. What makes it so good? Heavy duty construction with strong, oversized zippers, padded compartments and gear dividers and the SLED frame, that adds rigidity to the bag and serves as a stable platform for the wheels that make it easy to transport. If you travel a lot, the Rig is the way to go.
The Fox Shuttle 180 is proof that you don't need to spend a lot to get a decent wheeled gear bag. The Shuttle has separate compartments for boots and your helmet and is made from 600D Polyester material for durability. It has urethane wheels and strong zippers. Plus it's from Fox, so it has a classic and subtle look that still says you're a motohead.
While it doesn't have the same structure as the Ogio 9800, this FXR Racing duffel bag is a simple solution to hauling around your gear. Features include a heavy-duty shell, padded shoulder strap, two-way zipper, large zippered side pouch, and zippered end compartments. The bag is fairly compact, measuring 25" x 12" x 12" for a capacity of 50 liters.
4. O'Neal TX 8000 Gear Bag
If you want a proper gear bag but don't want to spend the big bucks, check out the O'Neal TX 8000 gear bag. It has everything you need in an off-road gear carrier...just without the same robust build quality you'd get out of the Ogio. This bag offers up one main storage compartment, a pair of end boot compartments, and a single side pocket. It is made of 600 denier polyester and comes with a removable cushioned shoulder strap and heavy duty zippers. Derrek Sigler
Derrek's love for all things ATV started when he was a mere 11 years old, growing up on his family farm. His mom gave him and his sister a choice - get a horse, or a three-wheeler. The sister wanted the horse, and Derrek wanted the ATV. Luckily he won out, and was soon burning up the trails on a Yamaha Tri-Moto 200. By the time he was 14, he had saved enough of his own money by working on the farm and in his folks restaurant to buy a new 4-wheeler. That happened the day he and his mom were driving past the dealership and saw 1987 Banshee. His mom had no idea what he was buying, and he never looked back. He's been riding ever since, and been writing professionally for many years. He has ridden all over North America and been behind the controls of just about every machine out there. And yes, he still has his 1987 Yamaha Banshee.
More by Derrek Sigler
Published October 18th, 2017 11:18 AM
Top Brands
Popular Articles