1 View
Getting a Grip With Sedona Buck Snort Tires
May 25th, 2021 12:00 PM
Share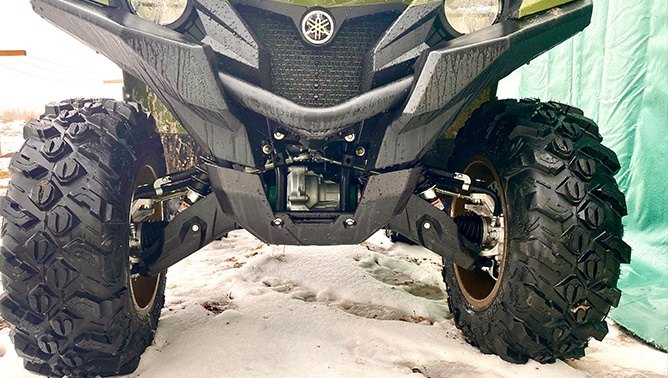 The Sedona Buck Snort tires match up well with Yamaha's 2020 Grizzly EPS
One of our all-time favorite big-bore utility ATVs is Yamaha's 2020 Grizzly. This torque-monger beast may not have the biggest engine in the category, but it has one of the best power bands going, with instant oomph any time you stab at the throttle. Match that to Yamaha's legendary reliability, perfect power steering and four-wheel drive, and you have a machine that can handle any situation on the trail. It made for a perfect platform to match up with Sedona Buck Snort tires.
Do Sedona Buck Snort tires work as good as they look?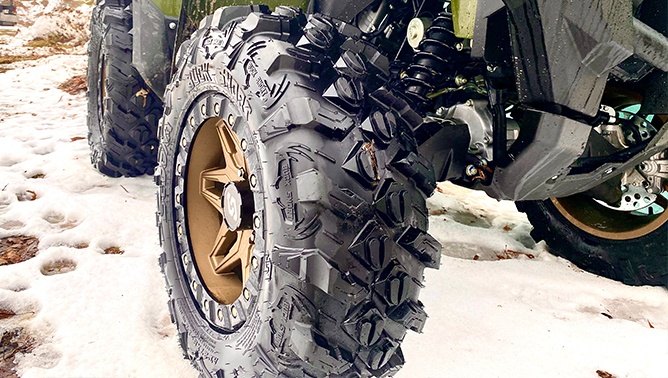 The Sedona Buck Snort is a moderate mud-terrain tire. It has a tough six-ply construction with open tread blocks and additional siping for traction. The center tread is where the tire gets its name from. It is a row of directional hoof-print tread that is shaped like a deer's hoof. The design helps with handling and provides a solid-enough tread pattern at the center for a smooth ride on hard-pack soil, as well as helping with mud and soft terrain.
Sedona didn't just stop with the center tread. The sidewall tread is shaped like deer antlers. Not only does this look cool, but it is also highly functional, giving the tire great rut traction, meaning these tires will be easier to get out of the rut than an actual buck.
Sedona recently added a 27-inch size to go along with the original 25-inch diameter. The stock Grizzly tires are 25 inches, so the Buck Snorts add to the already impressive ground clearance of the Griz. The tires have an impressive rim guard to help deflect impacts to the rim edge. This helps prevent flats. As impressive as this is, we wanted to go a step further.
In addition to the Sedona Buck Snort tires, we added their Split-Six Beadlock wheels. A beadlock rim is a great way to prevent flat tires because it literally locks the bead of the tire to the rim with a bolt-on ring. The Split-Six is made from high-grade aluminum and comes in two finish options. We went with the bronze finish because it would look great on our Grizzly. Pictures seriously do not do justice to these wheels. It is easily one of the best bronze finishes available.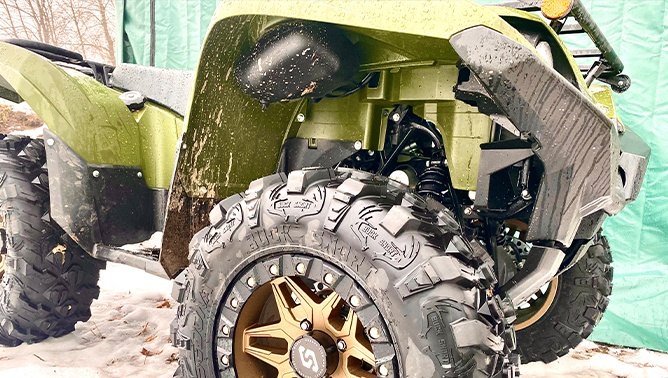 Beadlock wheels serve a great purpose in that they allow you to lower your tire pressure down for better traction without increasing the risk of the tire's bead breaking free of the wheel. Imagine being back in the boonies with your ATV during a back-country hunt. You can safely drop the tire pressure down to help get you through bogs and muck without rolling the tire off the wheel.
How good are the Sedona Buck Snort tires?
You might at first think of these tires as a bit gimmicky and aimed at the hunting crowd only. No gimmicks here, my friends. These tires offer great trail manners and can plow through moderate mud with ease. No, they are not the most aggressive tire on the market, but most of us don't need a more aggressive tire for average use. Too much tire can hamper performance at times, and the Buck Snorts have a really good blend. We moved around some equipment in sloppy, wet conditions, and the Yamaha with the dif-lock engaged and the Sedona tires made for a great combination.
They work really well, and come on – they look sweet. Mated with the Sedona wheels, these are one of the better looking tire/wheel combos on the market today and they are equally as functional. We received a lot of compliments on the trail and at the gas station.
How are the Buck Snorts on the Grizzly?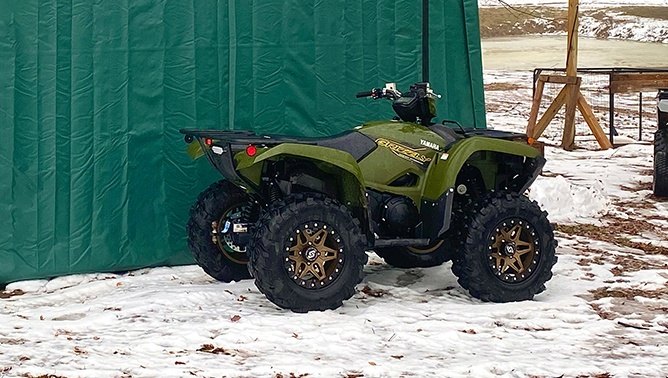 Like we said at the outset, the Yamaha Grizzly is a torque monster. It has superb handling and is one of our favorite ATVs. Yamaha has released a couple of special edition versions with 27-inch tires, so putting the Sedona Buck Snort tires on isn't a big stretch.
These tires and wheels paired with the Yamaha Grizzly is a great combination. They track well going down the trail and provide solid traction in soft terrain and mud. The sidewall antler traction is really good at helping you pull out of ruts, too.
Other Gear for the Grizzly
We've also added some Kolpin Rhino Grips to our Grizzly to help carry stuff when we go hunting. We put on the regular set up front and the XL size on the rear to help carry bigger gear.
We're looking at trying out Yamaha's amazing Adventure Pro GPS, too. Yamaha has a newly available bracket that helps attach the GPS to the machine just under the handlebars. The Adventure Pro is powered by Magellan and comes with trail system map software installed.
Our Tactical Green 2020 Grizzly EPS didn't come with a winch, but we may rectify that. One that we are strongly considering is the Warn Industries Axon 35-S winch with a 3,500lb rating and synthetic rope.
With a mix of the Sedona tires and wheels, Kolpin Rhino Grips, Adventure Pro GPS and perhaps a Warn Axon winch, our 2020 Yamaha Grizzly is ready for any adventure we can come up with. And if it's one thing we can certainly do, it's find a new adventure to undertake.
We are committed to finding, researching, and recommending the best products. We earn commissions from purchases you make using the retail links in our product reviews. Learn more about how this works.
Published December 10th, 2019 10:53 AM