64 Views
Kemimoto Does UTV Mirrors Like Nobody Else
September 27th, 2022 12:26 PM
Share
We're committed to finding, researching, and recommending the best products. We earn commissions from purchases you make using links in our articles. Learn more here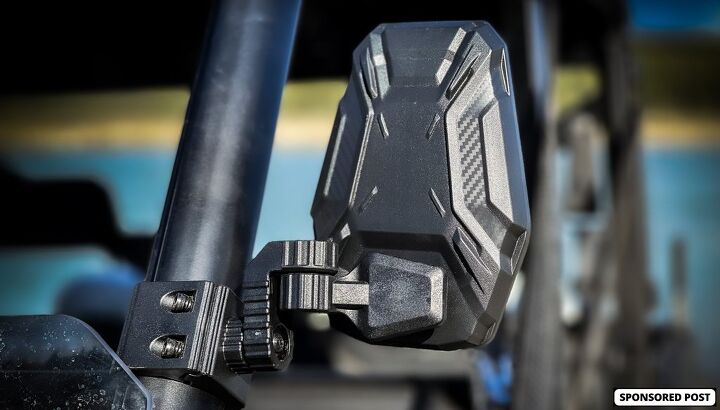 Out on the trail, visibility is everything. When you're riding, you need to be able to see every potential obstacle well in advance, and sometimes, that includes things behind or beside your vehicle. On your own private property, sideview and rearview mirrors are a clear value-add, helping you avoid some of the entirely preventable accidents that can pop up when you're driving in Reverse. On public trails, those mirrors are an absolute necessity, drastically helping mitigate the risk of vehicle-to-vehicle collisions and prevent bodily injuries.
That's why Kemimoto, a market leader in the design and manufacture of ATV and UTV accessories, has devoted so much focus to UTV mirrors over the past decade, in addition to accessories like saddlebags, seat bags, whip lights, and more. When the company was founded back in 2011, there weren't any readily available, affordable off-road mirrors for Side-by-Sides on the market that were much good for anything other than showing riders the rears of their own vehicles. So, the company's founders took up the challenge, setting out to create their own side mirrors to provide fellow ORV enthusiasts with a better view of their blind spots.
Mirrors have been Kemimoto's hottest-selling products ever since.
Today, Kemimoto has a staggeringly impressive collection of sideview and rearview mirrors for UTVs, ATVs, and bikes on offer, with nearly a hundred unique mirror packages on sale through the official Kemimoto website. Kemimoto makes mirrors to suit any need and any budget. Many of them are best-sellers in their respective categories, and for very good reason: as a direct-to-consumer brand, products are marketed, sold, and delivered to customers directly by Kemimoto. That extra efficiency allows the company to price its ATV and UTV accessories more effectively, and sell high-quality mirrors and other products while keeping prices extremely affordable.
Equally important, Kemimoto's ORV mirrors are just plain good. Design, development, and engineering all take place in-house, and the company even holds a few patents for some of its innovations. They have their own laboratory for product testing, to ensure that every mirror that wears the Kemimoto name is tough enough to go the distance. The mirrors are designed for beginners and professionals alike, with ridiculously simple install procedures that typically require a hand tool or two and just a few minutes of your time to set up. They are made to suit the overall aesthetics and performance requirements of the vehicles they are designed for.
As an example, let's take a look at a pair of Kemimoto's lighted side mirrors designed for Sport Side-by-Sides. As the name implies, Kemimoto has built two levels of lighting into each of the side mirrors. You can fire up one or both of the lights in each mirror. And with an angle of illumination of 195 degrees, you can see exactly where you are going.
Additionally, these mirrors boast shatterproof tempered glass, which helps protect the driver and passengers in case of an impact. They also feature a breakaway design, so they will fold up if you get a little too close to a tree or any other obstacle rather than snap right off. When it comes to construction, Kemimoto made the shell out of a high-quality ABS, while and the frame and bracket are built out of aluminum.
Of course, Kemimoto is more than just mirrors. The brand also produces and sells its own saddlebags for motorcycles, seat bags for ATVs, backpacks, roll cage cargo organizers, and other storage accessories. They also manufacture high-quality whip lights and mounts, UTV cupholders, dome lights, windshields, vehicle covers, and even some riding gear. But high-quality, fairly priced ORV mirrors will always be the company's specialty.
Be sure to check out all the mirrors Kemimoto has to offer at kemimoto.com. ATV.com readers can save 16% on all products through December 31, 2022 with the code ATV. Published September 27th, 2022 12:26 PM
Top Brands
Popular Articles