50 Views
Moose Utility Division Bumpers Are Back, and Better Than Ever
March 11th, 2021 10:23 AM
Share
We're committed to finding, researching, and recommending the best products. We earn commissions from purchases you make using links in our articles. Learn more here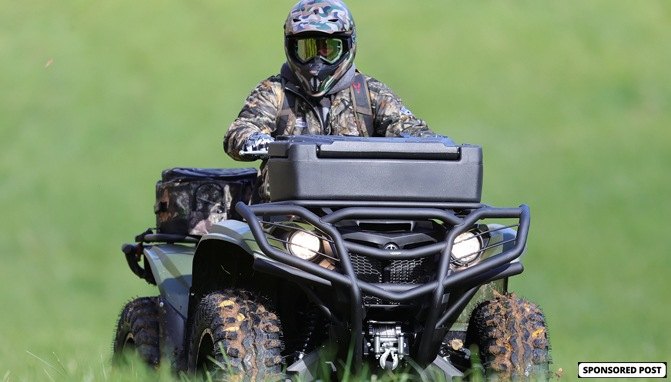 These durable bumpers make a welcome return to the MUD lineup
There's an old saw that states if you didn't get stuck on your off-road trip, then you weren't really trying. In that same vein, if you don't get to within a quarter-inch of that gnarled fir tree while navigating a tight turn, are you really using all of the trail's width?
Here's the issue with using all of the trail though: your rig's front (or rear) fascia is likely to connect with said tree and splinter apart in an explosion of plastic and fiberglass. (There's a reason the bodywork on your author's 1992 Honda FourTrax had more staples and stitches than Jason's mask in those Friday the 13th movies.)
Enter the aftermarket bumper. They're designed to absorb impact and cover for you during a moment's inattention, protecting your ATV or side-by-side when you nudge the rig just a bit too far and connect with an immovable object (or at least one that's made of sterner stuff than the body work of your off-roader).
Luckily, the crew at Moose Utility Division offer an array of bumpers for a variety of different machines. And since they're well aware that a one-size-fits-all approach won't work for most customers, MUD makes sure their bumpers fit properly without customers having to break out the welder and angle grinder.
Front Bumpers
It has been a spell since Moose Utility Division had bumpers in its product lineup, but they've re-upped their game with an abundance of fitments for ATVs and UTVs. The former are made from 1.5-inch tubular steel, while the latter are a bit thicker, measuring in at 1.75 inches. This helps provide a bit more robust barrier between your side-by-side and that tree you misjudged.
DIYers will be glad to learn that MUD's front bumper selection are of a bolt-on design, with no drilling necessary for installation. And go ahead and put away that hacksaw while you're at it, since there are proper mounting points on these bumpers designed to integrate easily into your ATV or UTV. Speaking of, these bumpers actually have multiple frame mounting points for added strength.
Plus, they look good! Yeah, yeah – that's probably the least logical reason to install one of these things. But there's no doubt that angular steel tubing, with some brush guards over the headlights for good measure, adds a dose of menace to any off-road rig. If anyone asks, those whiskers over the headlights are there to stand guard against errant tree branches and the occasional rock spun up by the rig in front of you. The fact that they look tough is just a bonus.
Prices range from $199.95 for front bumpers to fit a Grizzly or Foreman, and up to $309.95 for a rack to install on the front of a mighty Maverick X3.
Rear Bumpers
You know the drill. After a day of wheeling or working, you sling the transmission into reverse and try to pull off the perfect three-point turn. Problem is, your brain is foggy after several hours on the trail. Crunch! Who put that tree there?
Thankfully, you've installed a rear bumper from Moose Utility Division … right? Made of the same stern stuff as the material deployed for their front bumpers — 1.5-inch tubular steel for ATVs, 1.75-inch for UTVs — these good-looking bumpers can save your bacon after a moment's brain fade. And again, drop the drill bits and grinder wheels: the bolt-on design means no extra drilling or fabrication necessary, making for easy installation.
Also, much like MUD's front bumpers, these rear units have multiple mounting points for added strength—though we need to reiterate that towing or recovery jobs should never use a bumper as an anchor point. Always remember to select a stout part of the chassis, away from important bits, lest you inadvertently find yourself the star of YouTube's latest viral video.
Pricing is similar in structure to MUD's front bumpers, with options ranging from $169.95 to $324.95 depending on application.
Points of Order – and Protection
The full-coverage styling of these bumpers helps give riders confidence that their frame and bodywork are well-guarded, while the black powder coating on the bumpers themselves means that the steel is tough and weatherproof. Honda bumpers come in a gloss finish, while Yamaha applications have a wrinkle finish.
Visit the Moose Utility Division website for a full listing of available bumpers for both ATVs and UTVs. Published March 11th, 2021 10:23 AM
Top Brands
Popular Articles