7 Views
Pro Circuit Exhaust Systems Buyer's Guide
May 25th, 2021 11:58 AM
Share
We're committed to finding, researching, and recommending the best products. We earn commissions from purchases you make using links in our articles. Learn more here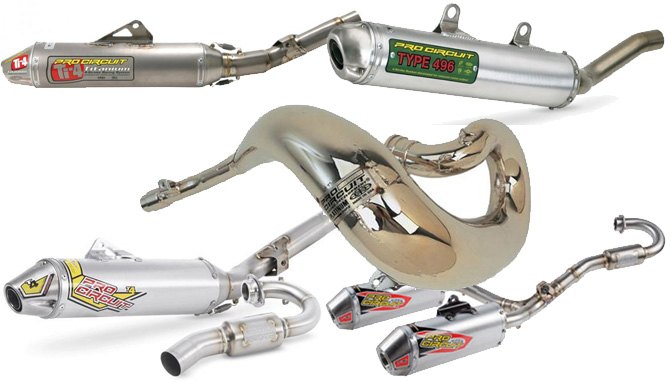 Give your ATV or UTV a shot of adrenaline with a Pro Circuit exhaust
There are a few companies that are associated with aspects of motorsports that have such an iconic following that you tend to think of that brand right away when thinking of that sport. When we start talking about performance and competition exhaust systems, one brand that always comes to mind is Pro Circuit. Founded in 1978 by Mitch Payton, the company is a powerhouse in the two-wheeled racing world, and that carried over to ATVs in the 1980s. As the engines changed from two- to four-stroke powerplants, Pro Circuit changed with them, developing expert exhaust systems and motor tuning products. Today, Pro Circuit exhaust systems are among some of the best available for ATVs and UTVs.
Pro Circuit Ti-4 Full Exhaust
Available for a limited number of machines, Pro Circuit's Ti-4 exhaust systems mix ultra lightweight and incredibly strong titanium silencers with full titanium header pipes for a high performance option that retains a reasonable noise level. These Pro Circuit exhaust systems are designed for performance, so they are only available for a few popular Sport ATV models. They come with a USFS-approved spark arrestor and will pass noise limits for Forest Service trails, something that is not all that common in high-performance exhaust systems. The modular end cap allows you to tune the exhaust system for peak performance from your machine. If weight and performance are concerns, but you still want your ride to be quiet, this is the system you need.
Pro Circuit Ti-4 Slip On
By making the Ti-4 muffler a slip-on system that you add to your existing header pipe, it cuts down on the expense for Pro Circuit of developing a full titanium header for each machine. The end result is the Ti-4 Slip On muffler systems are available for a wider range of Sport ATVs and select Utility machines. The same benefits are there, with reduced weight, increased power and a tunable end cap. There is a spark arrestor included and the sound output is within the limits for trail use, while the power output is on par with competition systems and is exactly what you'd expect from Pro Circuit exhaust.
Pro Circuit T-4 System
If you take the expense of handling titanium out of the picture, exhaust system development is much easier, which is why the T-4 systems are available for more machines. These Pro Circuit exhaust systems offer the same boost in performance and tunability that the Ti-4 systems offer, but are made entirely from high-quality stainless steel and aluminum and cost a lot less. The sound output is within the limitations for trail use and the muffler has a spark arrestor installed as well.
Pro Circuit T-4 Slip On
As you might expect, the T-4 is also available as a slip-on muffler as well. If you choose to expand your exhaust system down the road, the T-4 header pipe is available as an add on as well.
Pro Circuit T-6 System
The T-6 system is currently only available for the Yamaha Raptor 700. You can find it as a single exhaust system, or as a dual exhaust system, so whichever you prefer, there is a T-6 for you. The exhaust system is made entirely of 304 stainless steel with USFS-approved spark arrestors and Pro Circuit's RC4 Resonance Chambers to help cut down more of the exhaust noise. The shape of the mufflers allows for more packing to further cut down on the tone, while at the same time keeping performance at a premium.
Pro Circuit Type 496
Pro Circuit knows that to keep the sport going; we need to keep the trails open. This means we need to keep machines quiet. But how does a performance company do that when aftermarket exhaust systems are known for being louder than stock? The answer is Pro Circuit's Type 496 Slip On exhaust. This Pro Circuit exhaust system adds performance over the stock system while keeping the noise levels well within legal and preferred ranges for every trail. They do so by expanding the interior of the muffler and packing it with E-glass internal packing. This packing lasts longer and muffles sound better than traditional packing materials, but doesn't hamper performance too much. The end result is a silencer that has noticeable power increases across the whole ranger over the stock system, yet is still within the same sound output.
Pro Circuit Platinum Pipe
Need a little more Braaap in your diet? The Pro Circuit Platinum pipe for two-stroke ATVs is a hand-welded, high carbon steel expansion chamber exhaust with a "platinum" coating that makes the pipe easier to clean and maintain. The sweet thing about two-strokes, well, one of the many sweet things about two-strokes, is that a pipe alone can make a HUGE difference in the power output, as long as you have the jetting dialed too. These pipes can really open up your two-stroke ATV and make it a beast!
Pro Circuit Type 296 Silencer
The perfect way to top off your Platinum pipe is with a Pro Circuit Type 296 silencer. These "Nature-Friendly" silencers are tuned for performance with a quieter tone, just like many of the PC products. They are also equipped with a USFS-approved turbine-core spark arrestor, making them nice and trail legal. They are made from brushed T-6 aluminum and have a stainless-steel header pipe.
Can I use a Pro Circuit exhaust system on the trail?
Yes, all Pro Circuit exhaust systems come with a USFS-approved spark arrestor and are tuned to meet the sound requirements for most trail systems. For more stringent trails, there are Pro Circuit systems to meet those requirements and still provide a noticeable power increase. That is one of the many reasons to consider a Pro Circuit system for your machine. If you have wanted an aftermarket exhaust, but were concerned about noise levels, these systems will work for most trails. While Pro Circuit exhausts are great for racing applications, they work well on ATVs and UTVs on the trails and sand dunes, too.
How much power will I gain for my machine with a Pro Circuit ATV exhaust system?
Horsepower gains vary by machine and other factors like elevation, fuel quality and more. It is hard to say exactly how much of a horsepower gain you will see with a Pro Circuit exhaust system, but the average is about 3-5 felt horsepower. One of the things Pro Circuit does with its ATV exhaust systems is look at how the power is made throughout the curve through your machine's RPMs and they try to build a boost in the points that your machine normally lacks in to give you a better feel when you're riding. For example, if your machine is well known for lacking in low-end power, the PC exhaust will work to boost power in that area first, giving you better acceleration and torque.
We are committed to finding, researching, and recommending the best products. We earn commissions from purchases you make using the retail links in our product reviews. Learn more about how this works. Derrek Sigler
Derrek's love for all things ATV started when he was a mere 11 years old, growing up on his family farm. His mom gave him and his sister a choice - get a horse, or a three-wheeler. The sister wanted the horse, and Derrek wanted the ATV. Luckily he won out, and was soon burning up the trails on a Yamaha Tri-Moto 200. By the time he was 14, he had saved enough of his own money by working on the farm and in his folks restaurant to buy a new 4-wheeler. That happened the day he and his mom were driving past the dealership and saw 1987 Banshee. His mom had no idea what he was buying, and he never looked back. He's been riding ever since, and been writing professionally for many years. He has ridden all over North America and been behind the controls of just about every machine out there. And yes, he still has his 1987 Yamaha Banshee.
More by Derrek Sigler
Published April 10th, 2019 11:39 AM
Top Brands
Popular Articles