32 Views
Speaker's Corner: Three Great Sound Bars for Your UTV
March 1st, 2022 10:32 AM
Share
We're committed to finding, researching, and recommending the best products. We earn commissions from purchases you make using links in our articles. Learn more here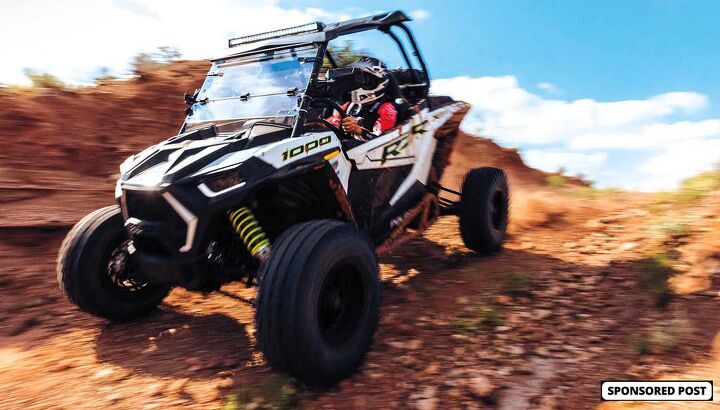 Moose Utility Division has your UTV audio needs covered
There are more than a few so-called traditionalists who snicker when someone adds the likes of an audio system – or, y'know doors – to their UTV. That's all well and good, but your author sees no issue with making one's off-road rig as comfortable as possible. We'll take a dry cabin and a few tunes any day. The naysayers can enjoy their damp and cold conditions at their leisure.
Which is why we've assembled a trio of sound bars from Moose Utility Division. These speakers will help you rock (or countrify) your next drive into the wilderness with their easy-to-install design and dead-simple hookups. MUD's speakers are available in three sizes and are recommended for UTVs, golf carts, and even marine use (plus ATVs if you're creative enough).
Being fit for duty in these environments requires marine-grade construction, and these sound bars bring the goods with a IP68 weatherproof rating. This is not to say you can submerge the things in a Louisiana bayou for a month and expect them to keep working, but they are designed to handle the typical UTV triumvirate of water, mud, and sand.
Like the tables at your favorite buffet spot, the sound bars from Moose Utility Division are available in three different lengths, starting with 25 and 32 inches before topping out at a dashboard-spanning 38 inches. Prices hop from $349.95 to $399.95 and finally $459.95 respectively, a sum which includes handy items such as a six-foot long wiring harness in order to properly connect and power the thing.
Speaking of (pun firmly intended), try to rope in some experienced help if this is your first go at installing an electric accessory. While the crew at MUD provide all the necessary hardware and clear directions on how to affix this too-cool item to your UTV, there remains the fact that you're literally tapping into the electrical system of a machine in order to complete a proper installation. Take yer time, read the instructions, and you'll be fine.
Moose says the dandy integrated amplifier in its speakers is designed specifically for powersports applications, permitting up to 30% more SPL than standard amplifier technology. If you fell asleep in Electro Tech class, SPL stands for sound pressure level and is commonly referred to as efficiency or sensitivity, representing how loud a speaker sounds. A higher SPL generally equates to a louder speaker, a trait one will appreciate when redline-ripping across the dunes in a high-powered UTV or roaring one's way out of a bog in a work-focused rig.
These sound bars feature the aforementioned marine-grade chassis, a base which is made of heavy-duty extruded aluminum and incorporates a perforated steel grille. This should offer maximum protection from the elements, bumps, and impact. Along with the ability to stream audio from a Bluetooth device, these speakers also include a 3.5mm stereo auxiliary input jack for running audio from a portable media player or headphone output. A 1.5-foot long cable is included for the latter. In other words, you'll have to bring your own source of tunes but the MUD sound bar is capable of pairing with any number of devices.
Once connected, you can go ahead and leave your device safely buried in a pocket of your riding gear or in a weatherproof storage spot in your ride. This is possible thanks to large centrally mounted controls on the speaker for controls like volume and track selection. There are also buttons for unit power, pause and play, plus a switch for illuminating the built-in LED map light. A memory sync feature will remember the most recently connected phone or player, automatically reconnecting to it when powered up within range of the device.
The sound bar looks good as well, with a symmetrical design that neatly groups buttons and switches in the center flanked by the speakers themselves. A dash of brightwork peeps out from behind that marine-grade weatherproof grille, showing off your new tune maker to all your buddies.
By the way, these speakers from Moose Utility Division may be installed a couple of different ways, compatible with either surface or roll cage mounting. Owners can choose their own adventure in this regard since hardware is helpfully included for both styles of installation. Whether you're looking to attach this thing to your rig's rollbar above the windshield or simply tack it onto a flat surface on the dash, Moose has you covered.
As the industry leader in ATV/UTV parts and accessories, Moose Utility Division and Moose Racing can lay claim to dedicating themselves to providing enthusiasts with the highest quality and best performing products available. With thousands of items for your machine, Moose has you covered. Since they are an accessory company, complicated model-specific installs aren't necessary in this case, making these speakers the perfect add-on for a wide array of rigs.
Sure, those too-serious riders who raised an eyebrow when you installed this accessory might have all the humor of a wet towel – but you can bet they'll be hanging around when you're bumping tunes while grilling a few burgers during a break on the trail. These speakers are available to ship from the pros at Moose Utility Division immediately. Learn more here. Published March 1st, 2022 10:16 AM
Top Brands
Popular Articles