1 View
Arctic Cat Alterra 600 and Tracker 600 Recalled for Crash Hazard
April 6th, 2023 11:15 AM
Share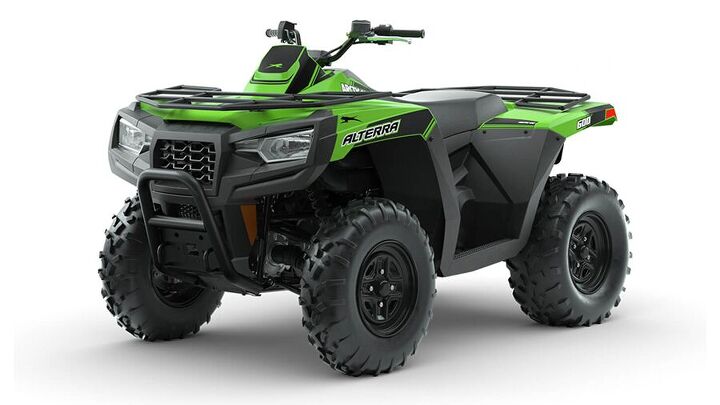 Textron Specialized Vehicles, owners of the Arctic Cat and Tracker brands, has issued a recall for certain Arctic Cat Alterra 600 and Tracker 600 ATVs. According to the Consumer Product Safety Commission, a problem in the front suspension can cause the A-arms to separate from the frame, resulting in a loss of control and a crash.
The recall covers about 3,800 ATVs sold in the US between May 2021 and January 2023, plus about 1,800 sold in Canada. Arctic Cat models were sold at Arctic Cat dealers, while Tracker models were sold at Tracker dealers, Bass Pro Shops, and Cabela's retail stores. The exact VINs covered under the recall are as follows:
2022 Arctic Cat Alterra 600: NT200101 through NT202064
2023 Arctic Cat Alterra 600: PT200101 through NT200679
2022 Tracker 600: NT200101 through NT201929
2023 Tracker 600: PT200101 through PT200697
To find out if your ATV is covered by this recall, check your VIN located on the front right-hand frame tube beside the right-hand shock and compare it to this list. If you have one of the recalled vehicles, contact Textron Specialized Vehicles to arrange for a free inspection and repair. They are also in the process of contacting all affected owners directly to make the necessary arrangements.
The problem is that the main frame A-arm mounting brackets may crack over time. Once cracked, these brackets can fail, allowing the A-arm to fall out. The repair will consist of not only replacing the original brackets but also adding strengthening brackets to ensure that this problem will not happen again.
Published April 6th, 2023 11:16 AM