1 View
STI Releases New Vortex V-Roll Line of Sand Tires
October 5th, 2011 1:43 PM
Share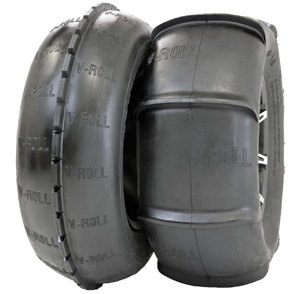 STI Tire & Wheel boasts that it is transforming sand tire technology with the introduction of the all-new Vortex V-Roll line of tires.
"The Vortex V-Roll is a game changer for owners of large displacement UTVs," STI says in a release. "Designed specifically for big-bore side-by-sides, this tire delivers the high performance needed for heavier, high-horsepower applications."
This lightweight, 4-ply tire is being introduced in a 27×11-14 front and a 27×14-14 rear. By mounting on a 14-inch wheel, STI says the result is a super-wide, high-flotation footprint that keeps the machine on top of the sand instead sinking in. Also, this tire was designed to achieve a very low-profile sidewall to enhance handling by minimizing tire flex and lateral roll. According to STI, the sizing ensures proper front and rear brake clearance for all popular UTV applications.
The 11-inch-wide front V-Roll features a rib designed to provide excellent steering response and minimal rolling resistance. The 14-inch-wide rear V-Roll uses eight paddles for what STI calls an ideal balance of traction and handling. The paddles are molded in, which is designed to increase durability.
The Vortex V-Roll is very competitive in terms of both performance and pricing. It even comes standard with a one-year manufacturer's limited warranty.
STI Vortex V-Roll tires are available at finer ATV/UTV dealers everywhere, through MTA Distributing. For more information, www.stitireandwheel.com.
Published October 5th, 2011 1:40 PM