1 View
New Sizes and Finishes for STI's HD1 Series Wheels
January 10th, 2019 10:14 AM
Share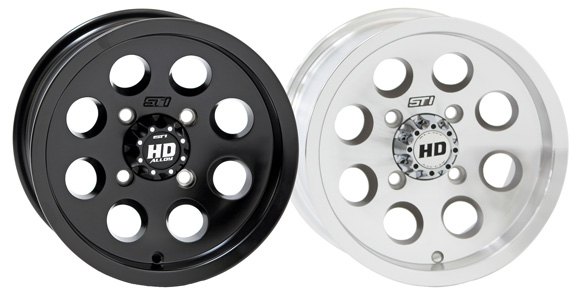 STI Tire & Wheel has recently added two new finishes to its lightweight HD1 Series, for a total of three choices: the original Slik-Kote has been joined by new Machined and Black options.
As well, STI is offering new sizing for those new Machined and Black HD1 wheels. First offered in the 12×7 size, those finishes have been expanded to 14×7 sizing as well. That larger size significantly widens the range of customization and performance possibilities. According to STI, this taller size provides handling and ride advantages in most conditions. All STI HD1 wheels are designed to fit most popular utility/4×4 ATVs and side-by-side UTVs.
"These are the lightest 12×7 and 14×7 aftermarket cast wheels available today, enhancing performance through reduced unsprung weight and rotational mass," STI says in a release.
The HD1 carries a lifetime structural warranty. According to STI, this is possible due to both inner and outer wheel lip reinforcement. The 12×7 HD1 has a 700-pound load rating, while the 14×7 can handle 800-pound loads. A matching HD logo wheel cap is included with every wheel.
Visit www.stitireandwheel.com for more information.
Published November 9th, 2011 2:13 PM