1 View
STI Adds New Black Finishes For HD Alloy Wheels
February 13th, 2013 11:33 AM
Share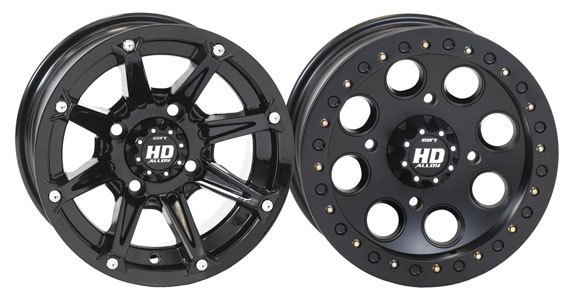 Looking to provide its customers with more customization options, STI Tire & Wheel is offering new black finishes on its HD Alloy wheels.
STI's HD2se wheel now sports a Gloss Black finish, joining its Matte Black/Machined and Gloss Black/Machined siblings in the HD2 inventory. This new Gloss Black HD2se is available in 12×7, 14×7 and 15×7 sizes. Like all HD2 wheels, it is protected by a lifetime structural warranty and comes with a new, matching, low profile center cap.
The HD Beadlock line receives a new Matte Black option to go along with existing gunmetal gray Slik-Kote and Bright Machined finishes. This wheel features an integral-mount beadlock ring, which is quick to install, adds strength to the outer lip, and is engineered to reduce debris buildup. Most importantly, the ring helps ensure the tire bead stays on the wheel, even when using lower pressures and applying high side loading. The STI HD Beadlock is offered in 12×7 and 14×7 sizes.
For more information, visit www.stitireandwheel.com.
Published February 13th, 2013 11:33 AM