1 View
Yamaha Announces 2012 ATV Race Teams
December 23rd, 2011 9:19 PM
Share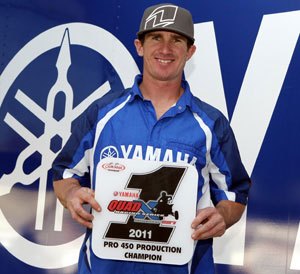 Yamaha has revealed its 2012 ATV race team, with racers competing in the top motocross and cross-country series in the country. Also, Yamaha is also expanding its national trackside assistance program with support at all AMA ATV MX National Championship series events.
"No one can match Yamaha's support of the sport combining a top racing program, event and track-side support programs and the most comprehensive line of sport ATVs," says Steve Nessl, Yamaha's ATV/SxS group marketing manager. "This is an exciting time for Yamaha racing as we look forward to the 2012 season with a stellar team and the most high-performance and consistent race quad in the YFZ450R."
Yamaha's Grand National Cross Country (GNCC) team will again be led by ATV racing legend Bill Ballance as team owner and manager of Ballance Racing. Taylor Kiser, who took third overall in the 2011 XC-1 Pro class, is back on blue again for 2012 and looking to build momentum. Walker Fowler, the 2011 AMA ATV Racer of the Year and XC-2 Pro Am champ, will move up to join Kiser in the XC-1 Pro class for 2012.
Eight-time Women's champ Traci Cecco, who recaptured the #1 plate in 2011, will also return to GNCC competition and continue her run as the most successful women in all of ATV racing while battling for a record ninth overall championship.
Returning to the Yamaha QuadX Series is five-time and reigning Pro champion Dustin Nelson. Nelson had a perfect season in 2011 winning every stop in the Western motocross series. He will also compete in the World Off-Road Championship Series (WORCS) again, hoping to build on his fourth place overall finish from 2011.
In the AMA ATV Motocross series, Thomas Brown is returning to Yamaha after finishing fourth in 2011. For 2012, Brown will be joined in the AMA ATV series by Chad Wienen and his Wienen Motorsports YFZ450R.
"Yamaha focused its efforts in the off-season to further strengthen our team and trackside support programs," says Donnie Luce, Yamaha ATV/Off-Road racing coordinator. "2011 was a great year of ATV championships and record seasons, and we expect 2012 is going to be another exciting season for Yamaha's ATV racing programs."
Yamaha is expanding its ATV trackside support program working with Layne Barnes and Pro Motorsports (http://www.promotorsportsiowa.com/) from Mt. Pleasant, Iowa, to now include all AMA ATV national events. Barnes is a longtime ATV enthusiast, and he and his staff will offer support for Yamaha riders by stocking replacement parts and providing technical assistance on race days.
Yamaha will also continue to support the QuadX Series with help from Roy Bloodworth and his Big Kid Racing team (http://www.bigkidracing.com/) who will continue providing parts, service, technical assistance and race information to competitors throughout the season.
"Yamaha embraces the excitement and family atmosphere of ATV racing," Luce said. "The sport is in the company's heritage and fuels our passion for the races and racers. On the track and on the trails, we expect big things from team blue next year and look forward to Yamaha riders competing for championships in the many series we support."
Published December 21st, 2011 3:12 PM