1 View
Yamaha Factory ATV Race Team Ready to Roll
February 26th, 2009 11:26 AM
Share
First full season on the new YFZ450R
Yamaha's ATV race team is finishing up its preparations for the 2009 season and will enter teams in many of the top racing series. Yamaha will race in the GNCC, QuadCross, WORCS and AMA MX over the next two weekends. This is the first season that each Yamaha race team member will be riding the new YFZ450R.
Yamaha's race team is led by nine-time GNCC XC1 Pro series champion Bill Ballance. Ballance suffered a rib injury last year and had to undergo surgery in the off-season. Though the injury and resulting surgery interrupted his pre-season training, Ballance will be back to chase his 10th consecutive title at the GNCC opener in Florida this weekend.
Seven-time GNCC women's title holder Traci Cecco will be back with Yamaha again, as will Brandon Sommers, the 2007 GNCC XC2 class champion. Sommers finished fifth last year in his first season in the XC1 class.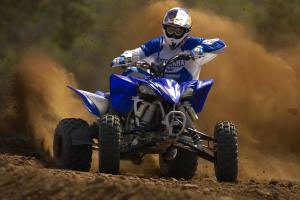 2008 Montreal Supercross champ Pat Brown will be riding for Yamaha in the AMA pro ATV motocross series. Meanwhile, two-time ITP Quadcross MX Pro class champion Dustin Nelson will be back to defend his title in 2009. Nelson was the first Yamaha Team rider to race the YFZ450R at the end of last year when he took the holeshot and won a Quadcross moto at Glen Helen en route to his 2008 series title.
Other members of Yamaha's race team include: Johnny Gallagher, a seasoned veteran who has spent years working with the Yamaha factory team on the GNCC circuit; Donnie Ockerman, the 2008 GNCC XC2 Pro-Am champion; Thomas Brown, the 2008 ATVA/AMA National Pro-Am Motocross champ; and Justin Noss, winner of the inaugural season of the 2008 QuadCross 250cc unlimited class on his Raptor 250.
Yamaha race team bios are available at: http://www.yamaha-motor.com/sport/events/racinghome/home.aspx.
Related Reading
2009 Yamaha YFZ450R Review
Published February 26th, 2009 11:26 AM