1 View
Yamaha Announces 2009 ATV Factory Race Team
November 17th, 2008 3:19 PM
Share
Riders to compete on new YFZ450R
Bill Ballance, Traci Cecco, Brandon Sommers, Pat Brown and Dustin Nelson will make up Yamaha's 2009 ATV Factory Race Team.
"Yamaha's 2009 ATV race team is packed full of top talent in national cross-country and motocross racing," says Keith McCarty, Yamaha's racing division manager. "Next season is shaping up to be an exciting year for Yamaha ATV racing. Whether it is Dustin competing for another championship on the MX tracks or Bill going for his tenth straight championship on the trails – all of the racers will be on the new YFZ450R and it's going to be fun to watch."
More on Yamaha's 2009 ATV Factory Race Team members: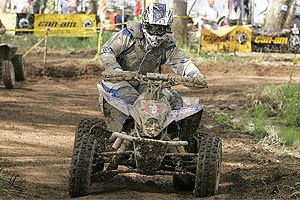 Bill Ballance captured his latest title this year in the Grand National Cross Country (GNCC) XC1 Pro series and is considered perhaps the best ATV racer of all time. Ballance holds a record nine consecutive GNCC championship titles and will be competing for number 10 next year. Ballance is from Smiths Grove, Kentucky, and runs the #1 plate.
Traci Cecco secured her unprecedented seventh GNCC women's title this year in a heated Ironman Finale. Cecco is a veteran of the Yamaha race team and returns in 2009 to try to break her own GNCC women's racing record. She lives in Shamokin, Penn., and runs
Brandon Sommers captured the GNCC XC2 class championship in 2007 and moved up to the XC1 class this year. He finished an impressive fifth place in his first XC1 Pro season. This will be Sommers' second year racing for Team Yamaha. Sommers is from Millersburg, Ohio, and runs
Pat Brown is a top competitor for Yamaha in the AMA pro ATV motocross series. He has won major events including the inaugural AMA ATV Open Championship in 2007 at Steel City in Delmont, Penn., and the Montreal Supercross at the Montreal Olympic Stadium this September. Brown is from Pittstown, New Jersey, and runs the plate.
Dustin Nelson is the 2008 Yamaha/ITP Quadcross MX Pro Class champion. This was the second year Nelson took this title. Besides being a top ATV MX racer, Nelson is a veteran Yamaha test rider and was very involved in the development of the all-new YFZ450R. Nelson will be the first person to race the new YFZ450R when he competes at the Quadcross Finale at Glen Helen on November 30. He lives in Ramona, Calif., and runs
Yamaha race team bios are available right here.
Related Reading
2009 Yamaha YFZ450R Preview
Yamaha's Pat Brown wins Montreal Supercross
Ballance clinches ninth GNCC championship
Published November 17th, 2008 3:19 PM
Top Brands
Popular Articles