1 View
Yamaha ATV Racers Talk About 2012 GNCC Season
April 11th, 2012 3:19 PM
Share
We're committed to finding, researching, and recommending the best products. We earn commissions from purchases you make using links in our articles. Learn more here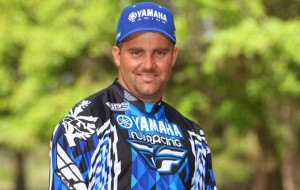 Now that we're a few races into the 2012 Grand National Cross Country (GNCC) Series, the standings and championship races are starting to take shape. Yamaha is fielding a particularly strong team this year and its Pro GNCC racers Taylor Kiser, Walker Fowler and Traci Cecco, along with Ballance Racing boss Bill Ballance, offered up some thoughts on the season so far.
Bill Ballance Question: You're widely known as the best off-road ATV racer of all time, and while you haven't announced any plans to officially retire from racing, you're transitioning more into a team management role – tell us about Ballance Racing and how you approach your new job.
BB Responses:
The first priority is the race team. Our team provides full race support to Taylor Kiser and Walker Fowler in the GNCC race circuit. We also provide some support to Thomas Brown on the MX side.
The second side to Ballance Racing is aftermarket sales and support. We sell all of the race products from companies that sponsor our race program. Also, we build complete race quads.
Ballance Racing started as me competing and winning championships and has transitioned into a program that supports both riders and sponsors on and off the track.
My role as team manager includes many responsibilities and those change from day to day. I spend numerous days testing on the track, which requires me to do lots of riding – this being my favorite part! Other days my time is filled by taking orders from customers, building shocks, setting up race quads, talking to sponsors, and keeping up with what the guys are doing and needing. A big part of my job is developing and testing for companies like Lone Star, Ohlins, Maxxis, and Moto-Xperts. I even build and fine tune maps for ECUs.
The transition has been difficult in some ways. When we are at the races and the guys line up on the starting line, it is hard for me not to be a part of that. However, in some ways it has been pretty easy because of the attention to detail that I give to every working part of the race bike is natural to me. I do this just the same way I did with my own race quad. I try to give the guys the equipment they need and the knowledge I have gained over the years. I want to see them win, and I strive for nothing less.
Bill Balance Question: Tell us about the upcoming GNCC University. You have a lot going on with running Ballance Racing, working with sponsors and even continuing to race some yourself. How do you find time to donate to this program, and what do you get from working with young racers?
BB Response: The GNCC U is a great! Being able to have this riding school at Snowshoe makes this event special. Working with the kids is always a good reminder of how fortunate we are to be in the position we are in — being able to do what we love. This gives us a great opportunity to pass along some of our knowledge and skills to the younger racers and to give back to the sport. It's a great feeling to actually have time to spend with these kids and answer some of their questions. At the races, it seems like we are always pressed for time and having events like these gives us time to relax a little and focus on them. We hope this will help to build our sport for the future!
Bill Ballance Question: Do you have any expectations for this season?
BB Response: Oh yeah, I sure do! I'm expecting Taylor and Walker to be in a position to bring home a GNCC Championship this year!
Taylor Kiser Question: Congratulations on the big win at Steele Creek. Is there something in particular that you can point to that put you over the top?
TK Response: Thanks! I really can't point to one thing that put me over the top. I have had a strong group of supporters behind me keeping me motivated. The YFZ450R has been working great, and everything is starting to come together!
Taylor Kiser Question: You've been working with Bill Ballance for a couple of years now. What's the best part of being on Ballance racing?
TK Response: Working with Bill is great! He is by far the best suspension guy in the business. He is always coming up with new ideas to improve our race quads. I can go to the line week in and week out knowing that I am on the best set-up equipment out there.
Taylor Kiser Question: Some might argue that you and Walker make up the toughest team on the tour. Do you guys spend a lot of time training together? Do you have a friendly competition or is it every man for him self?
This winter was really the first time that Walker and I have spent any time together. He came down and lived at my place in Florida for the winter. I felt like it was a tremendous help to both of our programs for him to come down. He lives in Ohio, so we don't get a chance to ride that much together during the season, but whenever we have the chance, I definitely enjoy training with Walker. We have a pretty friendly competition. Whenever we can get together on the track, I feel like it is a benefit to both of us, because you have someone there you are comfortable riding with, and you know will help push you!
Walker Fowler Question: So, you've been winning championships your entire career, but this is your first XC-1 Pro season. Any expectations?
WF Response: Being my rookie XC1 Pro season, I'm not expecting a championship. With that being said, I do expect consistent podium finishes out of myself. I know I have the speed and fitness to run with the veterans, but putting the full package together each race can be tough especially as a rookie. But, championships can come when you least expect it …
Walker Fowler Question: GNCC races have been described as the toughest endurance test in ATV racing. What do you do to stay in shape throughout the season?
WF Response: This winter when I was living with Kiser in Florida, I picked up a road bike and began cycling. You find out quickly how out of shape you truly are! Along with that, I ride three days a week for an hour as hard as I can push myself safely. Also, I go to the gym and do a lot of body-weight related workouts to build muscle without potential injury that heavy weight training can cause.
Walker Fowler Question: What do you think is your biggest challenge this season?
WF Response: My biggest challenge this season is simply myself. Putting myself in the right mindset against the best on the east coast and arguably the nation 13 times a year is tough. Defeating the mental game is stage one. On top of that, I have to convince myself I belong with the best of the best and compete at the level I know I can. I'm not out there to prove myself to anyone. As long as I finish knowing I left it all on the course, I'll be happy. Three races in, I don't feel I've left it all out there, and I'm unhappy with myself, so I'm working on some big changes to hopefully put me where I need to be; and that's on the box each weekend!
Traci Cecco Question: You've been leading the women's class in GNCC racing for nearly a decade now. How have you seen the series change from when you first started?
TC Response: Everything has changed tremendously. When I first started racing the GNCCs, there was a Women's class but no Youth or Amateur race. We all raced at the same time, if you can believe that. The only video that was shot was homemade videos by family. There was no Facebook, Tweeting or live online scoring. I went GNCCing because I loved to race and because of the family atmosphere it offered. Over the years, change happened: The big factory rigs came rolling in, we outgrew tracks, they added the youth, AM, and UTV races, media exposure exploded, RacerTV was born, even the Women's class received a spot on NBC Sports Network (how cool is that?). I could go on and on. The GNCC series is growing, and I am happy and blessed to be a part of it. There is one thing I learned through the years though … change is good, but there is one thing that hasn't changed in GNCC racing, and that is the family-like atmosphere. It keeps me coming back!
Traci Cecco Question: Any advice for new ATV racers and/or someone just thinking about trying it out for the first time – guys or gals?
TC Response: My advice would be to try out a few local races first and work your way up to racing for two hours. When you are ready for that, I recommend you choose a GNCC class that is appropriate for your racing level.
Traci Cecco Question: What's your favorite track, and why?
TC Response: My favorite track is Snowshoe. I am a big fan of rocks and the overall terrain it has to offer. Also it is a great place to stay. It's like a city on top of a mountain. Food, entertainment, hotels and racing all in one spot. What more could you want? Lucas Cooney
I have been working exclusively in digital media since 1997. I started out with TSN.ca, spending nearly nine years creating and editing content on Canada's leading sports website. I left to join VerticalScope, Inc., one of the world's largest online publishers, to start a number of powersports publications. While at VerticalScope, I've helped create and oversee content for a wide variety of different publications, including ATV.com, Off-Road.com, ArcheryTalk.com, Tractor.com, RVGuide.com, and many more.
More by Lucas Cooney
Published April 11th, 2012 2:05 PM
Top Brands
Popular Articles