1 View
GBC Annnounces $20,000 in Prizes for Heartland Challenge
August 10th, 2012 3:01 PM
Share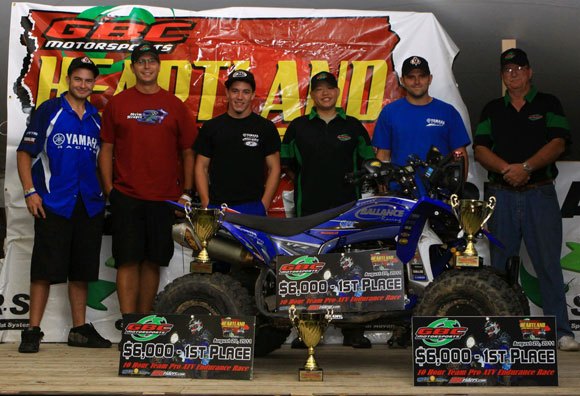 The 5th Annual GBC Motorsports Heartland Challenge will pay out $20,000 to top finishers. The August 16-18 event takes place in Carlisle, Iowa and draws hundreds of competitors from across the United States.
The GBC Motorsports Heartland Challenge features three different endurance races throughout the three-day gathering of ATV and UTV enthusiasts. The adult ATV Challenge features a 10-hour race in which 14 classes compete simultaneously. The winning Pro Class team will be awarded $6,000 while the Pro-Am winners will receive $3,000. Top honors in the Pro Utility Ironman class will earn the winning rider $2,500, while the Ironman class winner will get $1,500. Other class winners will be awarded $500.
The Heartland Challenge also features a four-hour Side-by-Side UTV race for adults, with $1,000 awards for each of the UTV classes.
For more information and to register for the 2012 GBC Motorsports Heartland Challenge, visit www.heartlandchallenge.com.
10-Hour Adult ATV Challenge Payouts
Pro – $6,000
Pro Utility Ironman – $2,500
Pro-Am – $3,000
A Class – $500
B Class – $500
C Class – 500
+30 Class – $500
+40 Class – $500
Ironman – $1,500
Open 4×4 – $500
Women – $500
Schoolboy – $500
4-Hour Adult UTV Challenge Payouts
850 Limited – $1,000
850 Modified – $1,000
UTV Open – $1,000
Published August 10th, 2012 3:01 PM