1 View
DragonFire Plans Big Reveal for Off-Road Expo
October 3rd, 2013 12:03 PM
Share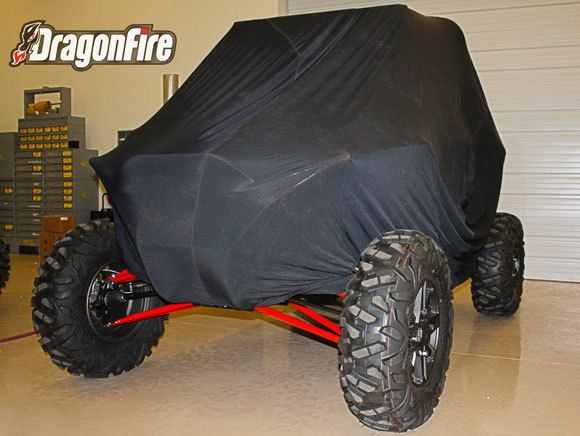 The folks at DragonFire have been awfully busy lately, recently releasing the 2014 DragonFire catalog and taking the cover off the RacePace Can-Am Maverick. DragonFire has more big plans for this weekend at the upcoming Off-Road Expo in Pomona, Calof.
"At 11 am on October 5th we promise the wraps will come off something big," says Chris Moore, DragonFire's social media manager. "If you were impressed with the RacePace Maverick or our ReadyForce Ranger that was on the Destination Polaris' TV show this season… you ain't seen nothing yet!"
In addition to the RacePace and ReadyForce vehicles, DragonFire is planning to highlight its RockSolid Safari-themed RZR at the Off-Road Expo.
"We honestly feel this is the most trail-capable range of accessories in the world and we think it will be appealing to the majority of the families at the Expo. We know that not everyone wants to play at RacePace, so the RockSolid rig is the perfect alternative, especially for a four-seater," says Moore.
DragonFire will be conducting ride-alongs on the MavTV Proving Grounds at the Pomona Fairplex this weekend. Drawings will be held at the DragonFire display (Booth every hour and lucky winners will get to ride along with Team DragonFire.
Mint 400 Sportsman UTV champ Lacrecia Beurrier is a key member of the DragonFire Racing effort and she will have her winning RZR on display, as well as signing autographs.
Published October 3rd, 2013 12:03 PM