1 View
Ryan Piplic Jumps RZR XP 1000 to World Record
November 6th, 2013 12:12 PM
Share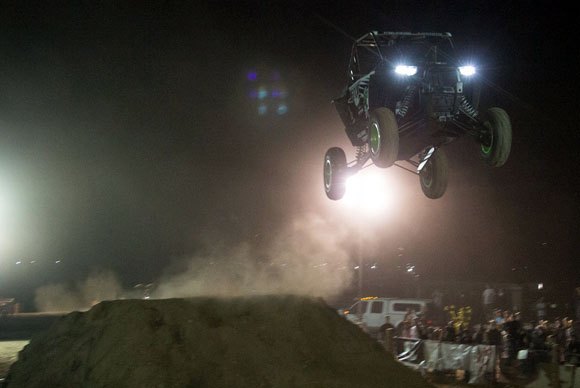 Ryan Piplic made history at the second annual Fuel Fest in St. George, Utah by jumping his Polaris RZR XP 1000 to a world record.
Piplic hit the ramp at more than 75 mph and sailed through the air for 155.8 feet before touching down, breaking RJ Anderson's previous record of 129.75 feet.
Piplic's RZR XP 1000 had was outfitted with a Cognito cage, FOX shocks, Maxxis bighorn 2.0 tires, Beard seat and harness, Method Wheels, and motor work and exhaust from Sparks racing.
"I wanted to jump as close to a stock Polaris RZR XP 1000 to show the strength of a Polaris," says Piplic. "I don't recommend taking a stock vehicle and jumping 155 feet for safety reasons. But, the confidence I have in Polaris, Cognito and Fox shocks is what made this jump a success.
"I would like to thank all of my sponsors for giving me the opportunity of a lifetime to get a world distance record in a side-by-side. I could not have done it without Cognito Motorsports, Fox shocks, Maxxis tires, Sparks Racing, Method Wheels, Rugged Radios, Antigravity Batteries and mostly my family without their support none of this would be possible. Also, the amazing team of people that did all the hard work and prep for the Fall Fuel Fest, at the St George Motoproving ground."
Published November 6th, 2013 12:12 PM