1 View
Top 10 Tips for Selling Your ATV
June 19th, 2015 3:32 PM
Share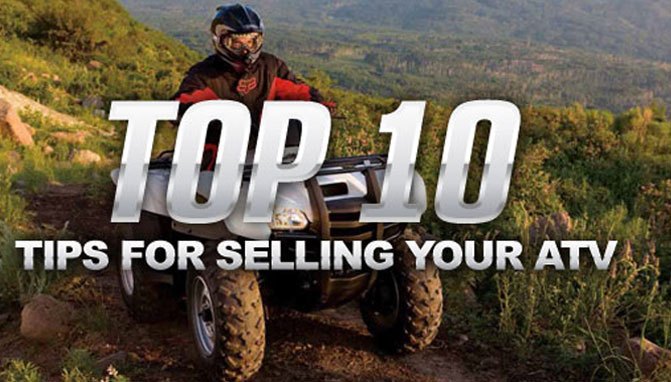 While you've hopefully accrued many happy memories with your ATV or Side-by-Side over the years, you'll likely have to sell it at some point to move on to your next four-wheeled friend.
If you apply a little elbow grease and really think about what you would want to see if you were the shopper, you'll have a better chance to move your ATV quickly.
To help you out, we have come up with 10 quick tips that could mean the difference between selling at asking price or walking away feeling ripped off.
Get Cleaning
When it comes to washing a four-wheeler, everyone has their own special mix of caustic chemicals to get the job done. We love Super Clean. This stuff is available at Wal-Mart and is only about $8 per gallon. This purple liquid is simple to use – just spray on and hose off. A garden sprayer works well with half water and half chemicals. Using the sprayer lets you get the cleaner all up in the tight spots.
Look Under the Plastics
Do not be afraid to strip the plastics off the ATV. It will need attention under there. Get the heavy stuff off first and slowly attack the tougher regions. You can see any potential problems hidden in the darkness. Not every buyer will dig around and know what to look for, but we all want to be honest, right?
Be Detail Oriented
Do not get lazy and neglect the small stuff. Wiring and hoses can easily be cleaned with a sprayer and Super Clean to a bright new appearance. This allows you to see any problems you may want to fix before the big reveal. If all of the parts such as the carb and air box are spick and span, then this will get the potential buyer's mind working for the good and not the bad. Plus, if you have a massive oil leak around the cam or valve-cover it might be a good idea to clean that stuff up…and maybe fix the leak, if possible.
Radiator Inspection
This is where the mud and sand like to hide. It is also very noticeable to the trained shopper or an ace mechanic. Gently hose the radiator out from the back side if possible. Everything comes in from the front so it might be easier to force it out that way. Be careful not to bend the radiator cooling fins and also remember that they are thin and sharp on the skin! Remove the dirt to remove the doubts! Also, be sure the radiator fluid is full in case the inspection becomes intense.
Check the Driveline
If your machine has a chain and it can be tightened then you should do so. Be sure it is clean and has a fresh coat of lubricant so there is no binding or screeching if it gets rolled around. This should be done even if you are not selling the ATV. Look over the driveline for other potential turnoffs and get those repaired as well. CV joint boots that have tears wreak of cash flowing out of the next owner's pocket and that will turn a smart buyer away quickly – or at least have them looking for a cheaper deal.
What's Behind the Tires?
We typically jack all four corners up on any machine we intend to sell and remove all four wheels. This gives us access to the brake calipers as well as the steering knuckles and we can then get any mud, rocks or discoloration off of the calipers and other areas. It also lets us really check the tie rods and ball joints for extreme play. Fine tune the details and the cash will follow! Coating the tire with a good cleaner will remove dirt and provide a better overall appearance!
Buy New Grips
Grabbing onto a greasy pair of worn out grips is not nice at all, so if you have to pony up $10 to get a buyer to be more touchy-feely it is worth the extra dough. Think of it like real estate – curb appeal is everything!
Resore the Plastics
Are your plastics dull? Try a product called Plastic Renew. It takes some time and effort, but it could net a few extra hundred on the sale should a buyer be more into looks instead of drive. If they only need a shine, then give it up but do not bathe the machine in oily residue or massive amounts of silicone spray, as that will attract dust and get their hands greasy. Not good.
Bring Back the Stock Exhaust
This can be debated all day and while some kids will really enjoy your slip-on exhaust, a reasonable buyer may look at stock or non-modified exhaust as more appealing. Especially if they think this machine has been abused by your trail raging habits. As well, aftermarket parts add very little value to a machine and generally bring more cash when sold separately.
Is Everything Working?
Last but not least, make sure everything functions properly. Parents do not want to spend money on a machine they feel their kid will get hurt on and adult shoppers will turn around and run from a partially working rig if they know what's good for them. Check all the switches and buttons. If you have a light out, just fix it. It may not seem like you're getting your return on the small investments, but it could mean the difference between selling your machine or just having it sit there.
Published May 7th, 2014 12:56 PM