1 View
Cody Miller Wins UTV Class at Wild Boar GNCC
March 8th, 2016 3:26 PM
Share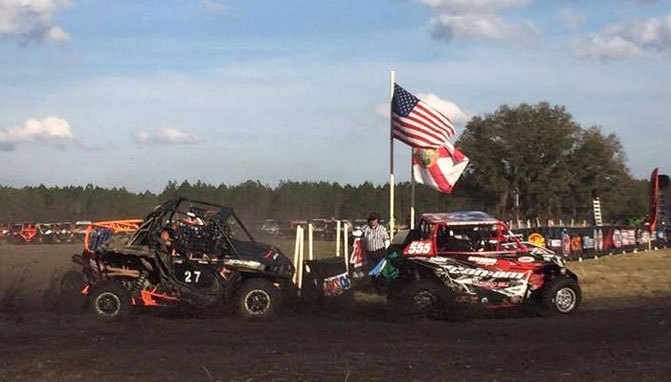 Can-Am Maverick pilots win XC1 and XC2 UTV classes
The Can-Am X-Team Side-by-Side vehicle racing team kicked off the 2016 Grand National Cross Country season winning both the XC1 Pro and XC2 Pro Sport classes at the series opening Wild Boar GNCC in Palatka, Fla. Can-Am Maverick driver Cody Miller won the XC1 Pro UTV ranks, while fellow Maverick pilot Dave Plavi joined Miller on the overall podium and won the XC2 Pro Sport class.
"Can-Am racers had a solid start to the 2016 GNCC season, earning the UTV overall and two UTV class wins, as well as a few amateur class victories. When you consider only 13 of 30-plus Pros completed all five laps due to the challenging course and amount of traffic, it was especially rewarding to come out on top," said Jeff Leclerc, Racing Project Leader, Can-Am. "Cody Miller had an impressive weekend, taking the Pro UTV class win and earning fourth on his Renegade 4×4 in the 4×4 Pro class."
Miller (Miller Brothers / Houser Racing / Can-Am) took over center stage for the team at the opener, after notching his first career GNCC XC1 Pro class win and overall. Miller followed fellow Can-Am Maverick racer Kyle Chaney around the course for the first four laps, but inherited the lead on the final lap and never let up. He went on to win by two minutes ahead of the class runner-up. Chaney, the reigning two-time GNCC XC1 UTV Pro class champion, ended up sixth overall.
Cody Miller won the UTV overall and XC1 Pro UTV class in his Miller Brothers / Houser Racing / Can-Am Maverick 1000R side-by-side at the opening GNCC race in Palatka, Fla.
"I am excited to compete in the GNCC series full time this year," said Miller. "We have a lot of cross-country experience with the Can-Am Maverick, having raced them for the last five years. We've been working our butts off preparing the cars for this race. I started in row four and had a lot of ground to make up. I just drove a steady race and waited for my opportunity and I got it on the final lap. This XC1 UTV Pro class win and overall is a great early reward. Thanks to all my sponsors, but also Can-Am, Houser Racing, HMF, Elka, Beard Seats, Evolution Powersports, Maxxis Tires and DWT for supporting me and my brother Hunter."
Offroad Motorsports / Can-Am racer Dave Plavi had an impressive race as well, finishing second overall and winning the XC2 Pro Sport class with his Maverick 1000R. He finished a little more than a minute behind Miller.
Can-Am 4×4 Pro ATV racers missed the class victory in Florida, but put eight racers in the top 10, including third-place finisher Kevin Cunningham, who also finished fourth overall amongst all ATVs in the 10 a.m. session. Miller, who did double-duty in Florida, took fourth in the class and fifth overall on his Renegade 4×4. Zach Zakowski edged reigning 4×4 Pro class champion Bryan Buckhannon for fifth in the class.
Can-Am amateur racers had a great round at the opener in Florida as well, winning the 4×4 A/B ATV (Ronald Varndell), the 4×4 C ATV (Zach Floyd) and the Amateur Limited UTV classes (Mike Penland).
Can-Am ATV racers move on to round two, this weekend at the Maxxis Cannonball GNCC in Sparta, Ga. Round two for the Can-Am side-by-side vehicle racers is the fourth stop on the GNCC series schedule, April 16-17, at the Big Buck GNCC in South Carolina.
Published March 8th, 2016 3:26 PM
Top Brands
Popular Articles