1 View
Polaris Rampage Prototype Looks Mad Max-Inspired
May 13th, 2016 1:39 PM
Share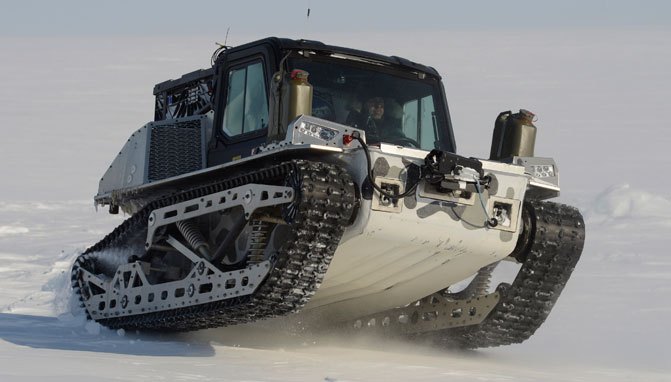 Polaris Rampage support Canadian troops in the North Pole
Polaris might be redefining the term all-terrain vehicle with its new Rampage prototype.
Designed to amphibious and handle even the coldest weather Mother Nature can toss its way, the Polaris Rampage is designed to go where no other ATV or UTV can. The Rampage would not look out of place in the next Mad Max movie.
Here's what Polaris has to say about the Rampage prototype:
"Polaris Rampage, a true amphibious, all-terrain, all-season, global-reach platform was deployed in support of Canadian Operation Nunalivut in the North Pole. More information about Operation Nunalivut can be found here.
"Polaris Off-Road Vehicles continue to display the prowess of innovation, is leading the way in off-road vehicle engineering and is providing capable vehicles for climates such as the North Pole and Arctic. A workhorse, the Polaris Rampage is still a prototype that could become the ultimate off-road vehicle for the next generation."
We were curious how the Rampage propelled itself in deep water, as some track systems (like those on an Argo) don't provide propulsion in water. We asked Polaris about it and received the following response:
"Rampage is a prototype vehicle. We are continually looking at methods for maneuverability and propulsion in deep water. Currently, the vehicle's tracks provide steering and forward and backward propulsion."
We don't know if the Polaris Rampage will ever be sold commercially or how much it would cost (a lot!), but it has just jumped to the top of the list of vehicles we want to drive.
Published April 18th, 2016 1:16 PM
Top Brands
Popular Articles