1 View
Barker's Performance Polaris RZR 900 Dual Exhaust System
May 3rd, 2016 4:28 PM
Share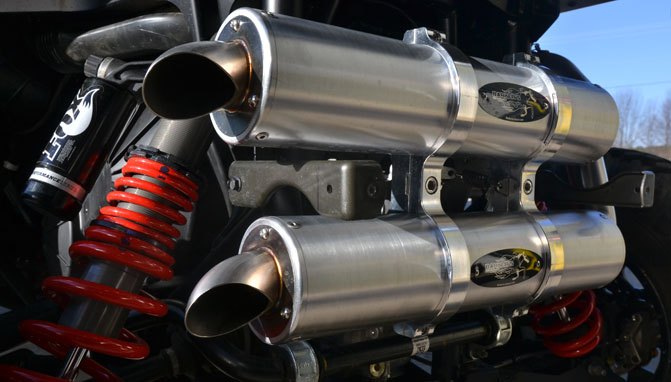 Barker's claims a 10% average performance gain
(Press Release) Barker's Performance enters the spring of 2016 and the start of riding season for many of their local Michigan riders, they announce their highly anticipated 2015 Polaris RZR 900 Dual Exhaust System. After much success in the side by side market, including the previous year models of the RZR 900 XP, there was much anticipation and excitement to build on the momentum Barker's had already established. They are also pleased to confirm that their new system fits the XC, Sport, and Trail versions of the Polaris RZR 900 side by side.
The build and testing of the 2015 Polaris RZR 900 began over a year ago. Barker's Performance sponsored rider Matt Corder races with this system in the IATVHSS and KCORRA series, which allowed for thorough testing and rebuilding before bringing the system to market. After a midseason tear down, Barker's was able to improve the system further, resulting in a very well tested system that they are excited to offer RZR 900 riders.
Performance
With more than a year of development and testing, Barker's Performance is very confident in the performance gains obtained with their full dual exhaust. Although there are a lot of factors when it comes to Dyno Testing UTV's with CVT clutches, Barker's found substantial improvement. With a 10% average gain and 14% in certain areas*, there is no doubt the Barker's RZR 900 system will be very popular. Their testing was completed on a Mustang Dyno with a properly mapped Power Commander 5.
Their engineer offered the following statement at the time of this press release: "We were very pleased with the true 7hp gain that we achieved on the stock machine with proper tuning and our exhaust alone. We do now know that there is still a lot more to be gained from the machine as it's somewhat limited by Polaris. With a reflash of the ECU to remove the 80% limitation of the throttle bodies there are huge gains to be made coupled with our exhaust system. Stay tuned for more updates as we continue to learn what is truly possible with this machine."
Quality
As with all Barker's Performance exhaust systems, the new RZR 900 system is hand tig welded in Michigan. The exhaust offers that coveted Barker's deep, throaty sound and features a sleek brushed aluminum can outfitted with a black Barker's Performance tag. It mounts seamlessly under the plastics on the rear of the RZR, secured by a billet machined clamp kit, with zero modifications to your machine.
Pricing & Availability
The brand new 2015 Polaris RZR 900 exhaust systems are available for immediate shipping from their website for $999. Alternatively, your local Barker's Performance authorized dealer can order the system for you and assist in proper installation and tuning.
* Performance claims have not been tested or verified by ATV.com.
Published May 3rd, 2016 3:13 PM
Top Brands
Popular Articles