1 View
QuadBoss Offers Up Two New ATV Ramps
March 14th, 2017 4:50 PM
Share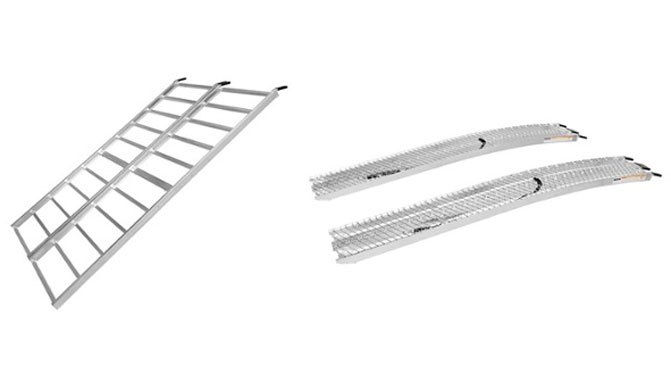 Big Daddy Quadlite Bi-Fold Ramp and Quadlite Xtreme Ramp options available
QuadBoss is making it easier to load and unload your ATVs and UTVs with the addition of two new ATV ramps to their ever-growing product line. QuadBoss is a leading manufacturer of high quality ATV and UTV parts and accessories.
"Our new ramps are heavy-duty but lightweight and designed to meet the needs of ATV and UTV riders," says Jason Baldwin, Brand Manager of QuadBoss. "We are excited about introducing them to our customers and giving them more options when it comes to getting their rides off the truck and on the trail."
The new Big Daddy Quadlite Bi-Fold Ramp (P/N 565099) features a compact, lightweight design that allows for easy use and storage. It has heavy-duty hinges and joints that have been welded to provide extra strength. Rubber-coated tabs protect your tailgate from scratches and includes adjustable security straps which are required for use. The ramp is 48" x 69" bi-fold and can support up to 1,250 lbs. It comes with a two-year manufacturer's warranty. It retails for $184.99.
Along with the Big Daddy is the Quadlite Xtreme Ramp (P/N 565148). Made from lightweight, fully-welded aluminum, the ramp has extruded rectangular side rails that resist bending, a taller, rectangular cross section to support more weight and extra support beams for higher capacity loads. It features an exclusive high-traction mesh surface that provides extra stability and grip during loading. With an arched design for loading vehicles with low clearance, the ramp also has rubber-coated tabs to prevent tailgate scratches. A pair of the QuadLite Xtreme Ramps can handle up to 2,500 lbs and comes with a two-year manufacturer's warranty. The ramps retail for $299.99 per pair.
The Big Daddy Quadlite Bi-Fold Ramp and the Quadlite Xtreme Ramp from QuadBoss can be ordered through your local Tucker Rocky | Biker's Choice dealer.
Published March 14th, 2017 4:50 PM
Top Brands
Popular Articles