1 View
Why Won't My ATV Run After Riding Through Deep Water?
April 4th, 2017 11:43 AM
Share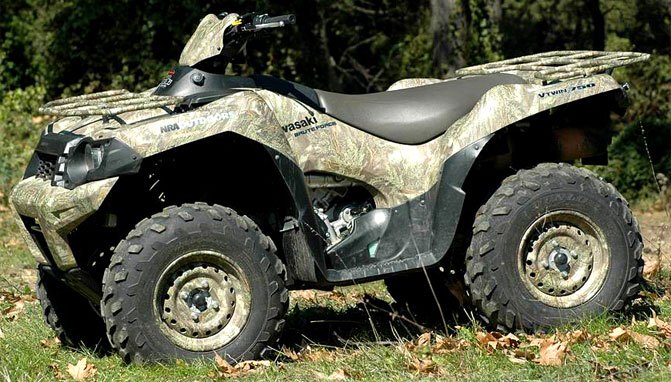 The ATV AnswerMan helps out a water logged ATV owner
Why Won't My ATV Run After Riding Through Deep Water? That's what one reader wants to know who is having some trouble with his ATV.
Here is exactly what the reader asked the ATV AnswerMan, followed by his answer:
My name is Anthony and I have a 2008 Kawasaki brute force 750Fi. I rode it for the first time Friday and it died shortly after coming out of deep water. It is fully snorkeled and no water in air box or motor. Checked all plugs under seat and they were all full of water. The bike took a while to start back and it sounded like the timing was off but it started up and did fine. Rode it for 15 minutes and it quit again. This time it would only turn over and pop and blow fire out air box like a timing issue. I let it sit half a day Saturday and it fired right up running great. Rode it for 15 minutes or so and it quit again. Now it is just doing the same thing. Popping and blowing back through air box but want crank. Did I fry the CDI. If I am not mistaken the CDI controls the timing as well. Thanks for taking time to read this and any input is much appreciated.
Hi Anthony,
The Kawasaki Brute Force is one of my favorite big V-Twin powered ATVs and we have used this big boy to pre-run the Baja 1000 at times. This is typically a good solid platform with few issues if it is maintained correctly and regularly. Getting to your question, though, there are several things that seem to coincide when you are talking about the ATV cutting out and remaining difficult to start. Crossing deep water should not normally be an issue with these machines, but it does obviously depend on just how deep your version of a "deep water crossing" is.
The very first thing I would check would be the fuel tank. If it's deep enough you might have introduced water into the tank and this could cause the intermittent stumbling you are experiencing. The tank vent and even the gas cap can leak if not properly secured or protected. If you simply drain the tank via a siphon of some kind this should eliminate that possibility.
The next item I would check would be the coils. These could be having issues once warmed up or even shorting to the framework due to chaffing or broken plug caps. Check over all of the wiring with a fine-toothed comb to eliminate these as possible problems. Sometimes a coil will only act up after it gets hot. You can check the resistance of the coils to see if the resistance is in spec. You can always get the correct specifications from your OEM Kawasaki service manual, but just in case you do not have one here is a photo of the subcategory resistance specs for the 2008 model Brute Force 750 you have.
Published March 23rd, 2017 12:12 PM
Top Brands
Popular Articles