1 View
Early Look at the Textron Havoc + Video
May 24th, 2017 9:07 PM
Share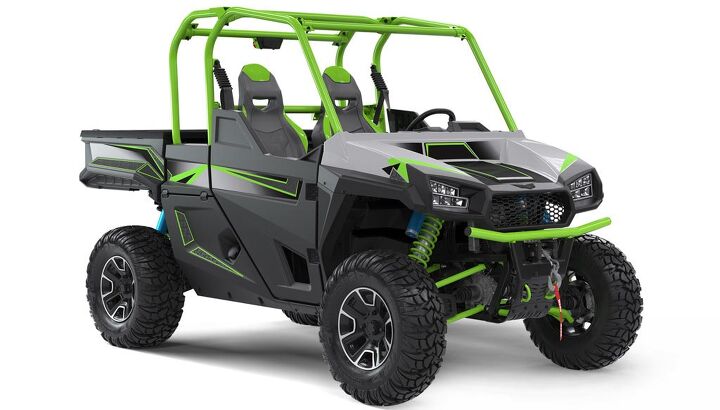 What we know about the future Polaris General challenger
If you were worried that the newly formed Textron Off Road was going to play it safe in the ATV/UTV industry, it's looking more and more like those fears are unfounded. Textron Off Road appears to have big plans – especially when it comes to UTVs. Case in point is the upcoming Textron Havoc.
Textron Off Road Replacing Arctic Cat Name
The Textron Havoc is aimed squarely at the Polaris General. While there are other Sport-Utility crossover machines out there like the Yamaha Wolverine and Kawasaki Teryx, the Havoc is looking to one-up the General in the power department. While there are rumors out there with claims of 110+ or even 120 horsepower, we asked Textron and all they would tell us is that the Havoc will produce more than 100 horsepower.
Textron also noted that the Havoc will be outfitted with King shocks and long wheel travel. Normally when we hear King shocks, we think pure sport, desert-killing suspension, so it's a bit of a surprise to hear that Textron is using them on a Sport-Utility machine. It will be very interesting to see how this machine handles.
Looking at the photo Textron provided (and a video embedded below), the Havoc (or Havoc X) will have some space behind the seats before the bed area. The space looks pretty generous and is something we've seen before on the Textron Stampede and Kawasaki Teryx. We'd imagine some accessory storage bins will be available. Something waterproof would be a huge bonus.
The Textron Off Road HAVOC X 5/16/17
The Textron Off Road HAVOC X is here. We will be Facebook Live around 12:30 PM CST with the Textron Off Road Dealer Show in Minneapolis.
Posted by Country Cat on Tuesday, May 16, 2017
We don't have much more information than this, but we will be sure to keep you posted if we hear anything else from Textron. Hopefully we won't have to wait too long, because this looks like it's going to be fun.
Published May 18th, 2017 3:47 PM
Top Brands
Popular Articles